Newborn | Baby Richbart
May 12, 2017
Welcome to my in-home studio! I have been so excited to show you this gorgeous room in our new apartment! When we chose this apartment, I had no clue that it would change the way I do newborn sessions! I am so excited to announce that I am now offering newborn sessions in my own studio. You just cannot beat this light… and it's all natural! This corner room has windows on two sides which lets in so much sunlight, it is perfect. The walls are a very very very light color, which allows the light to bounce around and fill the space. Fortunately, my husband and I are very much into minimal living. To prepare for a newborn session, I simply have to move the hampers, a small table, and that stool I turned into a lampstand… take the pictures off the wall and there we have it! A simple, minimal, pure room that provides plenty of standing and sitting space for each family with a new baby. I cannot wait to document your family in this space. Email me at [email protected] to set up your session (in-studio or outdoors)!
My first subjects in my new studio were my brother, sister-in-law and brand new nephew. Noah Ryan made a grand, unexpected entrance into this world 4 ½ weeks early via emergency c section. Noah was taken into the NICU and stayed there for 2 weeks! The new parents were still in high spirits, not letting the unfortunate events get them down. They were grateful that he was safe and healthy and that the c section took place in God's proper timing. Noah was getting great 24 hour care so that he could grow strong enough to come home. 2 weeks later, he finally made it home, and a couple days after that - he made it to my studio!
I can't wait to watch Josh and Amanda grow into becoming amazing parents. Josh is my last (out of three) brothers to become a dad… It is very exciting to have another nephew!
Some of my favorite people call me "Aunt Hannah."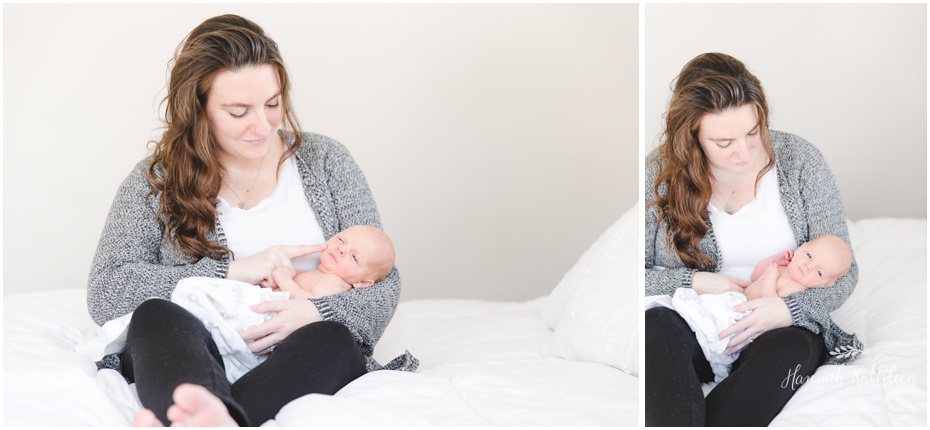 Noah has his momma's eyes, his Uncle Ryan's nose (he was named after Amanda's brother!), and his dad's chin and ears. Hopefully, he has Aunt Hannah's sense of humor… I can always use another person to laugh at my jokes.