Wedding | Roger & Taurie
Jul 6, 2017
Sitting down at a coffee shop a couple months ago, I could tell I was really going to like Taurie. She is so easy to talk to, and every. single. idea. she told me for her wedding day made me excited! I especially was interested in the secret information about a "green dress." But what caught my attention most was how proud she was of her fiancé Roger. I could tell without meeting him that they had a good thing going. She talked so highly of his success in optometry school and how hard of a worker he is. I could easily tell how much she loved him and looked forward to their wedding day.
I met Roger and got to spend more time with Taurie during our three hour hike into and out of the Niagara Gorge. This location is not for the faint of heart and I will continue to keep it as a special once-in-awhile spot for the right kind of couple! We were exhausted by the end of it! Those steps are killer, but the view at the bottom as the sun sets is worth all the asthma attacks ;) Check out a few of my favorites shots from their Niagara Gorge engagement session.
If a wedding day starts out with the wedding stationery looking like this, you just know it's going to be a good one. I mean LOOK at the RSVP cards. Watercolor floral and greenery is one of my favorite things, and I am so glad it is popular right now! The designer even made little paintings of the bride and groom and the lodge where their reception took place! How cool is that?
One of the biggest pieces of advice I can give to an engaged couple planning their wedding is to make your day reflect the two of you. Let your passions, personality, and story shine through your day. Weddings should not be identical to each other because no two relationships are the same. If you don't love cake, serve cheesecake. Have an ice cream bar! Play your favorite music even if it isn't common. If you love the outdoors, get married outdoors! Find a Girl Scout Camp with a beautiful property and have your reception in the lodge. Enjoy food from the grill instead of fancy served plates. Enjoy an intimate moment before the ceremony where you can actually spend time together. If your mom and aunt are secretly amazing at floral arrangements, buy separates and create the bouquets yourself. If you love green and aren't afraid to follow your instincts, wear a green dress!
Eucalyptus + Peonies = Happy Photographer
I am overly obsessed with any wedding that has neutral bridesmaids dresses. These girls ROCKED their short champagne colored dresses... and the mix and match effect has me 😍😍😍
Just look at those colors!!!
Take a look at the special moment Roger and Taurie shared before their ceremony. And yes... it was a surprise to Roger that she was not in a traditional white dress! Though I think he knows her pretty well because I heard him say that he had a hunch she wouldn't wear white. 😊 Their first-look was scheduled into their day and provided them with some time alone to talk and exchange gifts. Once the craziness of the day sets in, a bride and groom would be lucky to talk for one minute straight without any interruptions. I always recommend seeing each other before the ceremony... and bonus, you can get gorgeous shots like this!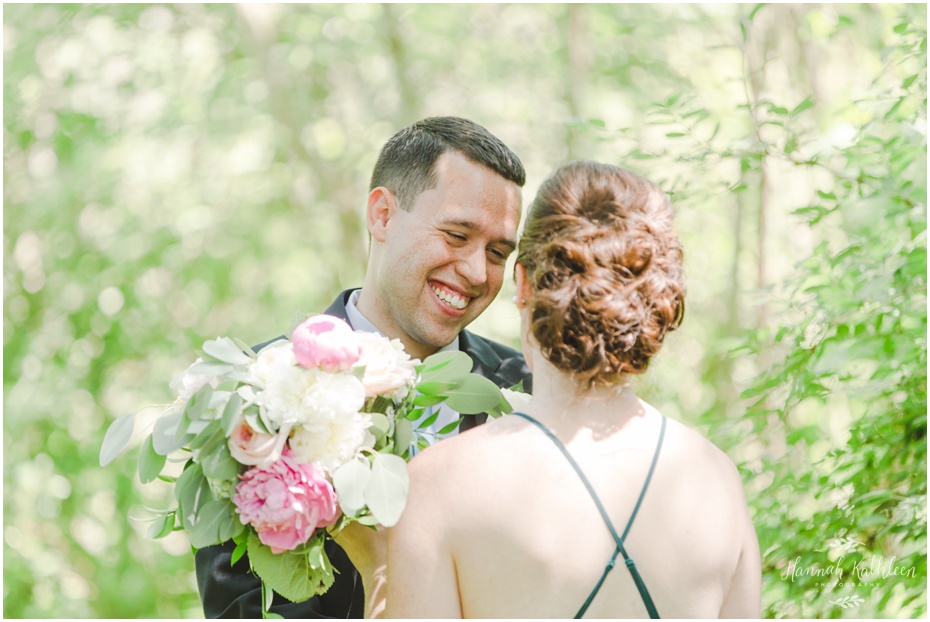 This good looking group of guys was a pleasure to spend time with! Many of them went out of their way to make sure I had everything I needed. I always appreciate a helpful bridal party. And they all really love the couple, too!
At Camp Timbercrest, a Girl Scout Camp located in Randolph, NY (about an hour and a half south of Buffalo, New York close to the Pennsylvania border), they have a massive lake, a lodge on a hill, and lots and lots of trees. It really was the perfect venue for the Studd wedding. The couple chose to exchange vows at a location overlooking the lake in a clearing near the lodge.

Following the ceremony, guests headed right over to the lodge for the reception. This building was totally transformed. String lights hung, greenery everywhere, candles and beautiful signs on every table, it was a wonderful sight.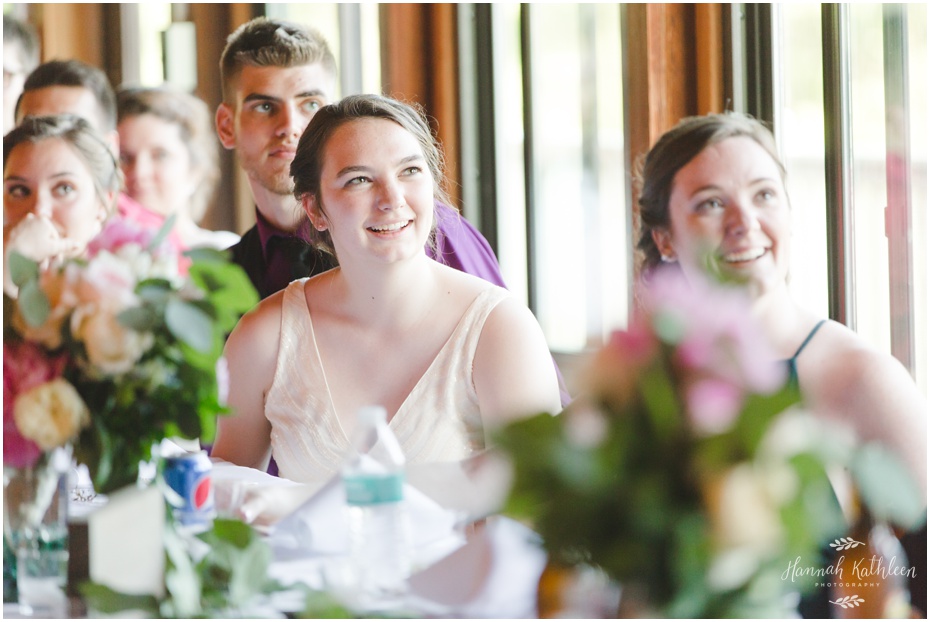 As the sun began to set, we stepped away for a moment to get some Golden Hour photos on the water. Always worth it!

Congratulations Mr. & Mrs. Studd!
Vendors: Location: Camp Timbercrest Hair & Makeup: Sennsations Hair Salon Men's Haircuts: Oak's Barber Shop Flowers & Greens: Purchased from Wegmans and Whole Blossoms Floral Design: arranged by Patti Dechow (bride's mother) and Kathi Ames (bride's aunt) Cake: Made by bride with help from bridesmaid Nicole Daly, floral work done by Kathi Ames Cake Stand is vintage depression glass from bride's great-great Aunt Oma DJ: Mike Smith & Zach Tucker Officiant: Pastor Jennifer Delahoy - [email protected] Caterer: All-American BBQ Wedding Invitations & Programs: Sugared Fig Paperie Bride's Wedding Band: TSO Jewelry Bride's Shoes: Yosi Samra Groom's and Groomsmen's suits: Groupon (!!!) Men's shirts: Kenneth Cole Groomsmen's ties: Kenneth Cole Groom's Tie: J.Crew Bridal Gown: Lulu's Bridesmaid Dresses: JCPenney, PinkBlush Maternity, Francesca's, Red Dress Boutique Shoptiques - Taylor's dress, boutiques can list what stock they have through this site Wood Signs: Bride, www.eyeloveyoublog.com Guest Book: Chatbooks RV Card Box: Andrew Bird, boyfriend of bridesmaid Kourtney Ames Videographer: Cory A Nedell Multimedia Photographer: Hannah Kathleen Photography, hannahkathphoto.com