Wedding | Chris & Elena
Jul 26, 2017
I love this story. I first met Chris and Elena at Elena's brother's wedding almost two years ago. Chris and Elena were 2 out of only 6 people that attended this wedding at the Japanese Gardens near the Buffalo History Museum. At this point, Chris was dating Elena... And since only 6 people attended this wedding, that seemed like a pretty big deal to me. Peter, Elena's brother, married Allie under a big willow tree on the lake. This intimate wedding ceremony truly resonated with me and I'm sure helped influence me to have my own tiny wedding! Family portraits after the ceremony were so quick with only the immediate family around... and bridal party pictures didn't exist. Elena and Chris were so sweet that day, and I didn't have any trouble remembering them when Elena shot me an email later in the year. 
She told me the good news that Chris had just proposed and that they were planning a wedding for the following July. I thought it was pretty cool that the day Elena officially chose me as their wedding photographer was July 7th, 2016. And they were to get married on July 7th, 2017.
My interest was immediately peaked as they discussed a Buffalo Riverworks reception. That is just what they ended up doing with a ceremony at the Basilica. This wedding was extra special to me since I already knew the family and they liked me enough to have me back! ;) The Rizzo family does a good job making people feel welcome. Elena and her mom are especially encouraging and uplifting people.

 I had the privilege of squeezing in an engagement session for Chris and Elena just over a week before their wedding. We went to the exact place where he proposed... this bench!
Chris proposed at Wilkeson Pier, so we took some photos there and then walked next door to one of my favorite places, Times Beach Nature Preserve. Both these spots are located in the Outer Harbor off of the Skyway just outside of Buffalo, NY. They woke up bright and early for their session and MAN, was it worth it!! You just cannot beat the light that happens right when the sun pokes up! Check out a few of my favorites from their engagement session.
I met the ladies at Elena's parents' house just outside of Buffalo, NY. Driving from a half hour away, it was a very rainy morning. Upon my arrival to the house, the sun was out and the forecast improved every time I checked! The natural light you see in these photos is a result of large windows in the living room and family room. Take a look at all the gorgeous details Elena picked out for her wedding day.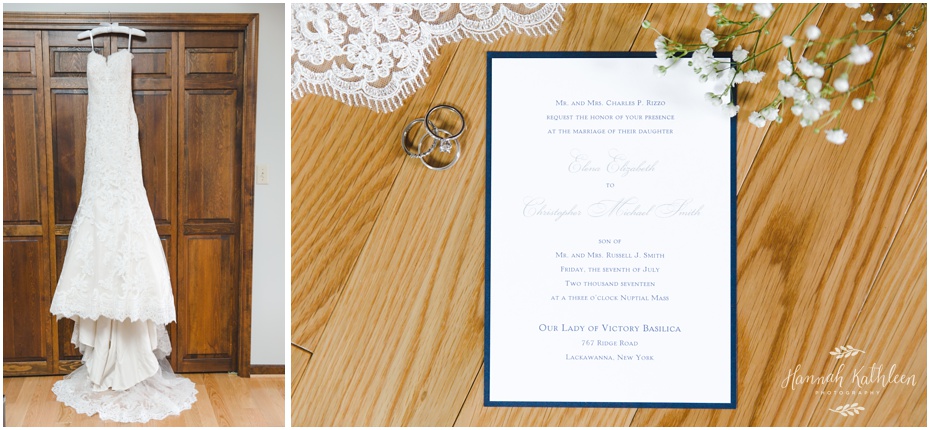 Is this not the most perfect dress for her!? She looked stunning. I loved seeing it all put together... her hair, the jewelry, the dress, blue heels, the veil, and that bouquet!! She could not have looked any prettier.
Chris and I met up at the Basilica in Lackawanna, NY where the ceremony was to be held. Chris finished getting ready and then I spent some time with him and his groomsmen before the guests started to arrive. I was grateful for this BEAUTIFUL soft sunlight coming in outside the Basilica. In the middle of the day, it can be really challenging to find shade for a group of people to get photographed. After scouting the place out, I knew photos would turn out beautiful here!
Here are a few of my favorites from Chris and Elena's ceremony.
Elena's family, the Rizzos, are some of my favorite people. And it was a pleasure getting to know Chris' mom and dad, too!
We did the majority of bridal party and bride and groom portraits at Buffalo Riverworks, where the reception was held. As guests mingled during cocktail hour, we found some industrial backgrounds that screamed Riverworks. Chris and Elena were so much fun to take pictures of... with a bride and dress that beautiful, I was in heaven taking their portraits. Chris looked pretty good on her arm, too ;)
If you've ever been to Buffalo Riverworks you know how awesome this place is. There are plenty of outdoor areas to eat or hang out, multiple bars, great atmosphere for dining in, dart boards, pool, a roller derby rink, wrestling ring, two ice rinks that convert into concrete and turf for the summertime, you can rent kayaks and paddle boards... it's the place to be. If you haven't visited yet, be sure to make time for it! I love it there. The second floor, where weddings take place, is open to the roller derby area below. On warm days, the windows open up like garage doors and it gives you the outdoor feel! It's a wonderful hidden gem of a wedding venue. If you love Buffalo and like more of an industrial look for your reception, check out Buffalo Riverworks.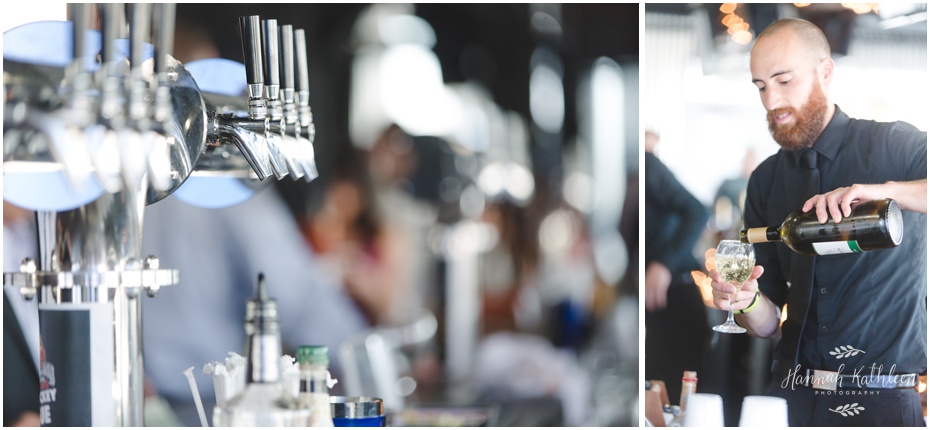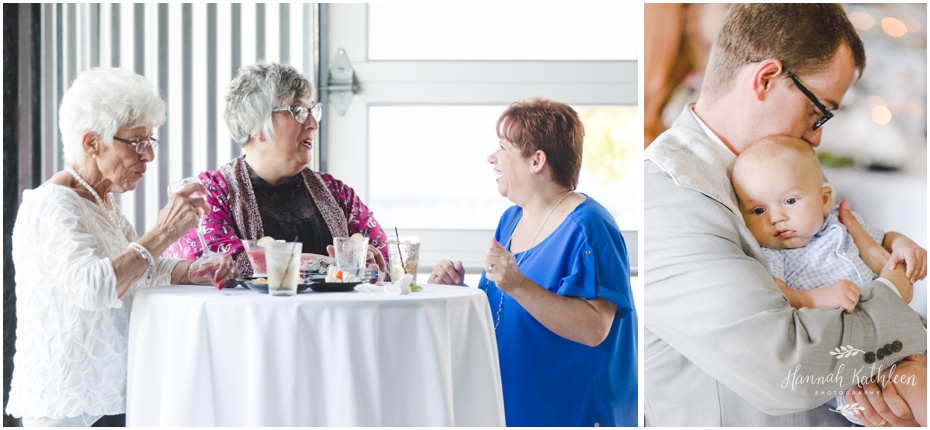 One of Chris and Elena's favorite things is Sweet Melody's gelato. They love it so much that instead of having a cake at their reception, they brought in Sweet Melody's for everyone. And man, was this great. After my time was up, Chris and Elena invited me to try some gelato. I took some recommendations and tried the chocolate peanut butter (amazing), raspberry sorbet (amazing), and caramel sea salt (double amazing). I wanted to try them all, but alas, I had to practice some self-control. I highly recommend visiting Sweet Melody's and stopping when you see their food truck!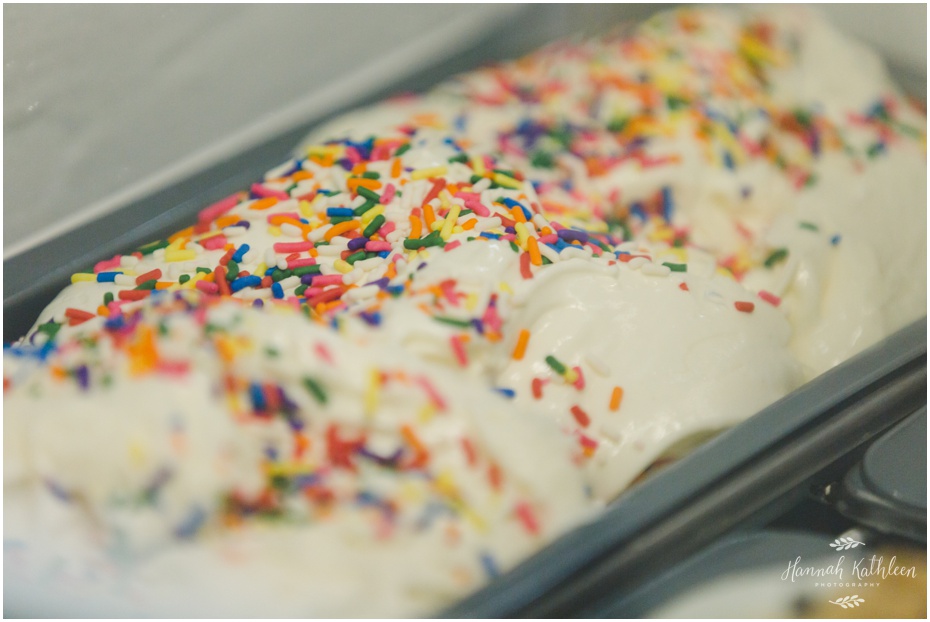 Thank you, Chris and Elena, for your beautiful wedding day and for choosing me to be a part of it. I can't explain how huge of an honor it is when a couple picks me for their wedding day. It means the world to me.
Vendors Ceremony Venue - Our Lady of Victory Basilica Reception Venue - Buffalo Riverworks Riverworks Coordinator - Becky Jones Hair - Carolyn Frandina 716-725-1869 Makeup - ILashNY Flowers - Dash's Markets Gelato - Sweet Melody's DJ - Matt Conta from SoundWave Officiant - Fr. Seán Paul Fleming Wedding Stationery Designs - Party Harty Jewelry - Simon G, Ivanka Trump Groom's Suit - Calvin Klein Groom's Socks - Happy Socks Groom's Shoes - Ashton Grey Shoes Groomsmen Suits - Men's Wearhouse Groomsmen Ties - Men's Wearhouse Bridal Gown - Allure Bridals from Stella's Bridal Boutique Bridesmaids Dresses - Amazon, Lulu's, Haley Paige Wooden letters on your gift table - gift from a coworker in the Philippines Engagement Ring - Reeds Jewelers Wedding Band - M.A. Laurie