Wedding | Ryan & Gabi
Aug 15, 2017
Gabi and I met as freshmen at Houghton College. We instantly clicked and had each other's backs during the awkward beginning stages where you have no friends. Though my time at Houghton College was short, I came away with something you just can't put a price on... all you can eat Perry's ice cream... ...and two friends I just knew would be life long friends that I would never lose. Gabi is one of those friends.
Ryan also attended Houghton, but I didn't meet him until after Gabi and him started dating (after I had left the school). He was a little quiet the first time I met him, but I realized quickly that he isn't always that way. I was not fortunate enough to witness many interactions between Ryan and Gabi, but I was able to receive regular updates from Gabi on our skype calls! This perspective was pretty cool because I watched her get happier and happier and happier. The usual question, "How's Ryan?" ALWAYS led us to discussing the possibility of him proposing one day. She was ready to wait as long as needed, she knew they would get married down the road.
You can imagine my surprise when I received a message from Ryan asking if I thought Gabi would like this ring! Oh my gosh! I was in on a humongous secret! He told me the general timeframe he planned to propose and looking at my calendar... I had a skype date with Gabi before then! Man, I had to play it cool. "How's Ryan?" led to the usual stuff and I just listened intently to her update, relieved that she never mentioned the thought of the proposal coming any time soon. Phew.
Needless to say, I was not surprised to get a call from her later that week. She was beaming!
Fast forward to the next summer, and it's time for their wedding! The venue was Two Harts Barn in Spring Grove, Pennsylvania. Everything from getting ready to the dance party at the end of the night took place at Two Harts Barn. I personally love staying on property all day. It eliminates travel time, transportation stress, and reduces worry about what needs to be where! If a bridesmaid forgets something at the ceremony, she just has to walk 100 feet to get it! And typically, properties that provide full day services often have really beautiful spots for portraits!
Spring Grove, Pennsylvania was a six and a half hour drive for Caleb and I from Buffalo, New York. Quite the trek the morning of the wedding, but I love to travel! We were greeted with a gorgeous outdoor ceremony spot, amazing rustic barn reception, and tons of nature for photos! There was even an outdoor patio for cocktail hour, and rooms for both the bride and groom to get ready in.
The wedding day began in the bridal suite, photographing Gabi's accessories and detail shots. Something I have never seen before, happened during this time. With only an hour and a half left until the ceremony, the bride left to rehearse a song she would sing to Ryan during the ceremony. So special!
Look at the beautiful bride!! And these aren't the typical heels! Ha!
And now, Ryan's turn! I'm happy I was able to watch this quick moment between Ryan and him mom occur as she saw him all dressed up for the first time that day.
I just have to tell the story of the threatening rain. As you can see, the sun didn't show up much during the day. The forecast was bad. It showed rain during the ceremony and rain during the portraits. But somehow, the rain held out in the early portion of the day and they decided to plan on the ceremony outside until the last possible minute. Every time I checked the forecast, it would go from 10% to 40% to 20% to 50% chance of rain... hmmm, extremely unreliable. So they did it outside and guess what... it didn't rain until after the first kiss... And even so, it barely sprinkled and stopped in time for family portraits and bridal party photos! PHEW! We were all thrilled about that. It was the best possible outcome compared to what we were expecting.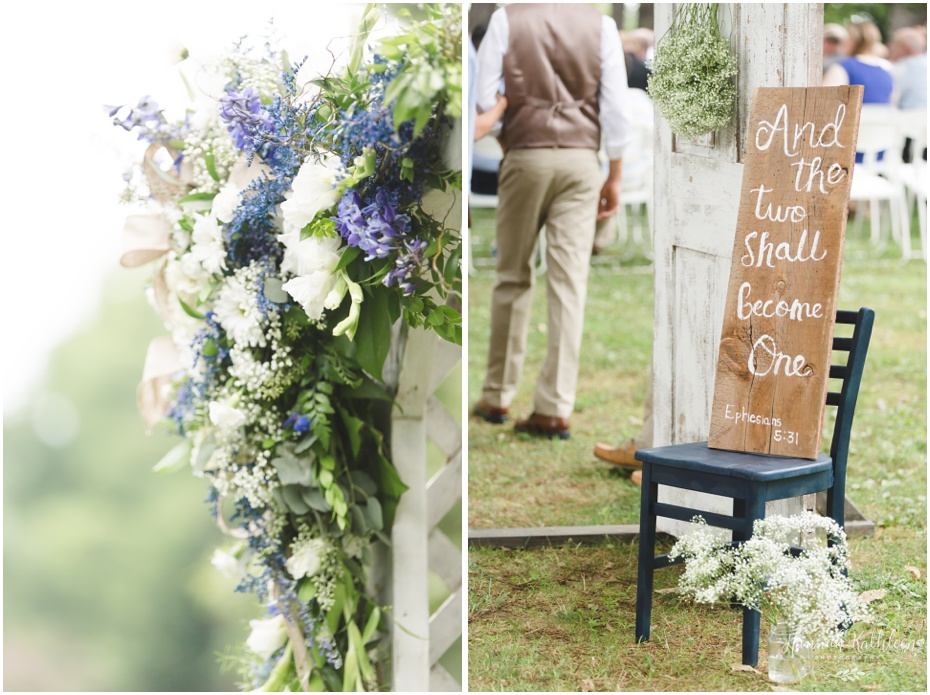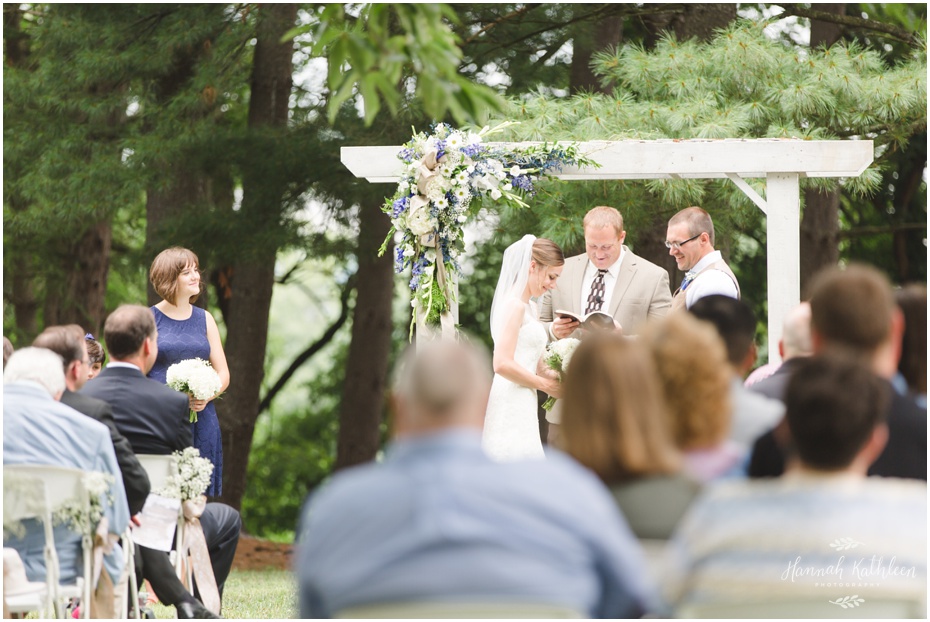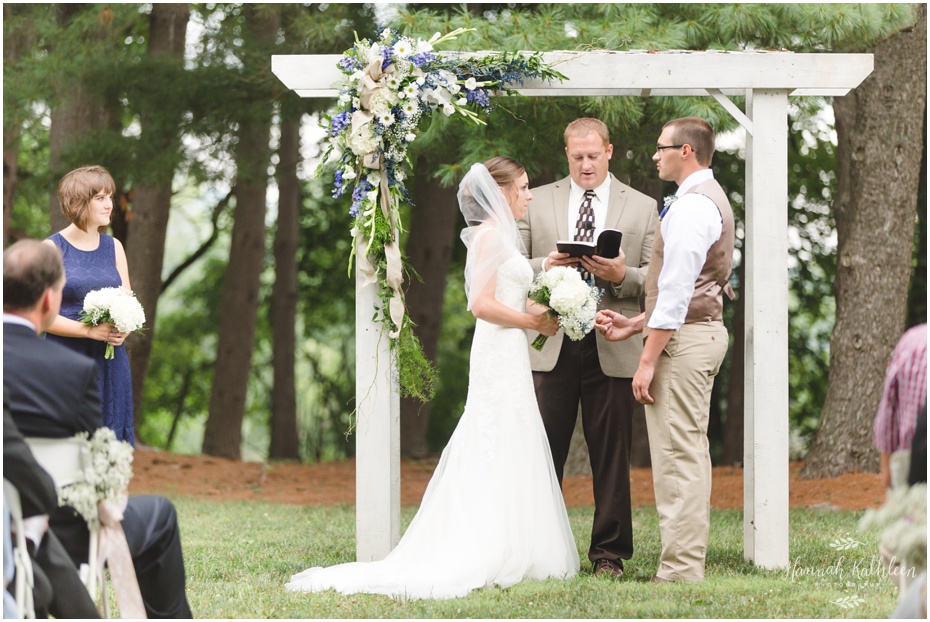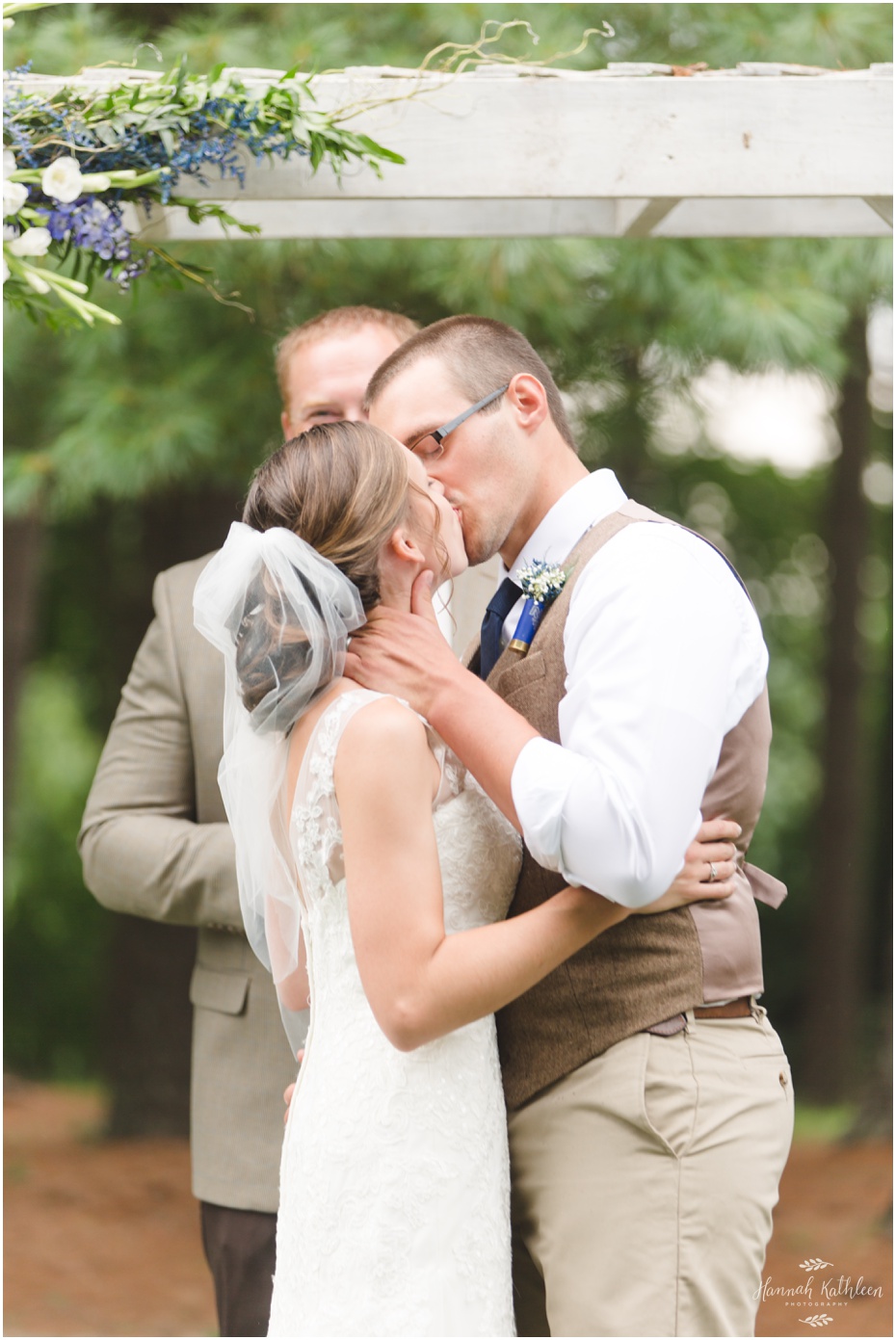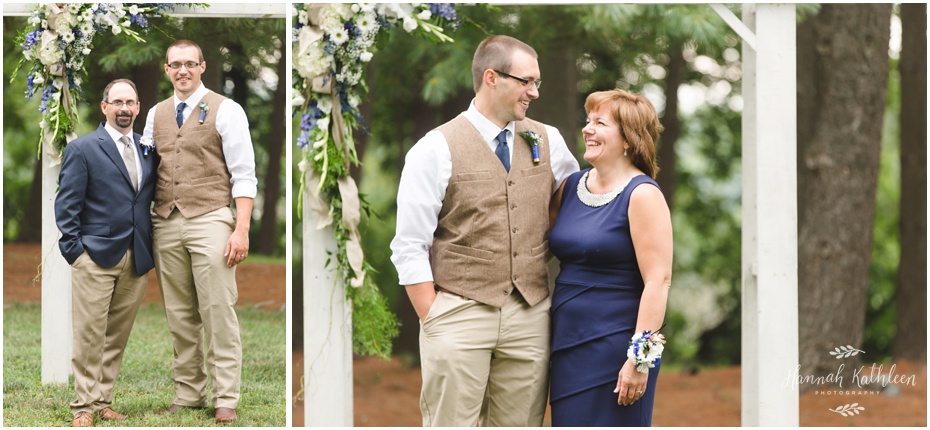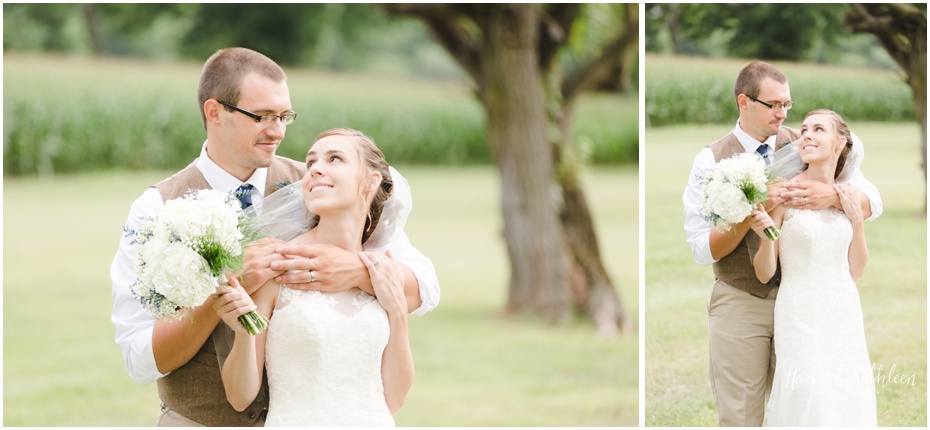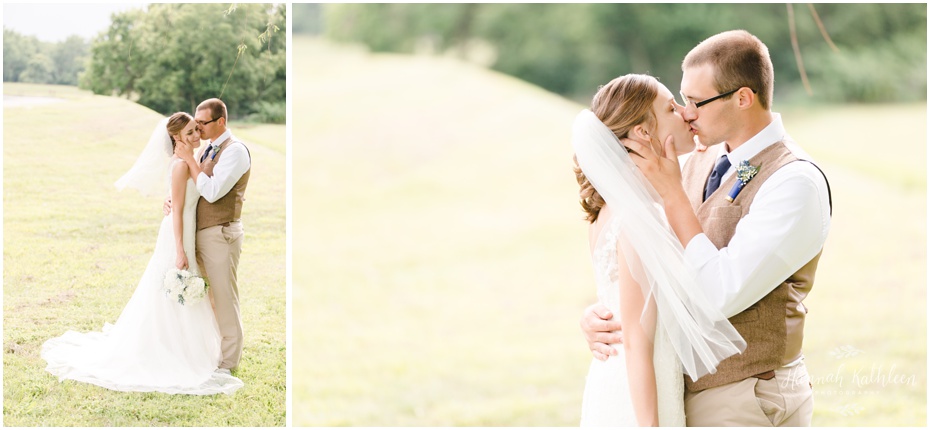 After a beautiful, genuine ceremony, Ryan and Gabi had a relaxed reception in the decked out barn! Food and cupcakes were catered by Shady Maple Smorgasboard. And might I add that the carrot cake cupcakes with cream cheese frosting were the best we have ever had. Hands down. The trip to Shady Maple would be worth it just for that cupcake.

Their powerful day ended with parent dances, toasts, the shoe game, an ice cream bar, and dancing!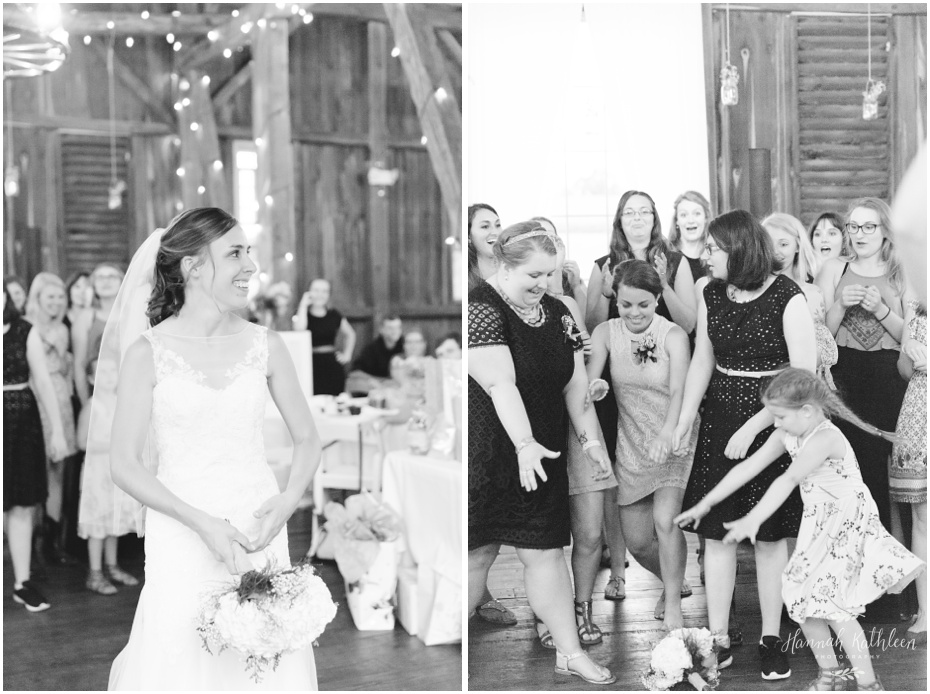 Ryan and Gabi, you are both so loved. You deserve all the joys of marriage. I am so happy for you both!
Congratulations!
Vendors:
Hair - The Mane Station - Aleshia Hawkins
Makeup - done by the bride
Flowers - Royer's Flower Shop in York, PA
Officiant - Pastor Jade Rogers, Keymar Evangelical Wesleyan Church
Wedding Stationery Designs - Vistaprint
Jewelry/Accessories - David's Bridal
Boots - Tractor Supply Co.
Vests - Amazon
Ties - Kohl's
Bridal Gown - David's Bridal
Bridesmaids Dresses - BonTon
Barn Decoration - Hobby Lobby
Cord Tying Board - Etsy
Guest Book Canvas - Etsy
Cake Toppers - Etsy
Cake, Cupcake, and Food caterer - Shady Maple Smorgasbord
Venue - Two Harts Barn in Spring Grove, PA
Two Harts Barn coordinator - Chris Lease