Family | Landri
Sep 26, 2017
I met Alyissa at a wedding over two years ago. Caleb and I were the videographers and Alyissa was the photographer. Alyissa was the nicest stranger ever, so that helped ;) but I felt like I clicked with her, especially since we are both photographers. Once I got the chance to see her photos from that wedding, I was a big fan. I have looked up to Alyissa and followed her work ever since. Please visit her beautiful website here. And follow her on facebook here.
You can imagine how excited I was when Alyissa came to me to ask for family photos! What an honor to have been chosen by such a talented photographer. It means a lot for her to pick me out of all the photographers in the Buffalo area.
I had a great time with Derek, Alyissa and the kids at Albright Knox Art Gallery in Buffalo, NY. This is one of the most used locations for bridal party photos (fine by me, I LOVE the white steps!!) but I had never used this location for family photos! The light colored steps created a beautiful backdrop for the blues and light colors in the family's clothes. Alyissa rocked that dress and nailed the whole family's outfits!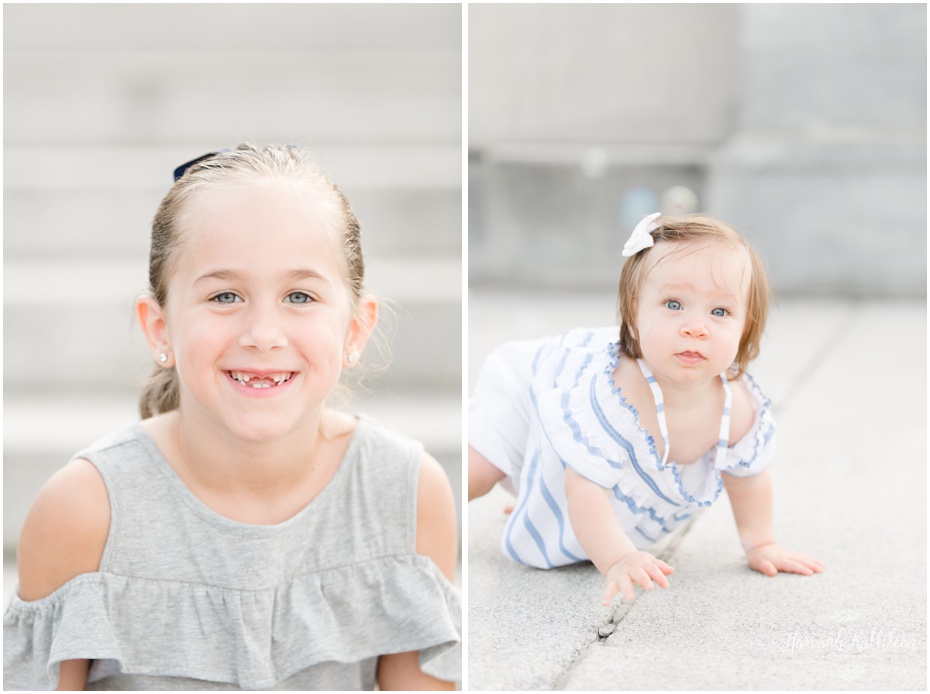 Family sessions are one of my favorite things. Maybe it's because of the challenge of unpredictable children... every session, every family is different. But the outcome is always so worth it. Kids can be hilarious, easy-going, ridiculous, stubborn, or downright not a fan of cameras. But the way I do things, allows any attitude or personality to be documented in a very real way. I love posed photos of everyone looking at the camera, but even more than that, I love documenting real life! I love capturing the relationship between a mother and daughter, two brothers, or a man and his wife. Each relationship is unique and deserves to be documented in its own way. Kids can't be expected to sit still the whole session long. I like to get them moving around and talking to me. My goal is for them to have a great time, so they think we just played for an hour and a half!
I adore these photos. If this gives you even a small glimpse into the life of the Landri family, then I've achieved my goal. Thanks for reading.