Spokane | August 2017
Sep 29, 2017
Family is the most important thing to me. Some of my favorite people call me "Aunt Hannah." I am a very proud Aunt of three nephews in Buffalo, New York and now TWO nieces in Spokane, Washington. My three older brothers are some of my closest friends. With my one brother living out in Spokane, WA... I have to go there and they have to come here if we ever want to see each other! I have made it to Spokane six times in the four years they have lived out there. I am grateful for Southwest points and for a husband that is cool with us using our points to visit family. Here are some photos from our wedding over a year ago in Spokane! Taken by the talented Nicole Mason. Check out her photos!
When we heard Adam and Michelle were expecting a baby in August (in the middle of my busy season as a wedding photographer), some of my family members started planning trips for early fall and I accepted the fact that I wouldn't meet the baby until winter when my schedule died down. I was surprised when Adam asked me to check my schedule to see if I could come and help around the time the baby was due. There was ONE weekend that I had no plans in August (that happened to fall on the due date) which would allow me to stay for ten days as opposed to the alternative 6 days any other time in the summer. Plus it takes 7-10 hours just to get there...! :/ I booked the flight!
It was important for Adam and Michelle to have people come and help because the baby was due the day after Adam's work schedule would get insane for 3 weeks (and then a little less insane until December). Adam is the Defensive Coordinator and Assistant Head Coach for Whitworth University's football team. This kept him busy from 5am to 9pm every day for three weeks after the due date.
This trip gave me the best of both worlds. I had five days before the baby decided to arrive to spend with Michelle and get used to Lucy's two year-old routine. Then, I had five days to spend some quality time with Lucy and plenty of time to hold the new baby... and to be extra helpful around the house.
It was a wonderful ten days that I will always remember. Baby Reagan came one day early and I was so relieved she came before I left! A highlight of the trip was taking Lucy to the hospital to meet her brand new sister only a few hours old! Trying to prep a two year old for seeing the baby... "Now the baby is in mommy's arms! You can actually see her, kiss her, and hear her."
On the way to meet new baby sister!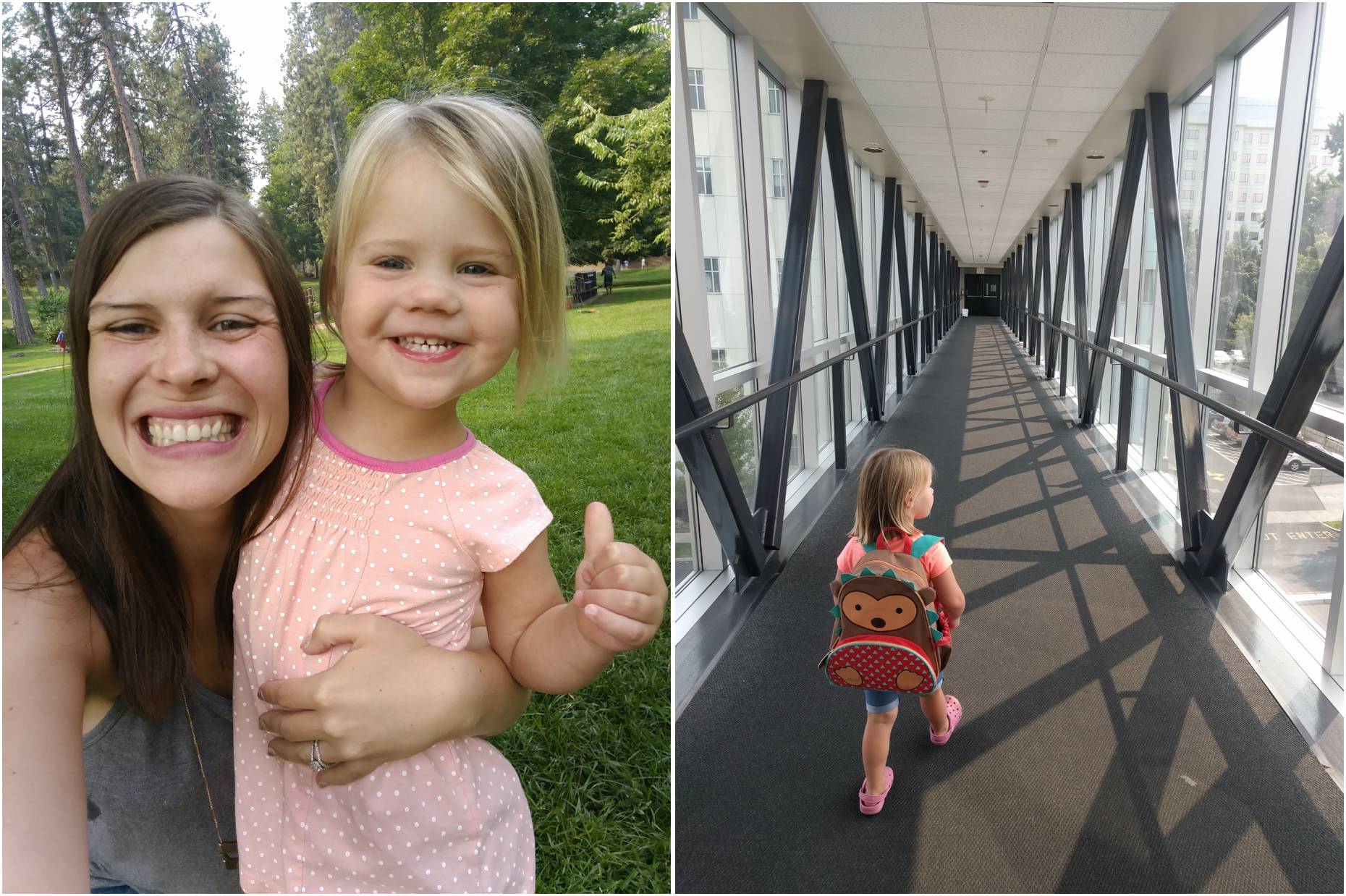 I was able to photograph Lucy's first moments with Baby Reagan. And can I just mention how amazing Michelle did and how fantastic she looked so soon! This was just a few hours after Rea showed up!
One of the first things Lucy said when holding Reagan was "see her cutie toes?"
Aunt Hannah!
Lucy was anxiously waiting for her new sister to come home from the hospital! Here is the first time she held Reagan at home. Those facial expressions are truly Lucy.
Here are some of my favorites from Reagan's first few days.

Keep scrolling for some highlights from my phone from my ten days in Spokane!
My Pizza Hut date was a bit squirmy.
My first time picking peaches! So good!
Miss Lucy Jane, Princess of Spokane.
The newest addition to the living room... can you spot it?
The Mobius Children's Museum was a ton of fun, not just for Lucy!
Proud of my football coach, big shot brother. Love watching Lucy be so comfortable with this unique life. She's hilarious.
Splash pad!
The first walk with baby Rea!
Yes, I fit!
Proud Aunt of 3 nephews and now 2 nieces!!! Can't wait to try to hold them all for the classic Aunt Hannah photo in Disney in January! I think I'm running out of hands!
I may have been fighting back tears while preparing this post... these pictures got me big time. Grateful for planes and video calls, long distance is no fun when you really like your family.
Thanks for reading. <3