Wedding | Jordan & Melissa
Jun 7, 2018
Congratulations Jordan & Melissa!
Jordan and Melissa are literally two of the kindest souls on this earth. I knew it from the moment I sat down with them at a coffee shop to discuss their wedding plans! They care deeply about every person in their life, and they love intentionally.
The story of how they met is pretty remarkable. All the pieces had to fall perfectly in place for them to meet each other. They got married on May 18th, which seems like any random date… but for them… there was serious significance to the date of May 18th even before they started dating. I wish I could tell you the whole story, but I would mess it up. If you are friends with Melissa and Jordan be sure to ask them next time you see them! 😊
The whole wedding took place at the Avanti Mansion, which is a beautiful venue located in Blasdell, NY (pretty much Hamburg)! I was so excited because Jordan & Melissa's ceremony was to take place outdoors (can't beat that natural light and being in God's creation!)! Yay! And the reception ballroom was pretty, too!
They have a nice bridal suite for the ladies to get ready in, and I showed up a little bit early to take my sweet old time photographing all of Melissa's gorgeous details! 😍 Brides put so much time and effort into picking out the perfect wedding bands, shoes, invitations, and jewelry… that the least I can do is document all those things really thoroughly! Plus, these are some of my favorite types of pictures! What do you think about all the pretty details?

Heart eye emoji all around, right!?
I was so excited to see what dress Melissa picked out. She would look amazing in any style dress, I'm sure… but this was definitely perfect for her! She looked prettier than a princess, and just look at how much bling that necklace adds! Holy cow! She definitely stood out from the crowd in her white sparkly dress, but it still fit with the simplicity of all her bridesmaids' dresses. And I have to mention how much I love the bridesmaids' minimal necklaces! Melissa gave them to her girls as a gift the night before the wedding!
And if you know by by now, you know that I love white and soft pink, so you can't beat these blush bridesmaid dresses, soft colored flowers, and white background! I love these photos! And all of these girls are just so pretty.

Jordan is extremely kind and his parents and brothers love him so much! Jordan can be friends with anyone, he's just too nice for anyone to dislike him! He's the kind of guy who has a calming voice, gentle eyes, and a really good heart. The way he looks at his bride just melts your heart. And wait until you see his reaction to Melissa coming down the aisle. #blessmysoul (say that in a southern accent).
And Melissa, did you know you married a model!? GEEZ! He's going to be getting calls from J. Crew.
Putting God first in their marriage, prioritizing spending time together in prayer even though they wanted to keep the tradition alive of not seeing each other before the ceremony! They creatively had a moment alone on either side of the door without seeing each other. It was really cute and powerful.
This outdoor ceremony was the perfect setting for Jordan and Melissa to exchange vows in front of their family and friends. My favorite parts? Jordan's reaction to his bride coming down the aisle, the prayer with their parents, and Jordan and Melissa's first kiss EVER.
I'm not crying, you're crying. 😭
With a bride as beautiful inside and out as Melissa, I don't blame him.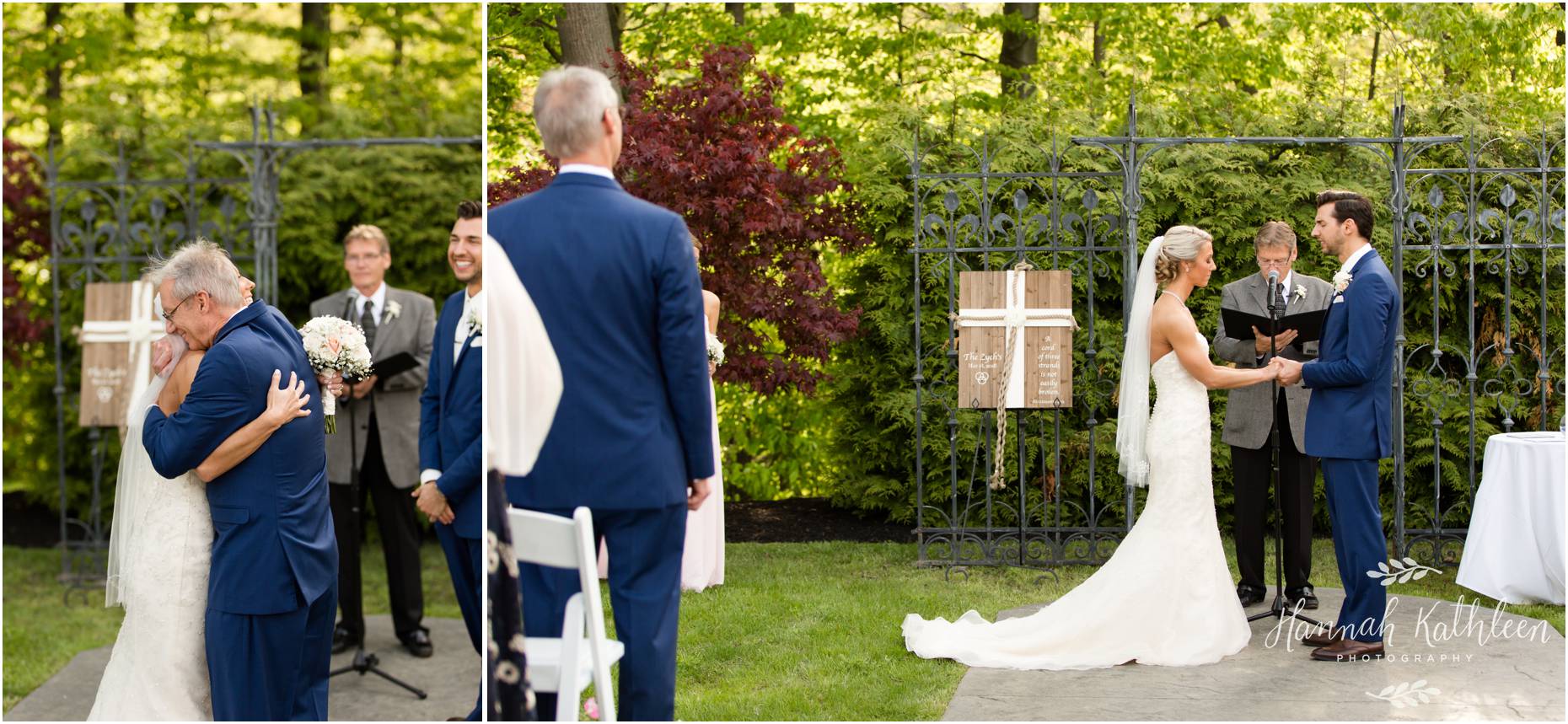 I have never seen a bride and groom more giddy with excitement and anticipation to be announced as husband and wife! Look at this adorable first kiss… ever.
Are they not the cutest!?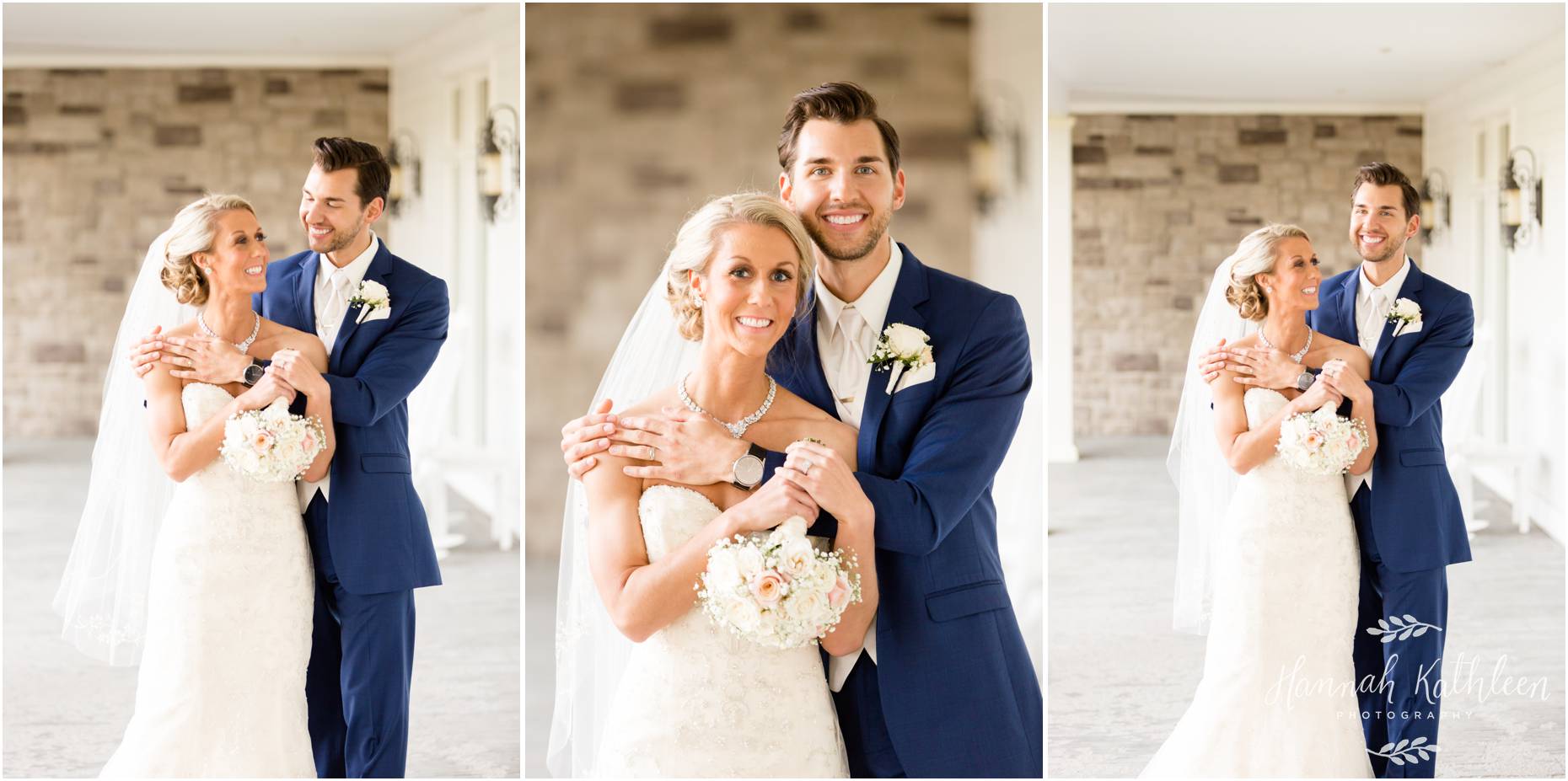 Time for the reception! Avanti does a great job with everything. Their attention to detail is impressive and I've worked with Kenny the DJ (we are distant relatives, too!) a number of times and he's one of the best DJ's out there!
Melissa's parents spoke during the reception. Her father said something along the lines of, "Everything Melissa does, she does to her best ability and puts her all into." It was fun to hear that about Melissa because I would describe her in the same way. The little bit I know about Melissa, I know that she does everything well and every task gets all of her effort. You can just tell that she is extremely motivated and determined, and I imagine succeeds at just about everything she puts her mind to. You can draw a connection from these character traits to her healthy relationship with Jordan. I just know that these two have something special together, they have and will continue to give it their all. And by doing everything right with motivation behind them, they will be one of the best couples ever. 😉
I always try to catch just a few extra minutes of portraits while the sun sets!
And some highlights from the reception!
Saying that I was honored to photograph Jordan and Melissa's wedding would be an understatement. It was truly my privilege to be a part of this special day with such wonderful people around me. I enjoyed every minute and had a blast celebrating Jordan and Melissa's love! A relationship I truly believe in, a couple who puts God at the center, and two individuals who couldn't have made me feel more welcome or appreciated.
Jordan and Melissa, thank you for choosing me to be your photographer. Thank you for trusting me with this important task, and thank you for being so easy to get along with. You two are the best.
All the love,
Hannah
VENDORS:
Hair - Tamara at Corto's Salon and Spa
Airbrush Makeup - Cara at Corto's Salon and Spa
Nails - Corto's Salon and Spa
Flowers - Flowers by Johnny
Perfume - Daisy by Marc Jacobs
Shoes - Marshalls, White Mountain
Reception slippers - Dyed to Match
Hair accessories - Veil from Couture Bridal in Warwick, RI
Wedding bands - Reeds
Engagement ring- Reeds
Cake - Muscoreils
Desserts - Avanti Fried PB & J (This was the very first wedding to try this snack at Avanti! So fun!)
DJ - Avanti House DJ, Kenny Elminowski (Highly recommended by Hannah!)
Officiant - John Stickl
Wedding Stationery Designs - Hobby Lobby
Bridal Shower Invites - Kim Coney (ReMadE)
Tuxes - Tuxedo Junction
Ties - Tuxedo Junction
Bridal Gown - Alfred Angelo (AnnMarie from Couture Bridal in Rhode Island helped Melissa when Alfred Angelo went bankrupt and they never received her dress!! AnnMarie located the dress in London, England and had it shipped to her and then to Melissa!!!)
Bridal Jewelry - NY International Style
Bridesmaids Dresses - Kanali K from Bridal Chateau
Bridesmaid jewelry - Francescas
Random reception decor - Hobby Lobby
Coordinator - Kem Stickl
Avanti Coordinators - Colleen and Laurie
Want to see more!?
Click here to see more of my wedding photos!
Click here to read more wedding blogs!