Disney World | Cody & Whitney
Mar 26, 2018
If you've been following me for any amount of time, you probably already know that I have a passion for Disney World. And of course I have a passion for photography. So the opportunity to combine them and create lasting memories for couples and families is just so exciting to me! Taking photos in Disney World is one of my favorite things to do, and I am so excited to share my latest session with you all. If you are interested in having photos taken at Disney World, my next trip will be May 15th and 16th and likely another trip in August! Email me at [email protected].
This is Cody and Whitney.
I had the privilege of taking photos for their adorable family last year and I was so excited to hear that the two of them were making a trip to celebrate their 7th anniversary together! Click here to view their photos from last year. This time, they would spend a couple days away from the kids, enjoying some other parts of Disney World just the two of them! What better trip than this to get some updated photos in one of their favorite places.
They haven't had photos taken of the two of them (without kids) since their wedding seven years ago! It was definitely time and I'm so glad they chose me to document their relationship seven years into marriage.
After you have kids, it's easy to lose your identity as wife and husband, you just kind of become mom and dad and forget about life before the kids. It's important to remember that before there were kids, it was just the two of you! You are the foundation to the family, and your marriage comes first! That's why, when I do family sessions, I always make it a priority to photograph mom and dad alone… without them, there would not be a family to photograph! So you can imagine how excited I was to hear that Cody and Whitney were looking for some new photos of the two of them during their romantic trip for two.
I don't know about you, but my favorite area to take pictures in Disney World is definitely around the castle in Magic Kingdom. This area is so fun, joyful, elegant, romantic, timeless, and pure. It's the best.
We also took a walk around New Fantasyland, stopping at the entrance into New Fantasyland, Dumbo, and The Little Mermaid area.
On the way to our final destination, we took the scenic route through the Tangled Restroom area. I don't care that this is a bathroom (and one of the best in the park, I might add 😉), this is such a perfect, fairytale setting for photos! And I found out after we walked over here that Tangled is one of Whitney's favorite movies! How perfect!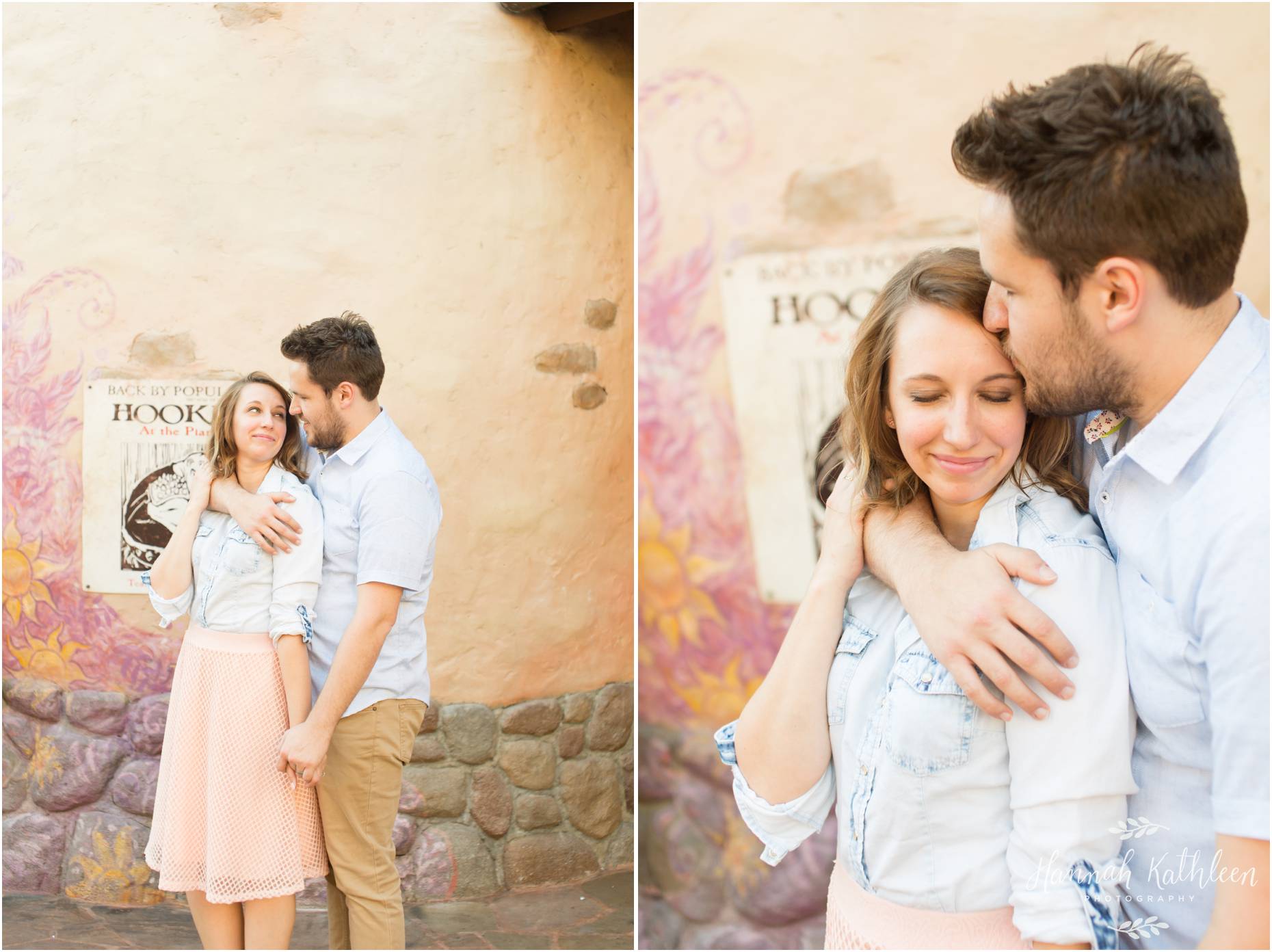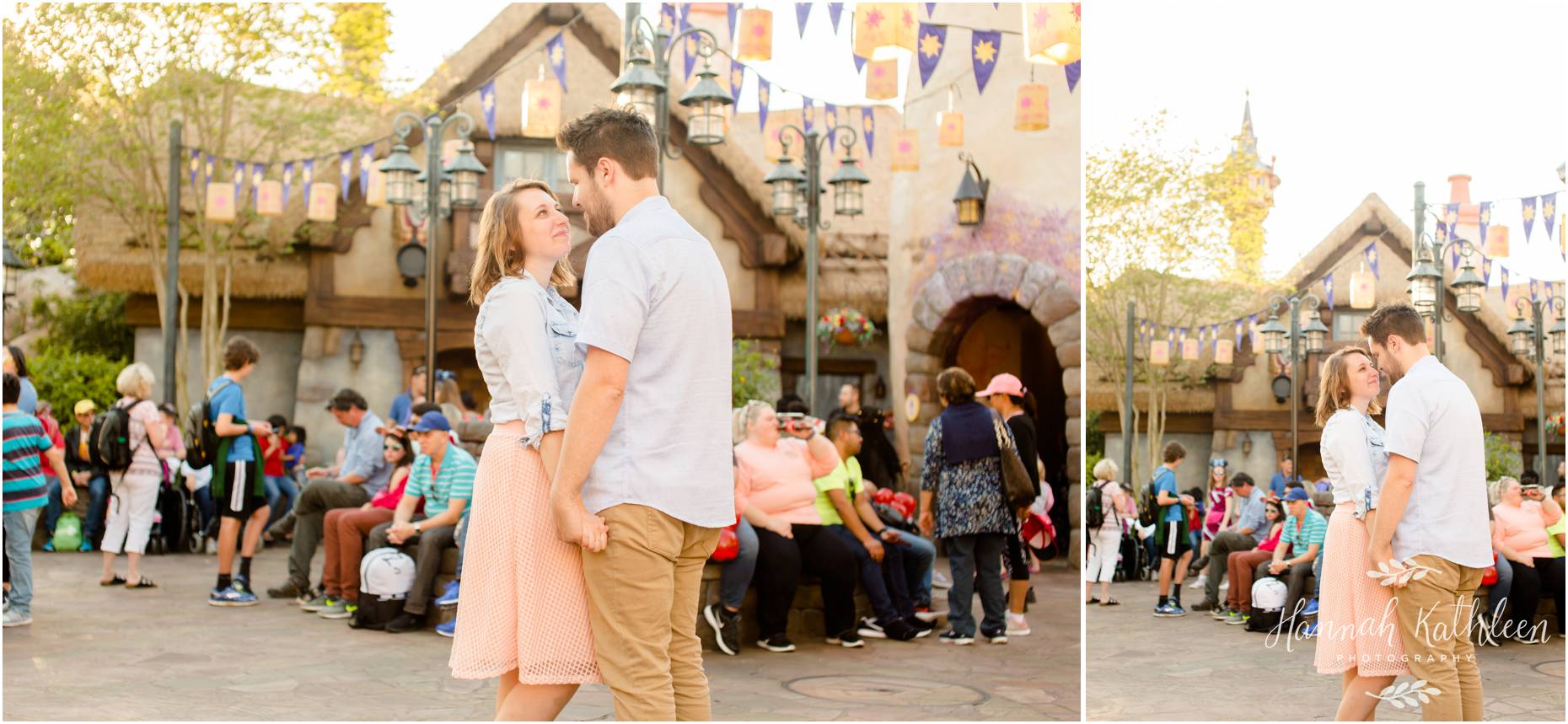 I can't really choose a favorite land, but if I had to… it might be Frontierland. I could listen to that banjo and fiddle music all day long. The theming is so immersive, and I like the old western vibe… and turkey legs. Two of the best rides are in Frontierland; Splash Mountain (my favorite ride), and Big Thunder Mountain (my favorite ride at nighttime). AND, the reason I took Cody and Whitney over here… the water and the golden light shining through the trees! That view of splash mountain is 😍 and the peaceful boardwalk is one of my favorite places in the park. Who's with me?
I could talk about Disney World all day long, but I'll spare you. Thanks for reading about Cody and Whitney's session. Be sure to follow me on facebook to see a new family session from Magic Kingdom later this week!
If you're in need of cute Disney (or non-Disney) shirts, check out Whitney's etsy shop or facebook page! I have 4 of her shirts now, and they are some of my favorites! Cody also has an etsy shop for creating custom painted gaming controllers and nerf guns… it's pretty impressive what he can do! Check it out!
Be sure to check my travel dates to see when I'm coming back to Disney and reach out if you can make my dates work. Don't hesitate to start a conversation about me coming when you have your trip planned, too! Bring me there and the photos are yours!
More Disney Photos here!