Disney World | Moneyhon Family
Aug 24, 2018
I'm not sure I can think of a better way to start a Disney world vacation! I met Kambrey, Robert and Presley at the Magic Kingdom just a few hours after I arrived to Florida. We planned an evening session in the park so that we could take advantage of the best possible lighting for these photos... plus, with averages in the mid 90s and "feels like 105 degrees", I find it very smart to take pictures as it's "cooling down" or before it heats up. (Compared to what I'm used to in Buffalo, Orlando was as hot in the middle of the night as Buffalo is at its worst. I love Buffalo summers... can't stand Buffalo winters!) We were pretty much sweating our tails off even though these photos were taken right before sunset... but nothing can take away that Disney magic!
The first things I noticed about Kambrey... her gorgeous face and that dress! Wowza! She knew exactly what to wear to match my style of photography and to keep it bright and light to fit with the Disney World vibes. She had a great vision to dress her family just as perfectly. Just look for yourself!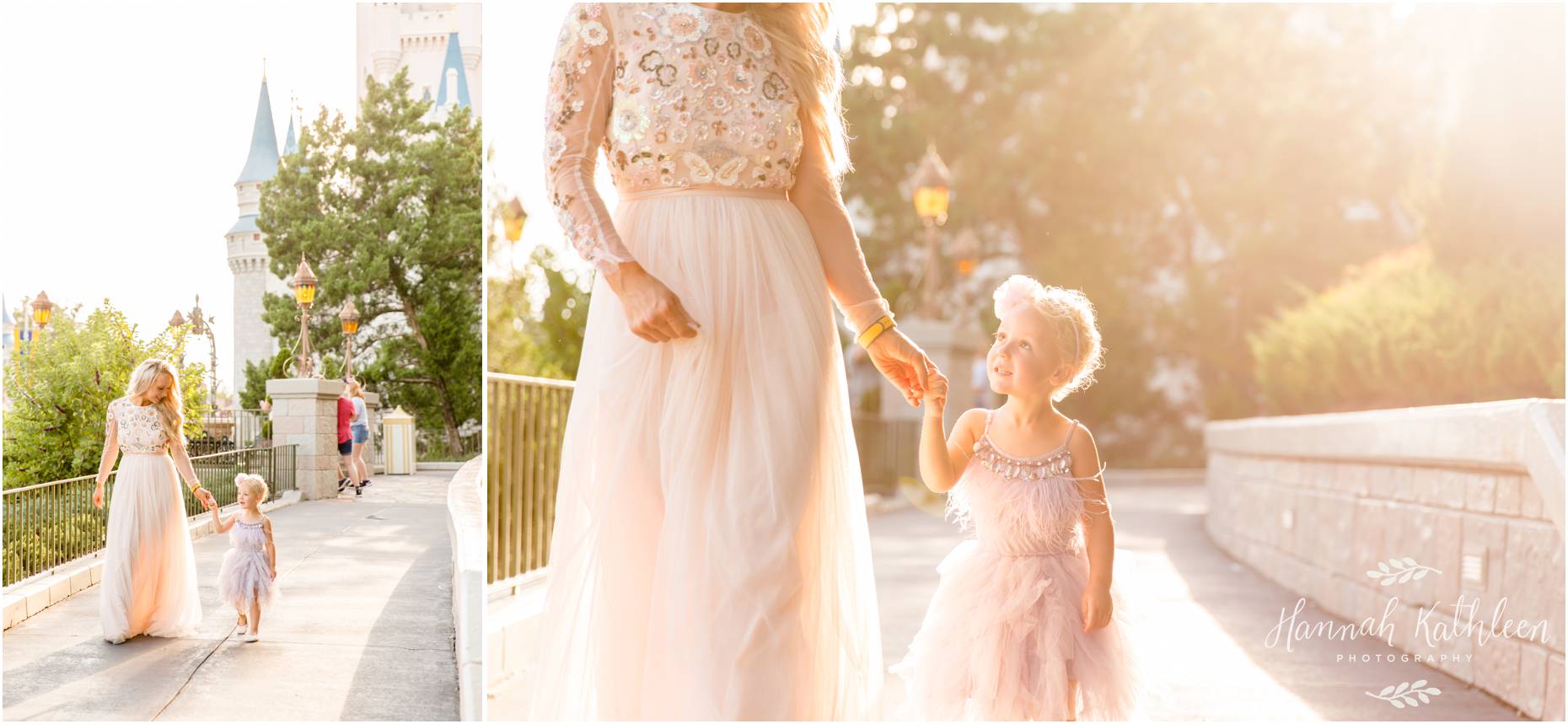 Little girl Presley looked as cute as can be in her light purple dress. I was thrilled when I saw what she was wearing. Adorable.
Robert brought the Texas touch to the photos with his boots and a hat. And we didn't even once step foot in Frontierland for these photos! We should have! ;)
Who's up for a couple Disney World classic rides? First up, my favorite ride to take photos on... Dumbo!!
How cute are these?
She was just a little apprehensive at first!
Cinderella Castle is clearly the icon of not only Magic Kingdom, but all of Walt Disney World. It seems only fitting to put a focus on the castle while photographing sessions around Magic Kingdom.

And did I mention how great the sunlight was!?

Next we took a very short walk through Fantasyland to the equally as popular teacup ride! I am pleased to report that I did not feel sick trying to take these pictures while riding in a separate teacup! 😂 the things I do for photos... worth it.
Presley was definitely the star of the show. She was so cute and warmed up to me right away, which I loved so much. We played with balloons, bubbles, and ducks! We both had a blast.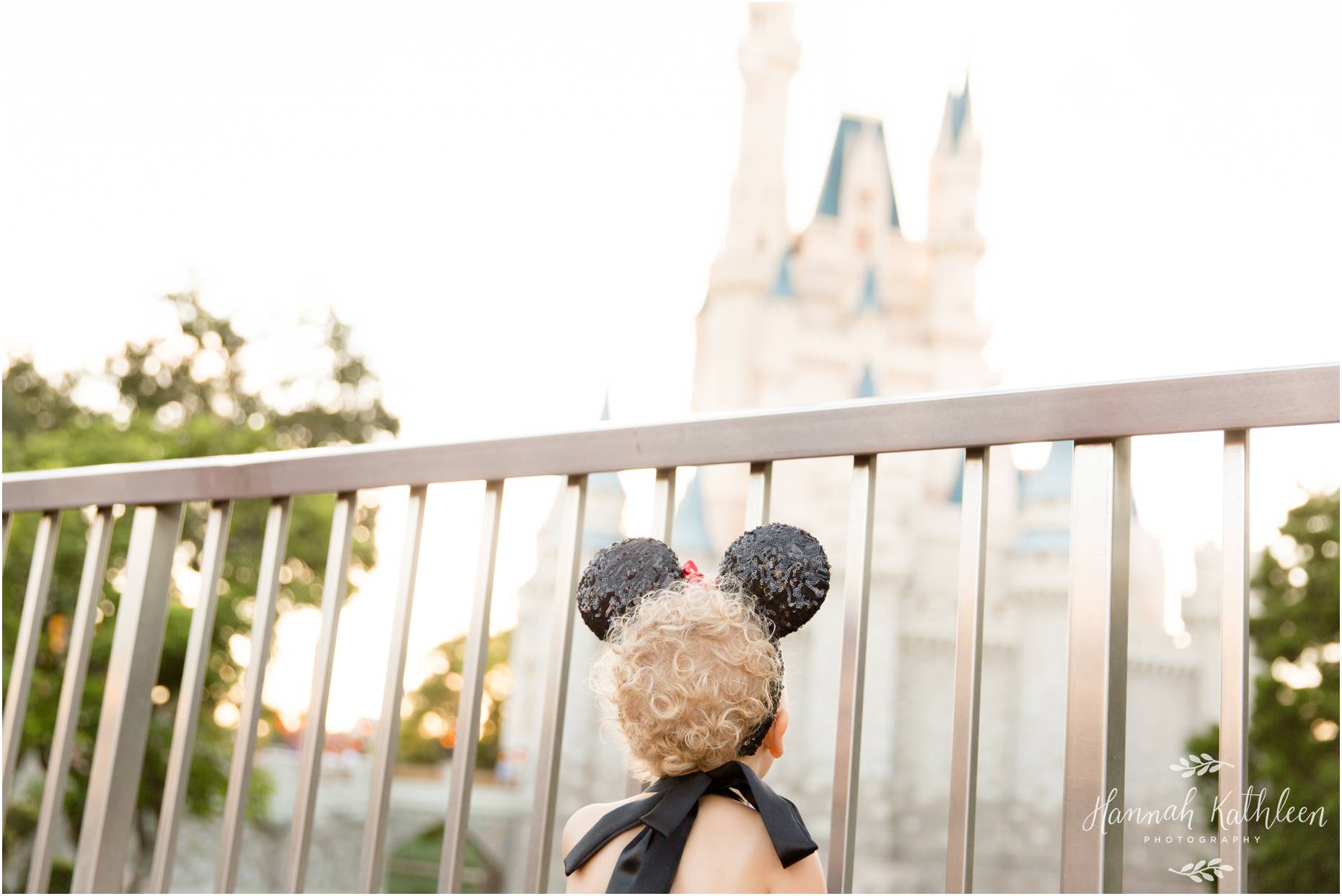 This family was a sincere joy to get in front of my camera. I am so excited to share these photos with you and for you to take a little look inside my Disney World photo taking experience!! With a family this great, and a little girl this special, it's hard to not have a great time.
This session concluded my time at Magic Kingdom for day 1 of 3 on my [first] solo trip! You'll be seeing more blog posts from my two other sessions soon! Keep an eye out! Oh! And after I said goodbye to these three, I headed straight for Toy Story Land... don't worry, no spoilers here! I just have to say that I really really loved it! (Especially at night!)
Yes, I'm a total Disney World freak... you probably know that by now. I'm also a photography freak! So for me, there's nothing better than combining my love of photography with my love of Disney World. Taking these types of photos for people to cherish is so special to me. I find it so fulfilling that the people I'm photographing love the location they chose, and it usually holds serious sentimental value.
And did I mention, these sessions are free!? Bring me to Disney World and I'll be your photographer! 😍 That's how it works!
Hop on over to my website and say "hi!" Follow along on facebook or instagram!
Take a look at my travel calendar and let me know if you want photos anywhere!
Also, if you have a Disney trip planned, message me regardless of your dates, you bring me there and the photos are yours! Yay! (And I'm happy to set you up with some tips and advice before your trip if you're looking for help with anything!) And yes, that isn't a typo on my travel calendar… we will be "snow-birding" near Disney World in Florida for SIX weeks next winter! And I'm available to take photos all around Orlando! Introduce yourself… I love making friends!
Thanks for reading this blog post!