Disney World | Dannielle & Malia
Feb 15, 2019
A mother-daughter session in Walt Disney World's Magic Kingdom. These two have a special place in their heart for Disney World, so it only seemed fitting to take pictures together in the most magical of all the parks… Magic Kingdom!
Elle and Malia are so much fun. This session was full of laughter and many stories. I felt like I had known them forever, and I was welcomed right into their family. The two of them clearly have hearts of gold. Malia has serious dreams and ambitions in life, she's a young girl with a plan and I love it! Elle is a woman of faith and without meeting the whole family, I could tell she is such a family person. I am so so grateful for my passion for photography, not just because I love it, but also because it puts so many great, new people in my life that I wouldn't have otherwise met! It's so special meeting people you find you have a lot in common with.
We started our session behind the castle in Fantasyland, but walked ALL the way around the park! You might recognize some of these next photos as the Little Mermaid area, the Tangled restrooms, Splash Mountain, and Adventureland.
We couldn't forget about Dumbo! (I may have had a little friend in my Dumbo with me who did very well at making Dumbo go up and down while I tried to get shots in before Dumbo went too high or too low! Ha! It was a new kind of challenge!)
As the sun set on this gorgeous, winter day in Orlando, Florida, we had the most perfect lighting on the side of Cinderella Castle. I can't get enough of this kind of light on Magic Kingdom evenings!
Thank you Elle and Malia for welcoming me into the family for an evening. I can't wait to see you again in the future, maybe next time with the whole crew!
Caleb and I have now been here in Orlando, Florida for almost four weeks and I can't believe we are well over halfway through our first snowbirding adventure. I am sad to see the end so close. It's been an amazing time so far full of park days, lazy days, early morning runs, bike rides, disney snacks, old friends and new friends. Since Caleb doesn't read my blog posts, I think this is a safe place to say that I'm working on convincing him to do this again next year. ;) While I'm here though… if you or anyone you know is coming to the Orlando area or even to Disney World, hit me up! I'm here and ready for photos! And getting lots of inquiries for Disney photos throughout the rest of the year… we'll see how many times I come down this year. :)
Hop on over to my website and say "hi!" Follow along on facebook or instagram!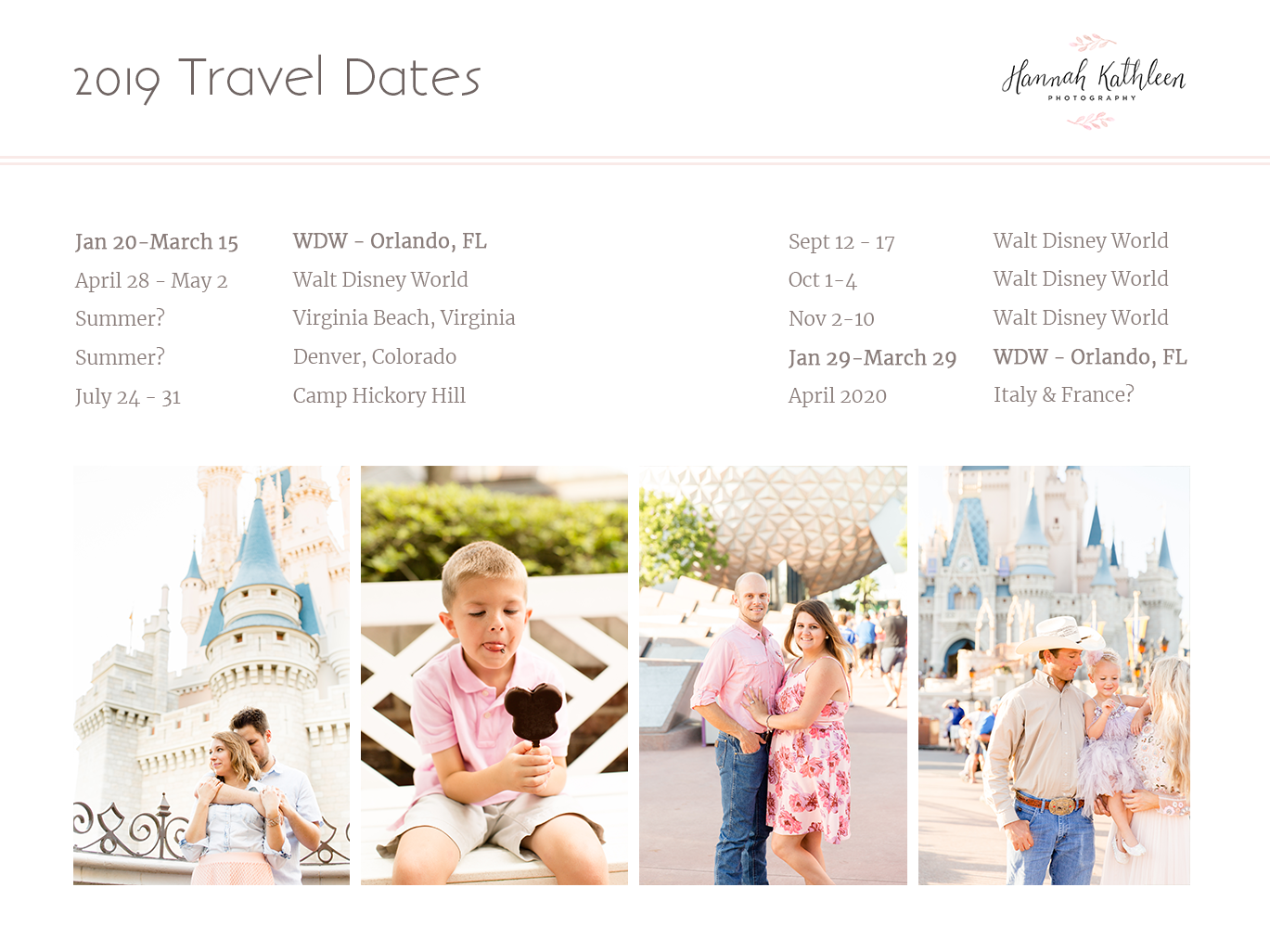 Take a look at my travel calendar and let me know if you want photos anywhere!
Also, if you have a Disney trip planned, message me regardless of your dates, you bring me there and the photos are yours! Yay! (And I'm happy to set you up with some tips and advice before your trip if you're looking for help with anything!) And yes, that isn't a typo on my travel calendar… we are "snow-birding" near Disney World in Florida for about three more weeks! And I'm available to take photos all around Orlando! Introduce yourself… I love making friends!