Wedding | Ryan & Courtney
Mar 2, 2019
"And they all lived happily ever after..."
I don't even know where to start with this one. 💕 Like every good story, I'll start in the middle 😉 when I met Courtney and Ryan! You know how some people come into your life like a big ol' raindrop when there isn't a cloud in the sky? You're in the right place at the right time and it's startling enough to make you think, "how did this happen!?" That's how I feel about Courtney falling into my life.
A lot of you have asked how we got connected. I honestly think it was destiny… and social media. But mostly destiny. One of my most kind-hearted 2018 brides is a mutual friend and introduced us in the COMMENTS on a post on facebook. Courtney responded, I responded, Courtney responded, I messaged her privately, we met in person one week later, I loved her so much and boom! That's how I got my first Disney World wedding! (Shoutout to Melissa Zych for taking the time to attempt connecting both of us. I'm so grateful that you introduced me to Courtney!)
And how crazy is it that Courtney, Ryan, and I are all from Buffalo, NY!? The wedding was like a big Buffalo party with bridesmaids and groomsmen that I already knew! So much fun!
A quick backstory about Ryan and Courtney before we jump into the details of their wedding day. Years ago, Ryan needed a place to live and Courtney needed a roommate. I believe they lasted a solid three months as only roommates. 😆
Here comes my favorite part of their love story: One night, in the middle of the night, Courtney woke up to a call from Mickey Mouse saying that she was going to Walt Disney World that day! Ryan totally surprised her with a trip, they went that same day, and later that night… he asked her to marry him in front of the castle during the fireworks show… 😭 appropriately titled "Happily Ever After!" I have seen the video of him getting down on one knee and oh my goodness is it adorable. For you Disney World freaks out there, he proposed at the "You Can Fly! You Can Fly!" part near the end where Tinkerbell starts to fly. And yes… it was absolutely perfect. I can't hear the song or watch the show without thinking about these two, and I'm so so glad about it. 😍
I could talk about these two for blog posts and blog posts, but I'll spare you the details and show you what you came for! The wedding pictures!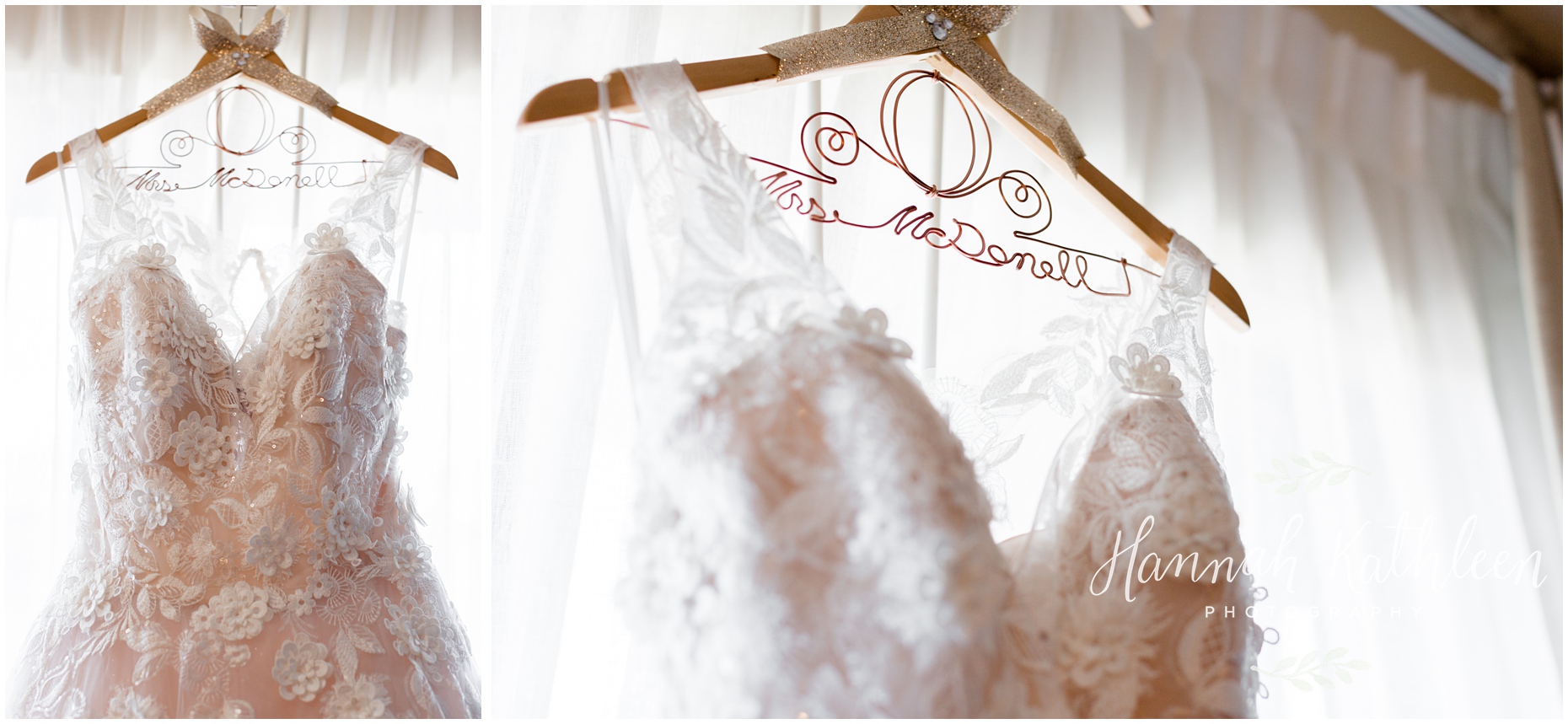 Courtney got ready at her home resort with her best friends and family by her side. Disney's Wilderness Lodge has so much character around every turn. It was a blast to take photographs outside here. (Spoiler alert: we may have come back, just the three of us a couple days after the wedding to take MORE pictures! But that's a whole new blog post that will come later!)
This girl likes sparkle! And Mickey!
Can you find the hidden mickey in her engagement ring!?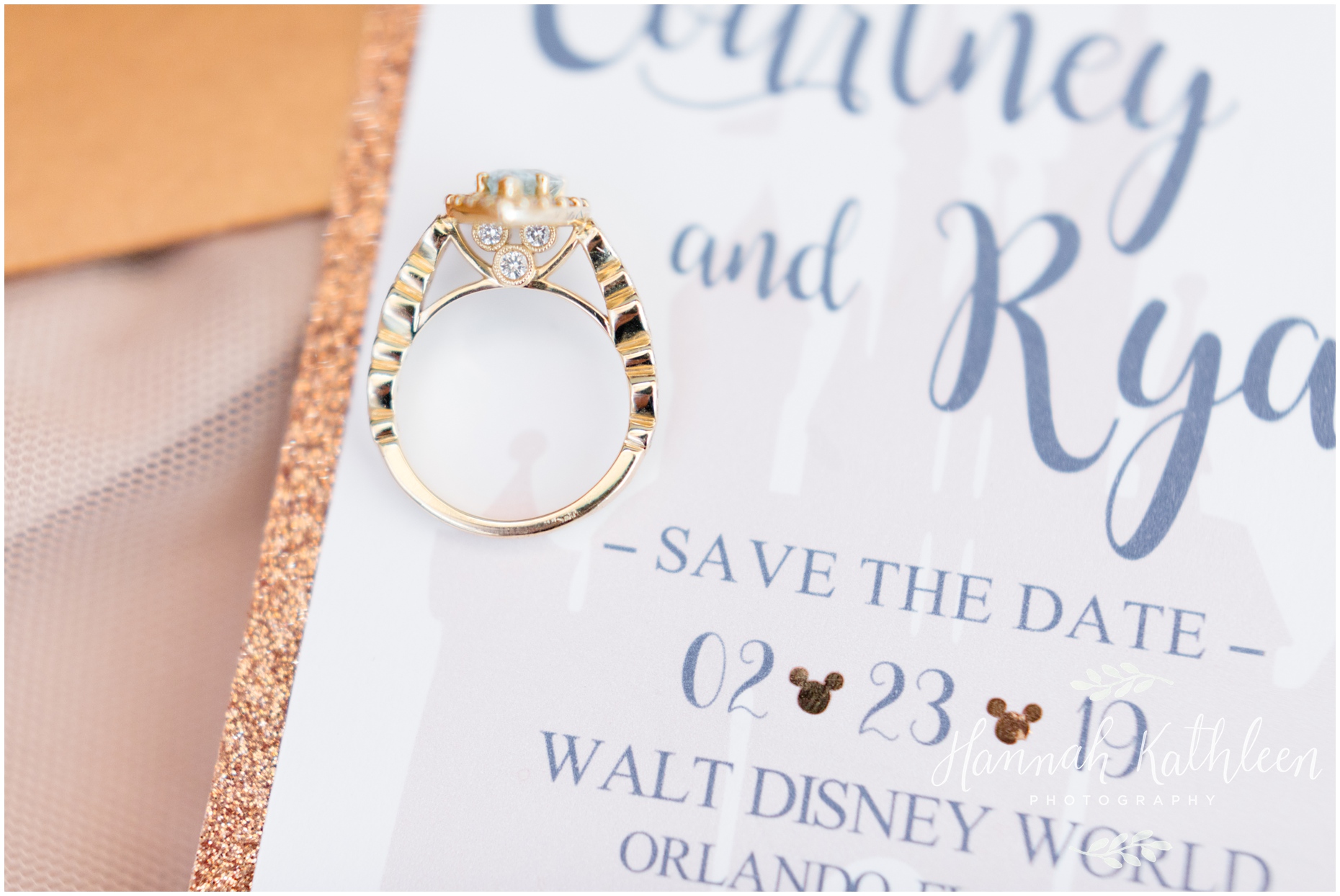 Guess what!? The same graphic designer that made my logo, made their invitation with the watercolor back of Cinderella Castle! Awesome job, Sam!
Courtney's mom, Karen, is the most bubbly, warm, kind-hearted mother of the bride ever! Thank you Karen for being so welcoming to me! Both Courtney and Karen have eyes that smile and it's truly contagious. Aren't they both beautiful!?
Ryan and his groomsmen got ready at Boulder Ridge at Disney's Wilderness Lodge. A HUGE shoutout to the most amazing second photographer ever, Alyissa Landri Photography!! I have had the honor of photographing her and her family two times now, and she is one of my most recommended photographers! She did an amazing job and if you aren't already following her on facebook, and instagram, now is the time to take a look!
Check out those Monorail socks!

Ryan is probably the most easy going groom I've ever had. He's just along for the ride, and enjoying every minute. He loves Courtney with all his heart, and is so incredible sweet to her. He's a keeper.
Don't worry! The little guy has Coke in his glass! Ha!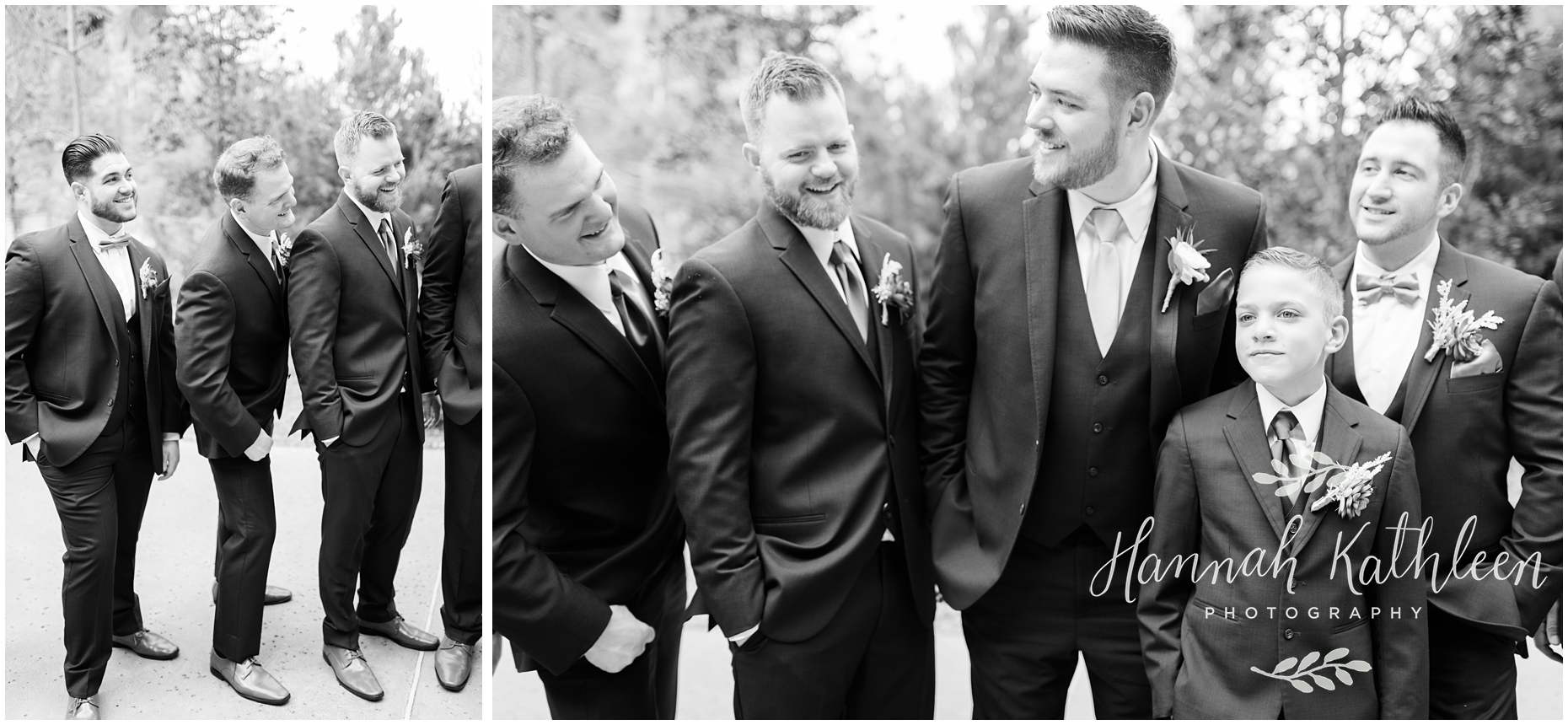 Courtney did a grand reveal for her ladies to see her for the first time. But I think I might have been most excited to see all those beautiful bridesmaid dresses altogether on those pretty girls. What a unique combination of colors! And did you notice that each dress is different? Which is your favorite!?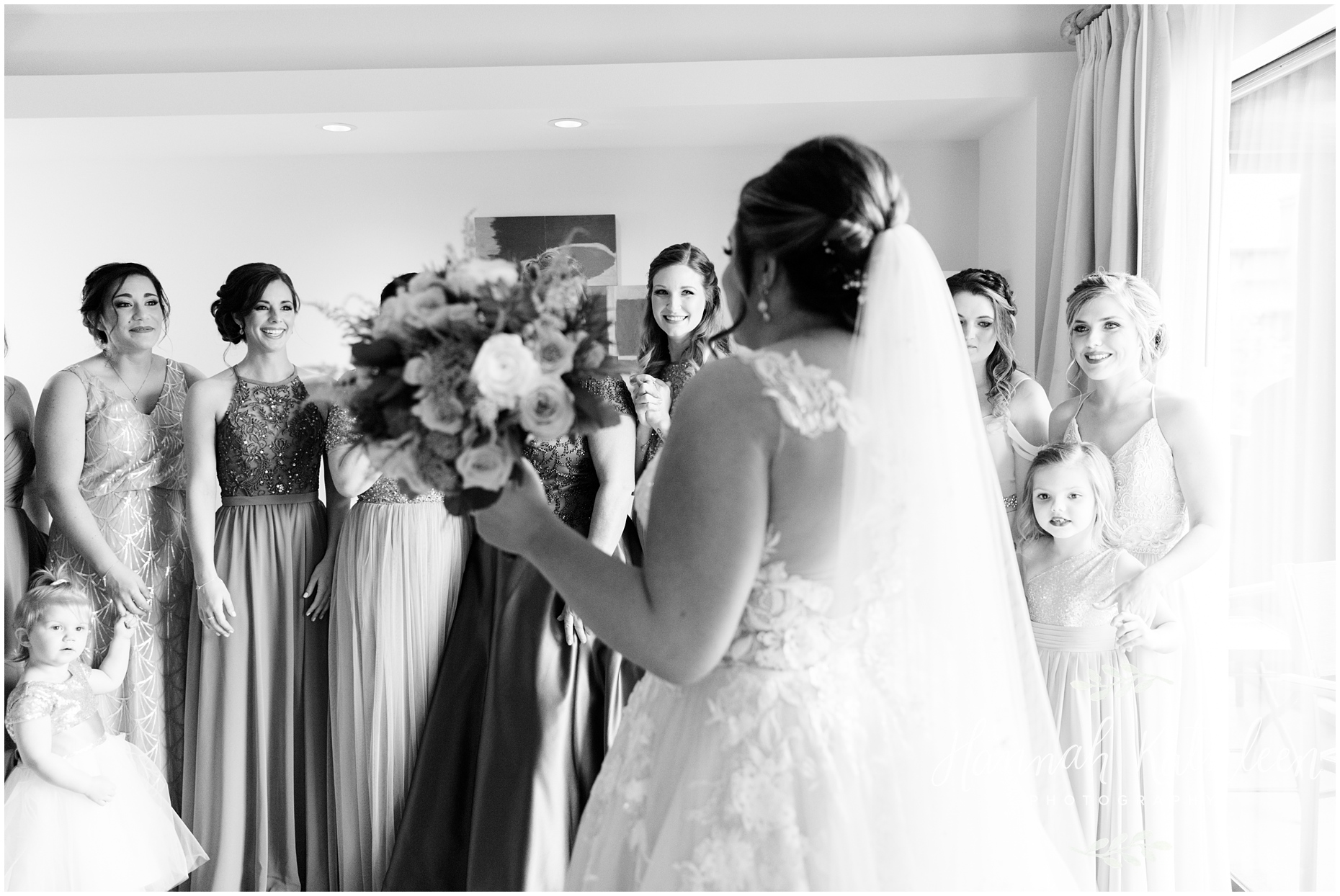 After a quick toast, Courtney was off to see her father, stepdad, and brother for the first time. Isn't this so sweet?
I don't know about you, but I'm really loving these lanterns as a bouquet alternative! So dainty, still the right amount of color, and my favorite part… they are unique!
Thanks Alyissa for capturing this moment of me carrying Courtney's dress in between shots! Our laughter really sums up the day!
Ryan and Courtney had their wedding ceremony in the most classic of all places on Disney World property to get married. The Wedding Pavilion at Disney's Grand Floridian Resort. The gorgeous location overlooks the lagoon, and if you look straight through that window behind the altar, you can see Cinderella Castle!
The sun had just set when Courtney and her family arrived in style in the Cinderella Coach! Wow! Talk about an entrance! And those are little ponies! 🐴
The ceremony was sweet and powerful. The music was subtle, beautiful, classical Disney. The bride's entrance was just fantastic. I enjoyed every minute of this ceremony and wish I could relive it again. (Oh! And how sweet is Ryan's reaction to his bride!?)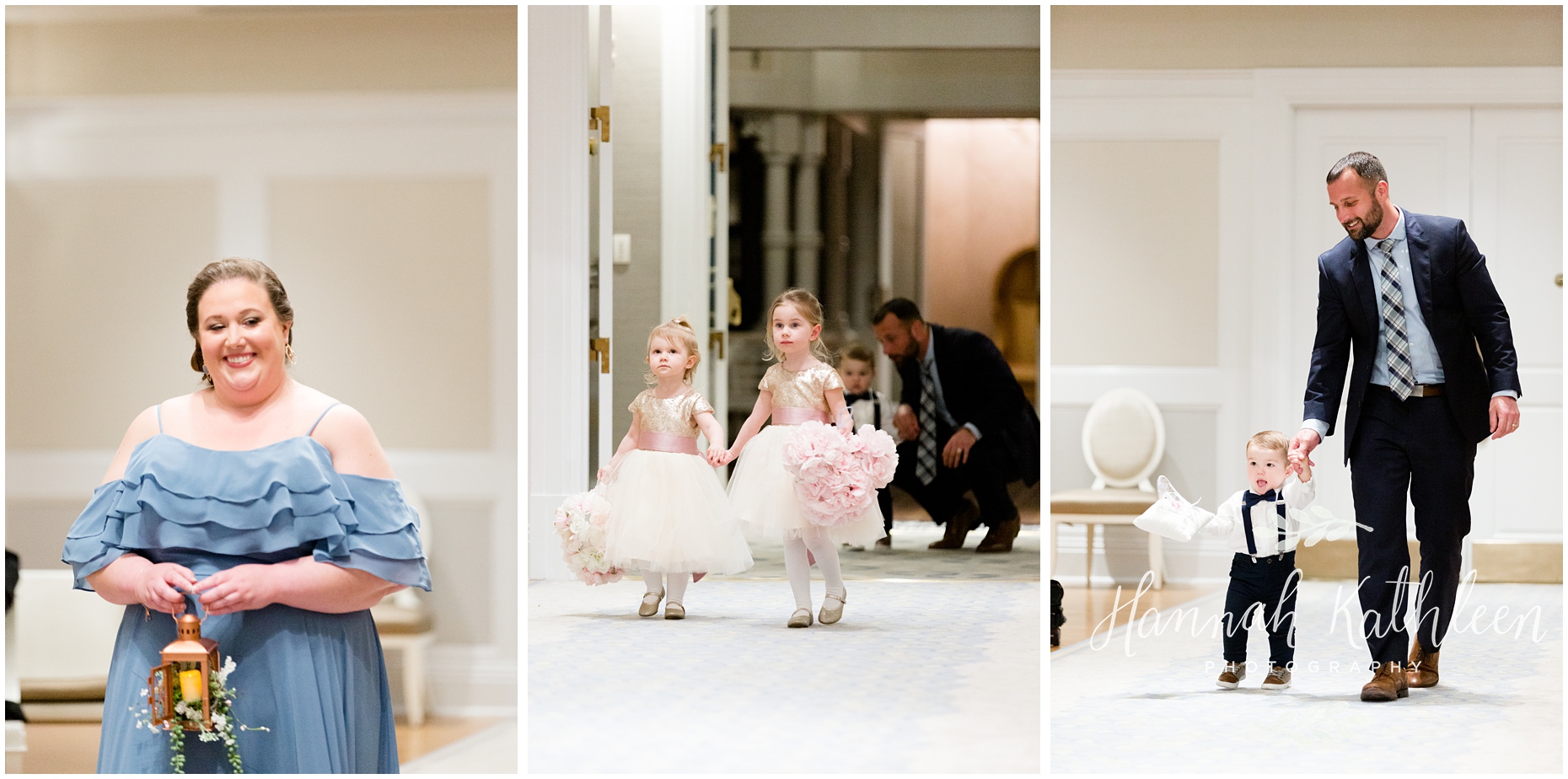 After the ceremony, we snapped a few pictures with Cinderella Castle in the background, and Ryan and Courtney exited through these fun fiber optics to their pony-drawn carriage!
We had a little while longer in the Wedding Pavilion before heading to cocktail hour.
This is a really fun part! Remember how Ryan proposed during the fireworks? Well… Ryan and Courtney chose for their cocktail hour to be during the fireworks show! All the guests watched from a private beach at Disney's Polynesian Resort. With sand under our feet, and stars in the sky on this hot, winter night, everyone enjoyed drinks and Ohana-inspired snacks during Happily Ever After! How fun is that?
Have you ever heard of a wedding reception held on the street in front of Tower of Terror? Ya… me neither.
The reception took place right on Sunset Boulevard in Disney's Hollywood Studios and it was amazing. The lighting on Tower of Terror was beautiful, the Hollywood style area music was perfectly fitting, and the atmosphere was on point. What a special spot for a wedding reception!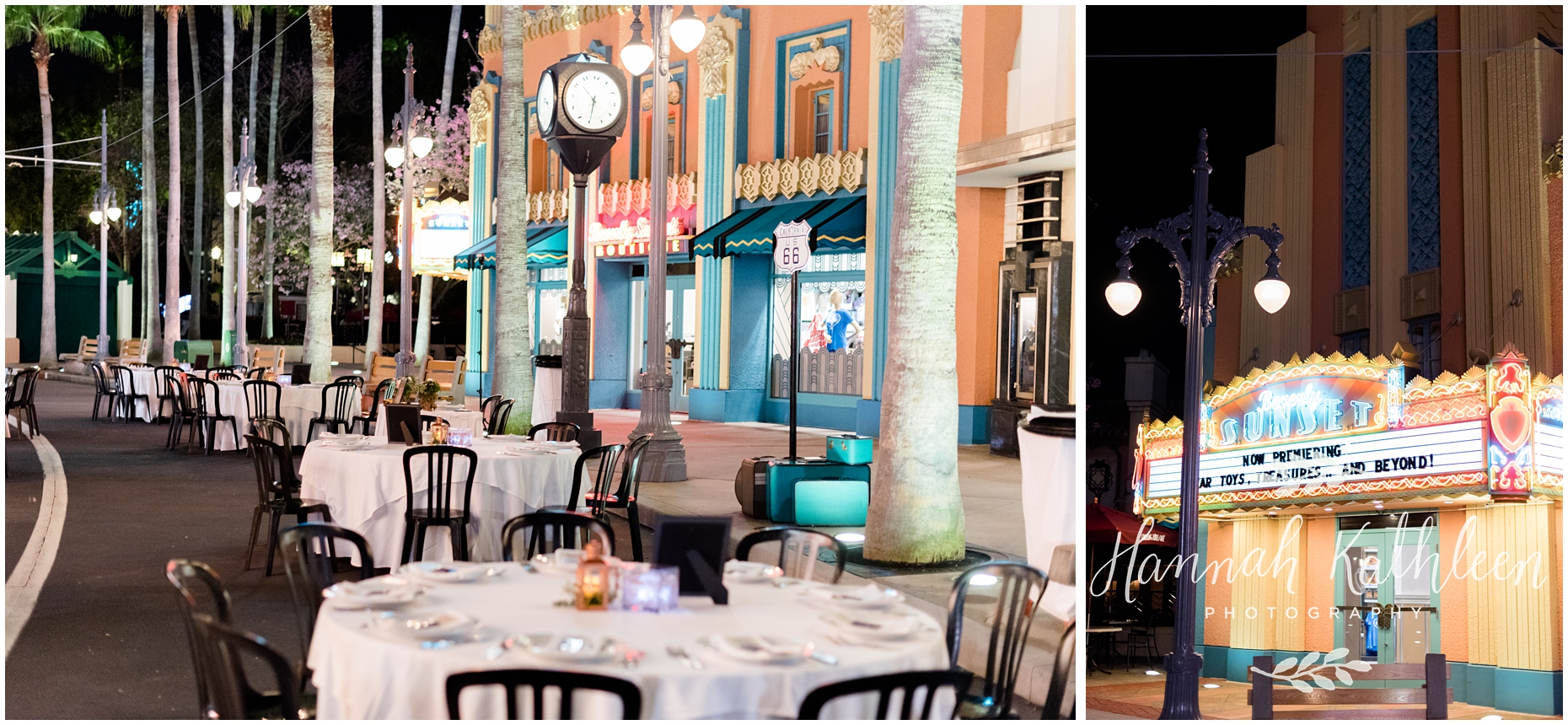 Ryan and Courtney made another surprise entrance via a Cadillac Convertible!
Their guests watched on as the newlyweds danced their first dance as husband and wife.
Next, Courtney had a special dance with her dad.
Afterwards, Ryan and his mom enjoyed the traditional mother son dance!
Along with the dances, the toasts took place right in front of Tower of Terror and I don't think I will ever walk by this spot in Hollywood Studios and not think about all that happened on this special night!
Dinner was an amazing combination of some of Ryan and Courtney's favorite foods from around Disney World property. How cool is that?
Check out this one-of-a-kind cake! Wow! And can you spot the little Mickey and Minnie on the back?
Probably my favorite detail that could have gone overlooked… Their signature drink was called, "Some Imagination, Huh?" (Your jaw is on the floor right now if you are a Disney World freak like me). And it was made from pineapple juice, coconut rum, and… drum roll please… Pog Juice. YES.
The open dance floor was a blast to begin with… and then Ryan surprised Courtney (and all the guests) with the biggest surprise of the night!!
Mickey Mouse came to celebrate with the happy couple! 🤩
Seriously, this had to have been the most fun of the entire wedding… and the WHOLE wedding was a blast, so that's saying a lot!
How many people can say they've danced with Mickey at their wedding? It was amazing, and a highlight on my end for sure.
Mickey helped Courtney and Ryan cut their cake, and it was so cute!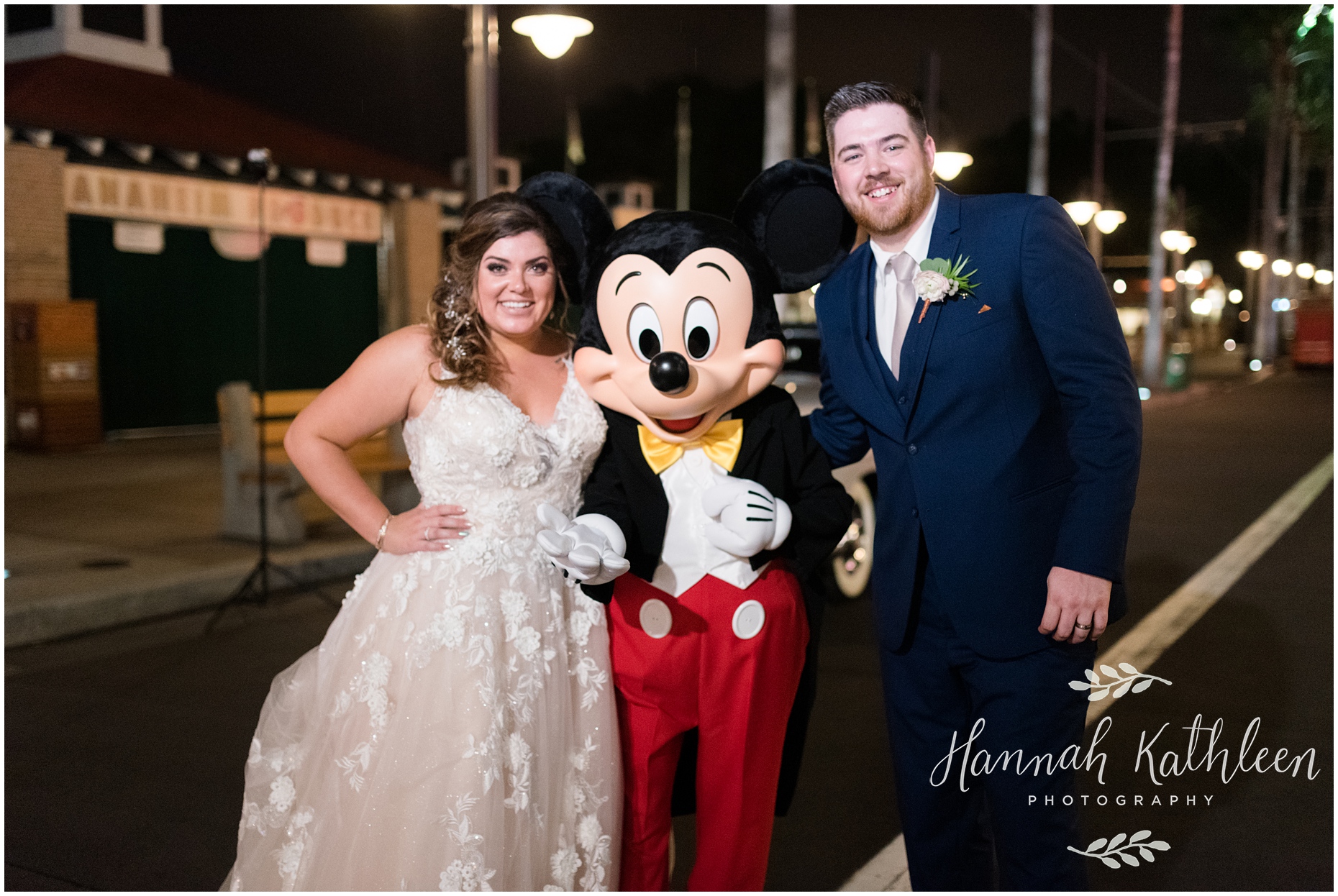 I have to briefly talk about the 1am popcorn snack! It was too fun not to mention!
When it was time to head out, Ryan and Courtney of course left in that Cadillac with their closest family and friends behind them cheering them on. Talk about a very loved couple. And we can all see why right? When you're as kind and loving as the two of them are, people flock to you. After this week, I have adopted Ryan and Courtney as my two best friends. Plus half of their bridal party, too. These guys are the best. They don't come better, and I'm incredibly grateful to have celebrated with them on this special day.
Alyissa and I each got a picture with the trio!
I truly hope you were able to relive this day with me, or enjoy it for the first time through these pictures! Thank you for reading along and be sure to stick around to see more daytime Bride and Groom portraits from Ryan and Courtney's sunrise Wilderness Lodge session a couple mornings after the wedding. Here's a little sneak peek to twist your arm?
UPDATE: Check out the Wilderness Lodge session here!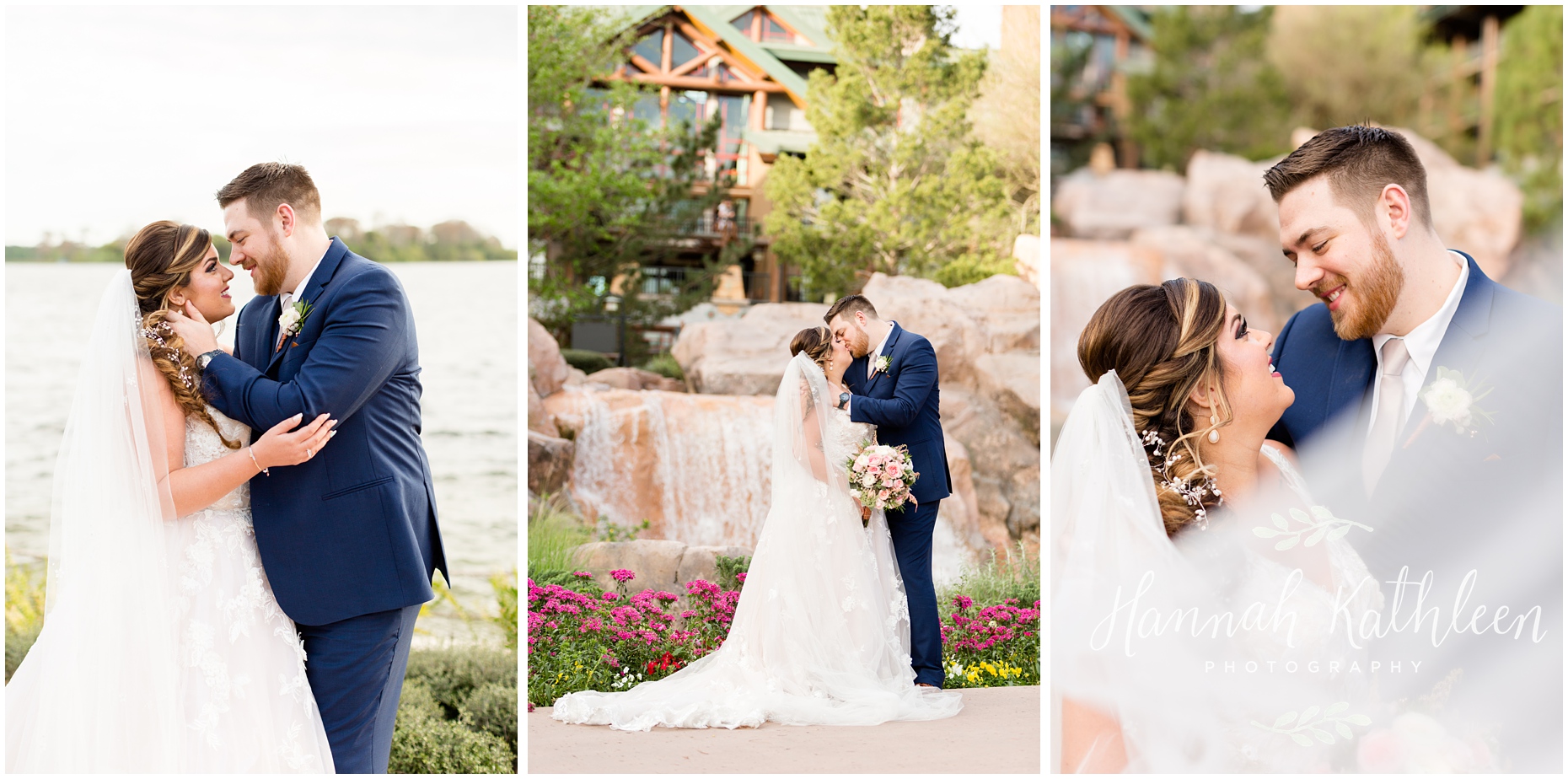 Want to see the rest soon? Just make sure you are following me on facebook and instagram!!
UPDATE: Check out the Wilderness Lodge session here!
I'm sure no wedding will ever replace the spot in my heart for this one and this couple, but if you happen to know anyone planning a Disney parks wedding, send them my way! 😉 Nobody is going to appreciate your little Disney details like this girl! 💕
"Grab ahold of your dreams and make them come true. For you are the key to unlocking your own magic. Now go. Let your dreams guide you. Reach out and find your Happily Ever After."
Love you both, Ryan & Courtney! Thank you for letting me be a part of your dream wedding. And thank you for creating my dream wedding. 📸
Vendors: