Magic Kingdom | Hutchison Family
Apr 10, 2020
Jacqueline is a new photographer friend of mine! She specializes in maternity, newborn, family, and child photography… but her newborn work is my favorite! She's incredibly talented and you should check out her website, instagram, and facebook!. Jacqueline and her family live in Columbus, Ohio and overlapped in Orlando with my snowbirding trip!
I had a great morning with Jacqueline and her family, going all over Walt Disney World's Magic Kingdom!
We started on good ole' Main Street USA with a visit to the Confectionery… one of my favorite places to be in Disney World because that means candy apples, mickey rice krispie treats, chocolate covered smores and pineapple skewers aren't too far away… ;)
This family photo session was anything but boring! We packed our time full of rides and beautiful sights of the castle! First up… the Mad Tea Party… aka the teacups!
These two spun me as fast as they could… and I am positive I've never gone this fast before on the teacups! Good thing I don't have bad motion sickness! PHEW!
After the teacups, we took a short walk over to one of my favorite photo opportunities.
The 8th wonder of the world, Dumbo!
While posing behind the carousel for some castle pictures, we were greeted by a very special visitor!
Peter Pan!
I just love that he roams around Fantasyland each morning and that he chose to stop by and say hi to the Hutchisons!
After our visit with Peter Pan, we finished our session in some of my favorite spots. I hope you enjoy the rest of these family pictures in the Most Magical Place On Earth!
Did you notice anything interesting about the background in any of these castle pictures? Anything obviously distracting? I am really hoping the answer is no… because if it is no, then I've done my job well!
If you've made it this far in the blog post you deserve to see a little behind the scenes of the challenge we were faced with the morning of the Hutchison's photo session. As most of you big Disney Parks fans know, the castle is getting a royal makeover. (They are deepening the blue, changing most of the grey to pink, and adding a butt-load of gold) We were the unfortunate few to have photo sessions planned on the exact first day that SIX of these terribly bright orange lifts went up with workers on them to paint the castle during park hours… There was no angle, side, or direction that didn't have a view of these orange cranes. It was rough, but I was up for the challenge of giving this family the most normal pictures possible!
With being strategic to place my feet in the perfect spot, bend my knees just right, zoom in a helpful amount, and pose my family in the ideal way to block the construction equipment… I went from having a photo like this… to photos like this!
What do you think? Did I do a good job!?
Thanks Jacqueline for trusting me to be your photographer, and not having any doubts when I told you I could try to block the cranes! Ha!
Want to see more of my Disney sessions? Take a look at the Moneyhon Family!
Another one of my favorites is the Morrow Family!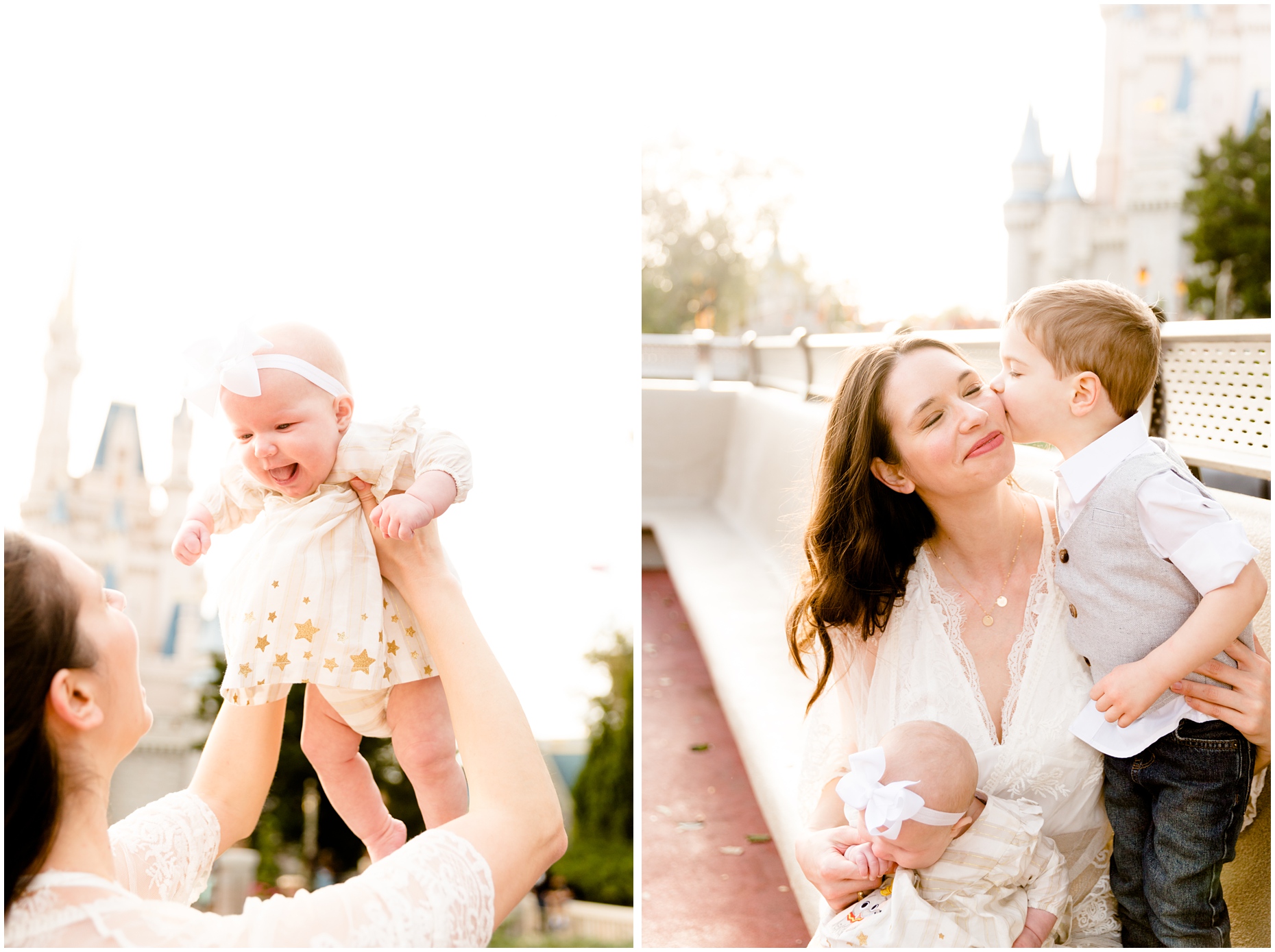 Born and raised in Buffalo, New York, I am a portrait photographer specializing in weddings! I love to travel especially for photos! Don't hesitate to reach out an introduce yourself, I love making new friends!
Take a look at my travel calendar and let me know if you want photos anywhere!
Also, if you have a Disney trip planned, message me regardless of your dates, you bring me there and the photos are yours! Yay! (And I'm happy to set you up with some tips and advice before your trip if you're looking for help with anything!)
Looking for some Disney magic in between trips? Check out my YouTube channel - Hantasmic! Subscribe for new videos regularly!