Wedding | Dan & Laura
Jan 3, 2018
Every once in awhile you come across a couple that stands out from the crowd. These two are unique because they planned a Christmas time wedding! And I was so excited when they told me their vision for their engagement photos. They wanted to do their engagement session at a Christmas Tree Farm (in the summer) to fit with the Christmas theme! They even came prepared with Christmas ornaments to take some photos to put on their Save The Dates! These pictures turned out so cute!
And to make it even better, this is the same Christmas Tree Farm that Laura's family always got their tree from. How special! I highly recommend Evergreen Hills Christmas Tree Farm. If you see Heather, tell her I sent you! (Shameless plug: Let me know if you want to be put on the list for my Christmas Tree Farm mini sessions that I will do again next year! I can't wait!)
From their tastefully Christmas-themed engagement photos, to the beautiful pine arrangements scattered throughout their whole wedding day, Dan and Laura did a fantastic job incorporating the right amount of Christmas into their special day. Nothing was gaudy or obnoxious, the decor remained elegant yet festive! It got everyone, including myself, in the Christmas spirit!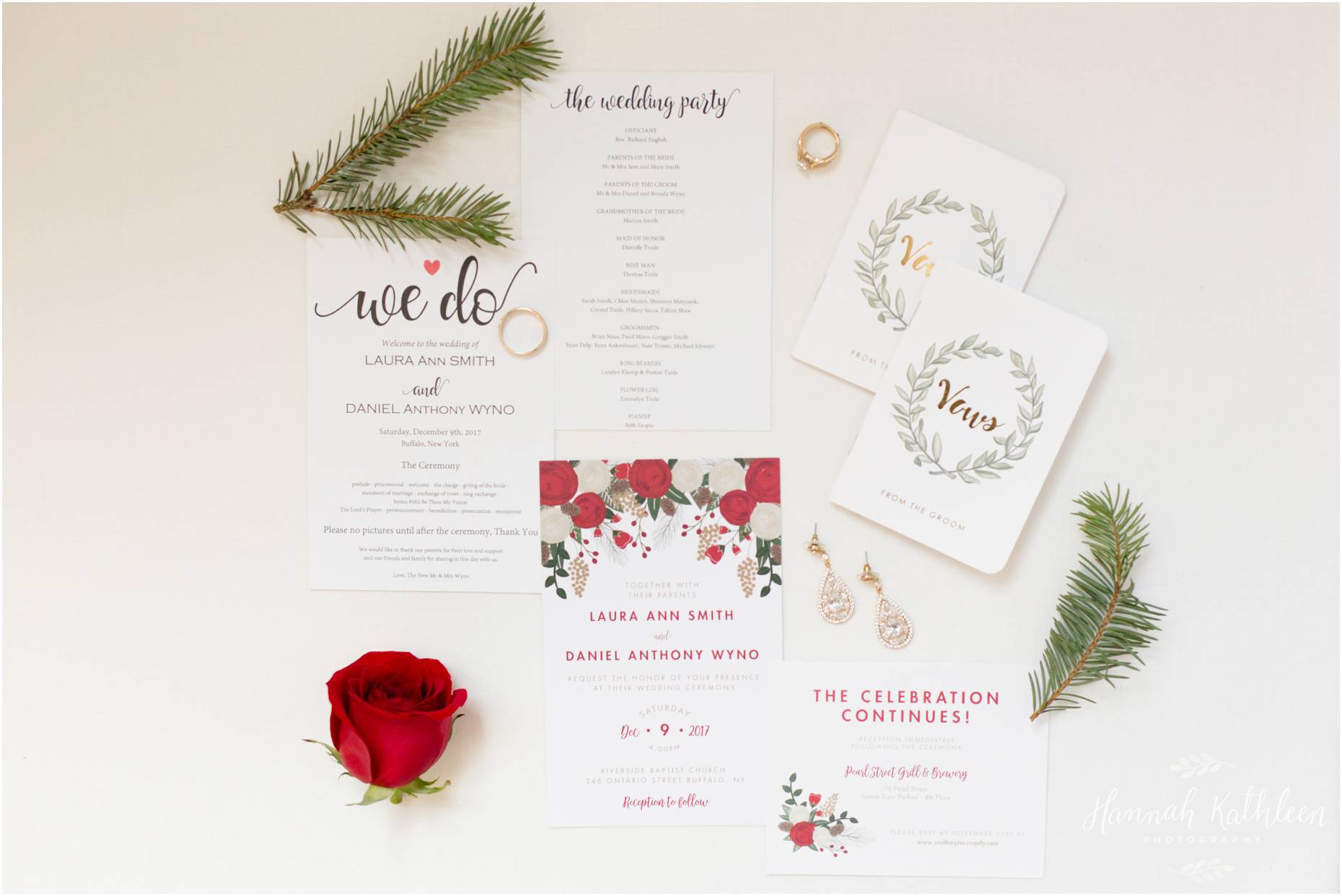 Laura got loads of compliments on her dress that transformed her into an ice princess. Her beautiful fair skin combined with the bright red lipstick that matched the pop of red in her bouquet, really gave her a unique look as a bride. I'm a sucker for a wedding dress with sleeves (after all, that's what I chose myself!) and this specific dress seemed to fit Laura perfectly!
From the Lofts at the Webb Building (attached to Pearl Street, where we will end up later), we headed over to the Albright Knox Art Gallery's beautiful white, snow covered steps! This is where Dan and Laura first saw each other on their wedding day, and if it wasn't so cold, I could have stayed in this moment for hours! The photos of their first-look are priceless!!
Laura told me that they wanted to incorporate a lot of "Buffalo" in their photos, so when she mentioned City Hall, I knew just where to go before actually reaching the steps of City Hall! These two were incredibly trusting of my vision, and for that I am grateful! Standing in the middle of the street, far away from the building she wanted, might not seem like the right move, but I assure you it was worth it! These are some of my favorite pictures from the day, and I know Dan and Laura will love these ones just as much as I do!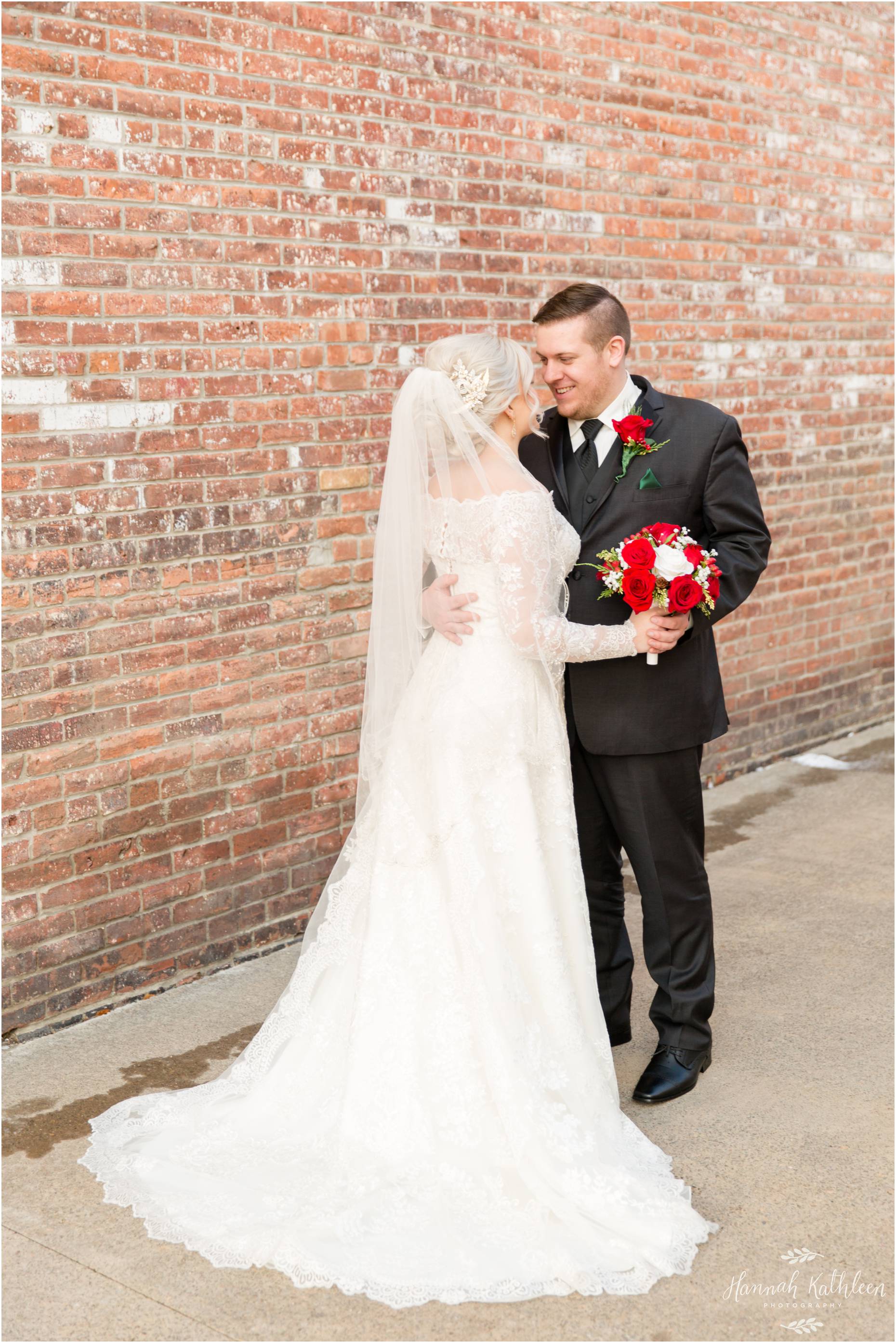 Dan and Laura exchanged handwritten vows in front of their family and friends at Riverside Baptist Church. The ceremony was quick, and special… complete with the whole room singing a hymn together! It was a beautiful ceremony celebrating their love, and I was honored to witness it.

I'm always excited when a bride and groom request a first-look because straight from the ceremony, the whole bridal party heads right over to the reception and truly gets to enjoy themselves and enjoy the party! The photos are done (without rushing) before the ceremony even begins, so that the bride and groom can focus on their guests… AND they get to focus on each other before the ceremony. I'm a huge advocate for first-looks!
Over at Pearl Street, Dan and Laura had the 4th floor all decked out in candles, pine greenery, and gold accents! With classic Christmas songs playing in the background, guests enjoyed hors d'oeuvres and drinks before the DJ introduced the bridal party!
One of my favorite parts of this wedding, was their unique, MASSIVE, cake made of DONUTS! And not just any donuts… this is a Buffalo proud wedding, so us Buffalonians know our donuts always need to be Paula's Donuts. There was a cute little cake on top that Dan and Laura cut, and guests helped themselves to some giant, delicious, Paula's Donuts.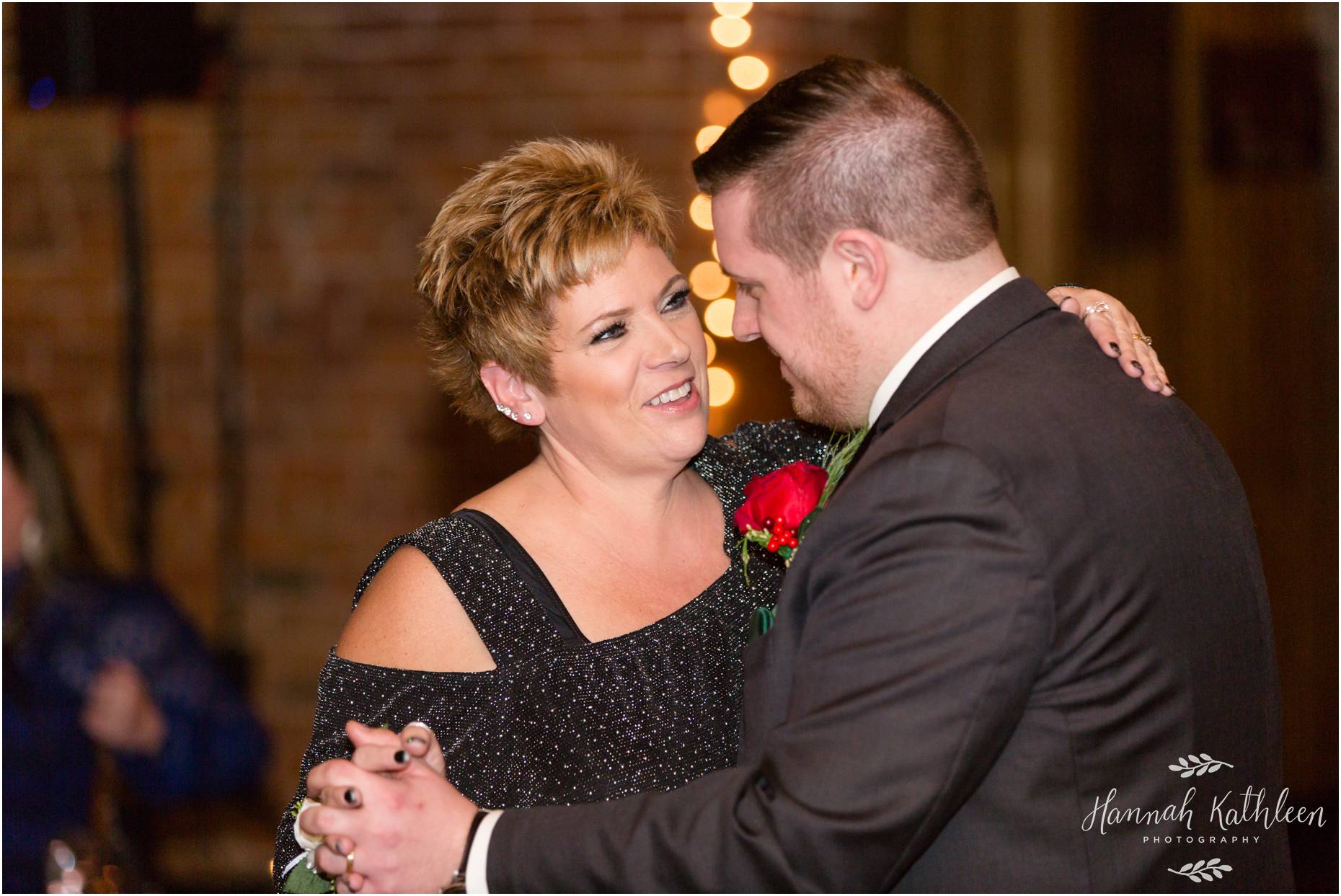 I'm a big fan of Dan and Laura's laid back approach to their wedding day. They really just wanted to enjoy themselves, not rush, and keep things simple. They successfully did just that, and I applaud them for it! The day was truly stress free and enjoyed by everyone… including myself! Thank you, Dan and Laura, for choosing me to document the most important day of your life. I am honored.
Now go enjoy your DISNEY WORLD honeymoon!!!
Vendors:
Hair - Jamie Knoer Brilliance Salon & Spa
Makeup - Nikki Rodriguez Blush Makeup
Flowers - done by a family friend!
Perfume - Marc Jacobs Daisy
Bridal Shoes - ASOS
Hair Clip & Earrings - The Pink House - Amherst, NY
Wedding bands - Kay Jewelers
Engagement ring - Kay Jewelers
Cake - Sweet Beginnings Bakery
Donuts - Paula's Donuts
DJ - Dennis with CJ Sound
Officiant - Pastor Rick English at Riverside Baptist Church
Save the Dates - VistaPrint
Wedding Invitation/Reception card - Etsy - Remember November Inc
Ceremony Programs - Etsy - We Do Honey
Tuxes - Tuxedo Junction
Ties - Tuxedo Junction
Bridal Gown - Oleg Cassini David's Bridal
Bridesmaids Dresses - David's Bridal
Bridesmaids Shawl's - Etsy - Mia Krafts Shop
Bridesmaids Jewelry - Etsy - Cleo Classic Designs
Bridesmaids Vinyl Hanger Stickers - Etsy - Stick Em Vinyl
Favor Tags - Etsy - Connie And Joan
"Those We Love" Sign - Etsy - Vivid Bliss Printables
"Our Wedding" Sign - Etsy - Bride And Bows
"Guest Book" Sign - Etsy - Bliss Paper Boutique
Guest Book - Etsy - Star Board Press
Pearl Street Coordinator - Stephanie Cirringione
---
Want to see more weddings?
Chris & Elena | Buffalo Riverworks Wedding
Roger & Taurie | Camp Timbercrest Wedding