Family | Van Allen
Jul 17, 2018
What a great night for family photos! We had a warm, summer night just outside of Buffalo, NY for these photos. When it's this hot, there's only one way to end a session with little ones… water! Here's a tiny sneak peek of how we finished our session. 😍
This family might look familiar. I have had the honor to document them through all seasons of life since older brother Jack was born! We did 3 sessions that first year of Jack's life, here's his year one session. And then Sammy came along! I did his newborn photos which you can see here and then they joined me for Chirstmas Tree mini sessions. And now a few months later, we found ourselves together again for a perfect outdoor family session!
I love this family so much and have enjoyed the time spent with them immensely. I just LOVE watching these little boys grow and learn… and to document it for mom and dad. So special.
This had to have been my favorite session with them so far. Watching Jack and Sammy interact as brothers is just too much, and all the playing we did was so much fun to take pictures of! I hope you enjoy this session as much as I do!
I can't see this photo above on the left without thinking of Toy Story for some reason. I just hear "reach for the skyyyyy" in my head!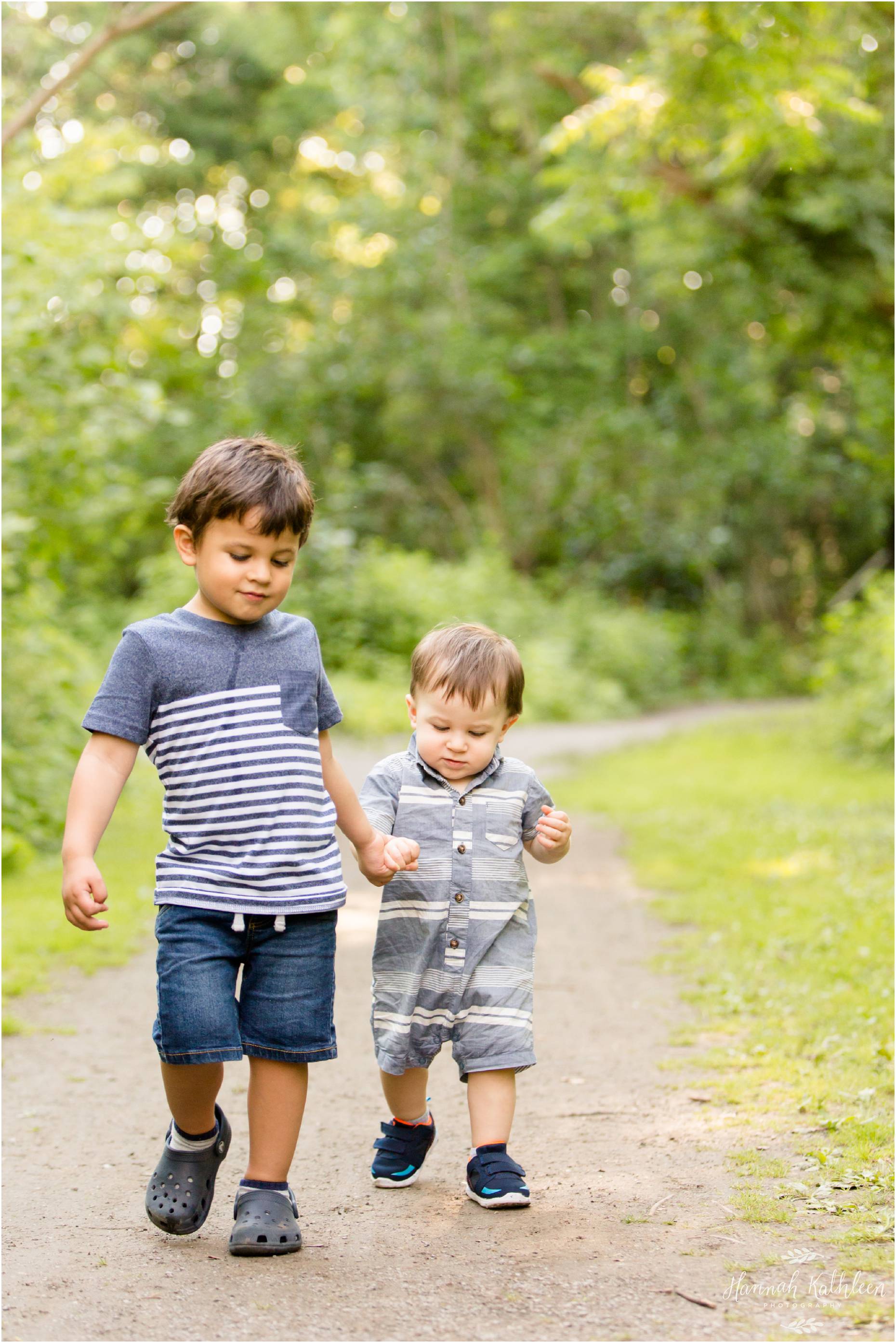 Any parents willing to let their kids get soaked (as planned) at the end of our session are friends of mine. Sammy had some fun splashing around and Jack was grinning from ear to ear, running and jumping into the water.

Jessica left me the sweetest review prior to this session!
"Our family will never use another photographer! I knew nothing about Hannah when we first used her for our first son's newborn photos almost 2.5 years ago, having been referred by a family friend, so I was anxious (obviously) to invest in family pictures! However, I have NEVER been let down by Hannah from day 1. She has since done several family sessions for us and, most recently, a newborn session for our second son! My older son (a crazy, high energy but shy 2.5 year old) warmed up to Hannah right away and during our last session did great taking cues and following her direction....and that says a lot! He doesn't listen to anyone! Hannah has an incredible way with kids and I'm always amazed at the pictures I get back from her. Just when I think she couldn't have gotten any good pictures during a particularly rambunctious family session, she turns around gorgeous picture after gorgeous picture. She is fantastic at making all of the pictures seem natural and has a great eye for capturing every family member's personality through her lens. Turn around time for pictures is very reasonable and she is very quick to respond to emails/texts/phone calls. She always goes out of her way to make our dates and times work for her and is a complete professional. We are so lucky to have found Hannah and will use her services as long as she'll have our crazy family!!"
-Jessica Van Allen
Thank you so much, Jess! You know I ALWAYS look forward to spending time with you all. Thank you for your loyalty to Hannah Kathleen Photography. 😊
Check out this other family session I did recently that also ended in water!
Hop on over to my website and say "hi!" Follow along on facebook or instagram!
Take a look at my travel calendar and let me know if you want photos anywhere!
Also, if you have a Disney trip planned, message me regardless of your dates, you bring me there and the photos are yours! Yay! (And I'm happy to set you up with some tips and advice before your trip if you're looking for help with anything!) And yes, that isn't a typo on my travel calendar… we will be "snow-birding" near Disney World in Florida for SIX weeks next winter! And I'm available to take photos all around Orlando! Introduce yourself… I love making friends!
Thanks for reading this blog post!