Disney World - Epcot | Taylor & Ashley
Aug 29, 2018
I connected with Ashley a handful of months back as she was preparing for her wedding and planning her Walt Disney World honeymoon! I knew we would get along well because she loves Disney World and I could tell how down to earth she was. She knew she wanted photos taken in Epcot and Magic Kingdom, but without parkhopper tickets, that meant two days and two sessions with me! I am so grateful that we found each other and that I can call Taylor and Ashley friends of mine.
Take a look at this swoon-worthy Magic Kingdom family session from the previous day!
After spending hours together in Epcot, I couldn't wait to see them again the next day in Magic Kingdom. This blog post is dedicated to Taylor and Ashley's honeymoon session in Epcot. Keep an eye out for a separate blog post coming soon of their family session in Magic Kingdom! Wait til you see how adorable their daughter is!! 😍
Okay, on second though... here's a little sneak peek!

Epcot is an extra special location for Taylor and Ashley because that is where they got engaged!! More on that later...
What countries do you recognize!?
We met outside the gates before the park was even open and snapped a few shots to get started. When they started letting guests into Epcot, we hung out around the front of the park and made a nice stroll to different areas while everyone else booked it to Soarin and the Frozen ride. I have never seen areas of Epcot so empty! I'm always in that group with the strollers going back to Frozen to walk on first thing in the morning, so I don't think I've ever enjoyed the quiet of the front of the park first thing in the morning.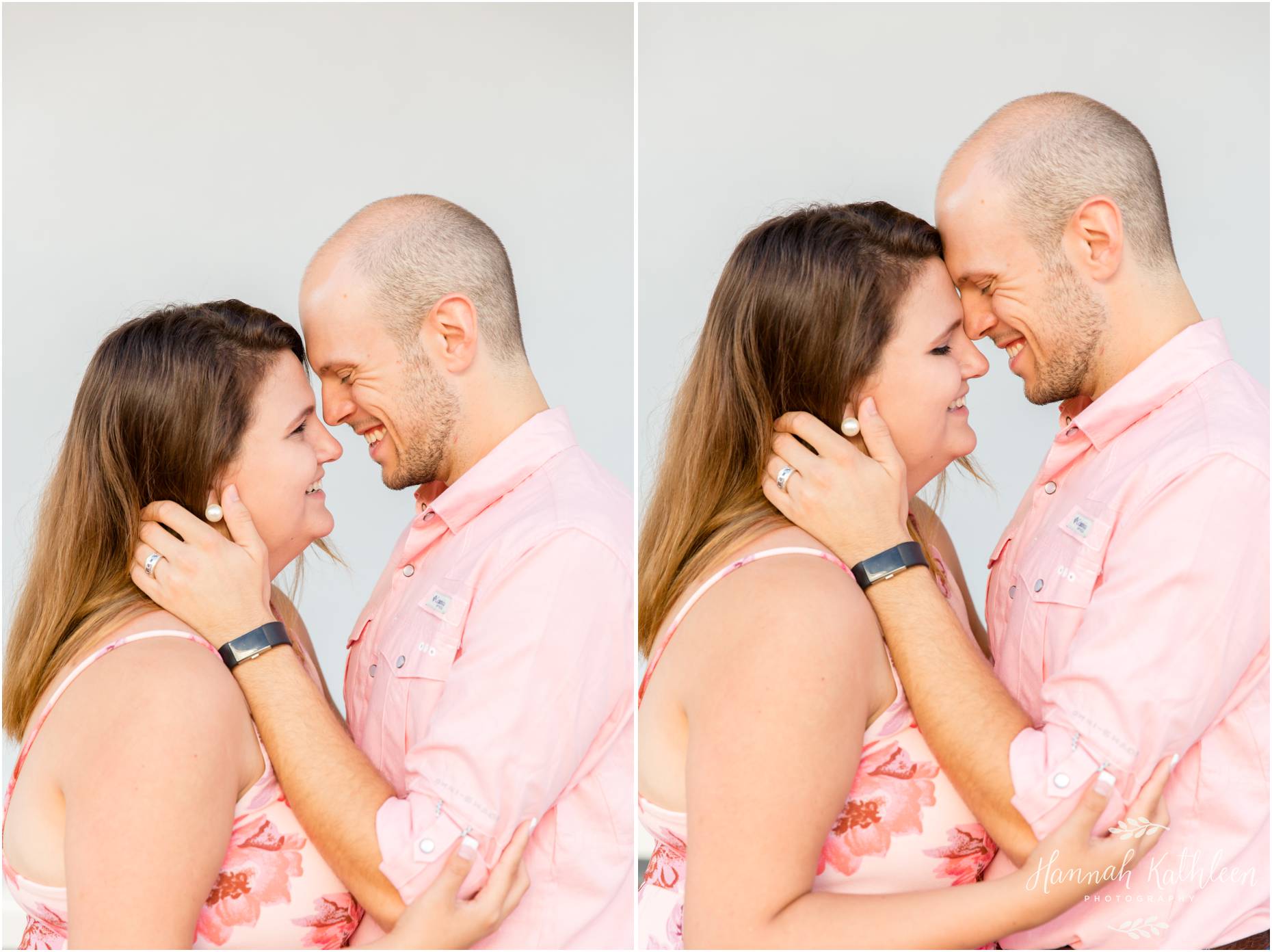 We also made our way to the brand new Rose Gold wall at Mission Space! With the colors they were wearing, we just had to!
And thanks to Ashley, I got a few pictures of myself in front of the rose gold wall with my rose gold ears, rose gold shirt, rose gold bracelets, and rose gold necklace! Ha!
We took the back way to Mexico and snapped a few photos! The countries all open at 11am, so we didn't have much room to move around Mexico quite yet.
Next, it was time to head toward France. But first, the UK pavillion caught our eye!! I love the winding street through UK, the details on the building, the brick road... and NO PEOPLE! You can't beat it.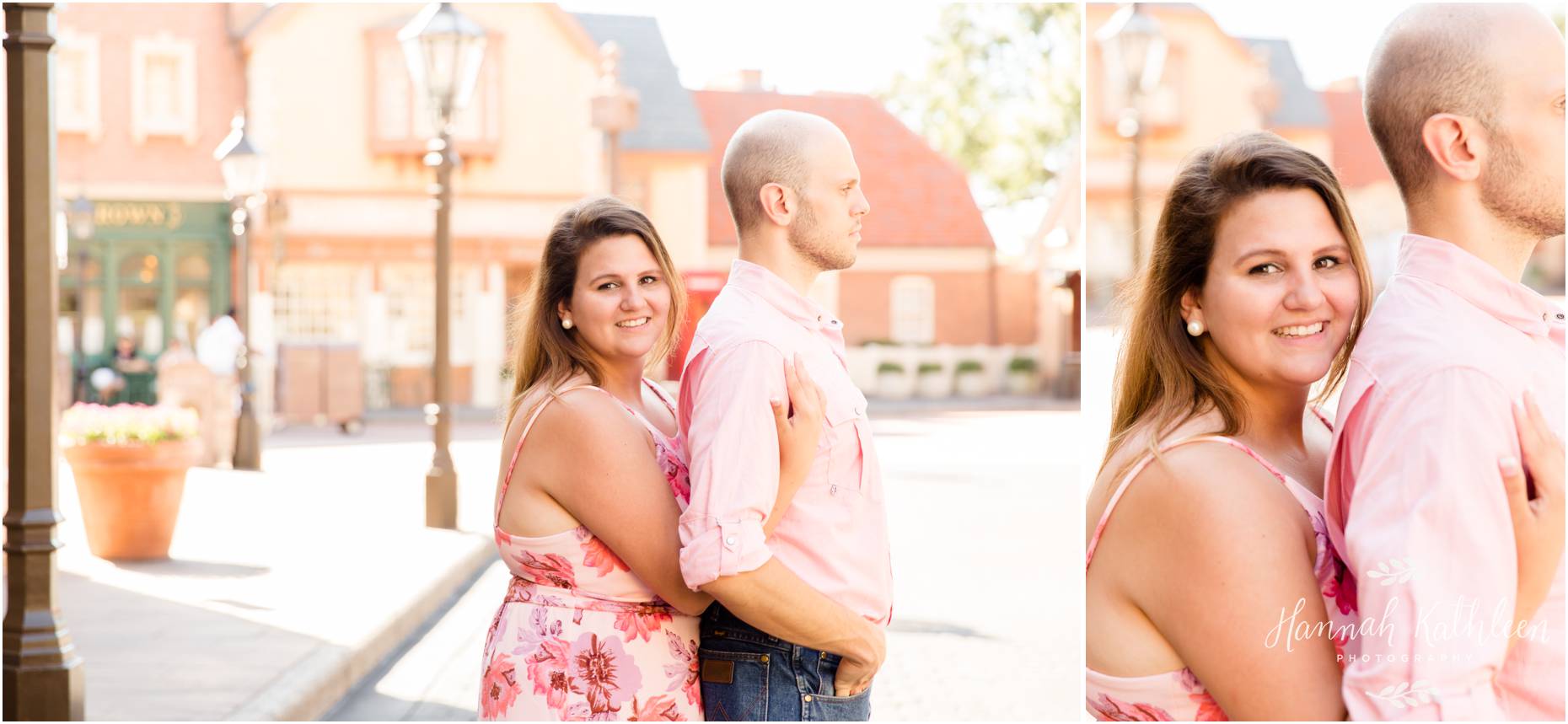 My personal favorite country in all of Epcot is France so I was so excited to hear that Ashley wanted photos there!
Ashley informed me a few months ago that Taylor actually proposed in Disney World... and not in front of the castle. He proposed in France of Epcot! Ashley loves Beauty and the Beast so the France Pavillion was a good fit. With the help of Taylor's mom and the Photopass photographer, Ashley was totally caught off guard and completely surprised when she turned around to see him down on one knee! We of course had to recreate this moment to Taylor's hesitation! 😂
I love France so much and I love these pictures taken in France, too!!
After a breakfast break in La Boulangerrie Patisserie (which opens at 9am), the countries were about ready to open at 11am. We headed straight for Morocco to explore all the unique, hidden spots!
Then, our final designation was Italy! Also one of my favorites because of the different areas and hidden spots!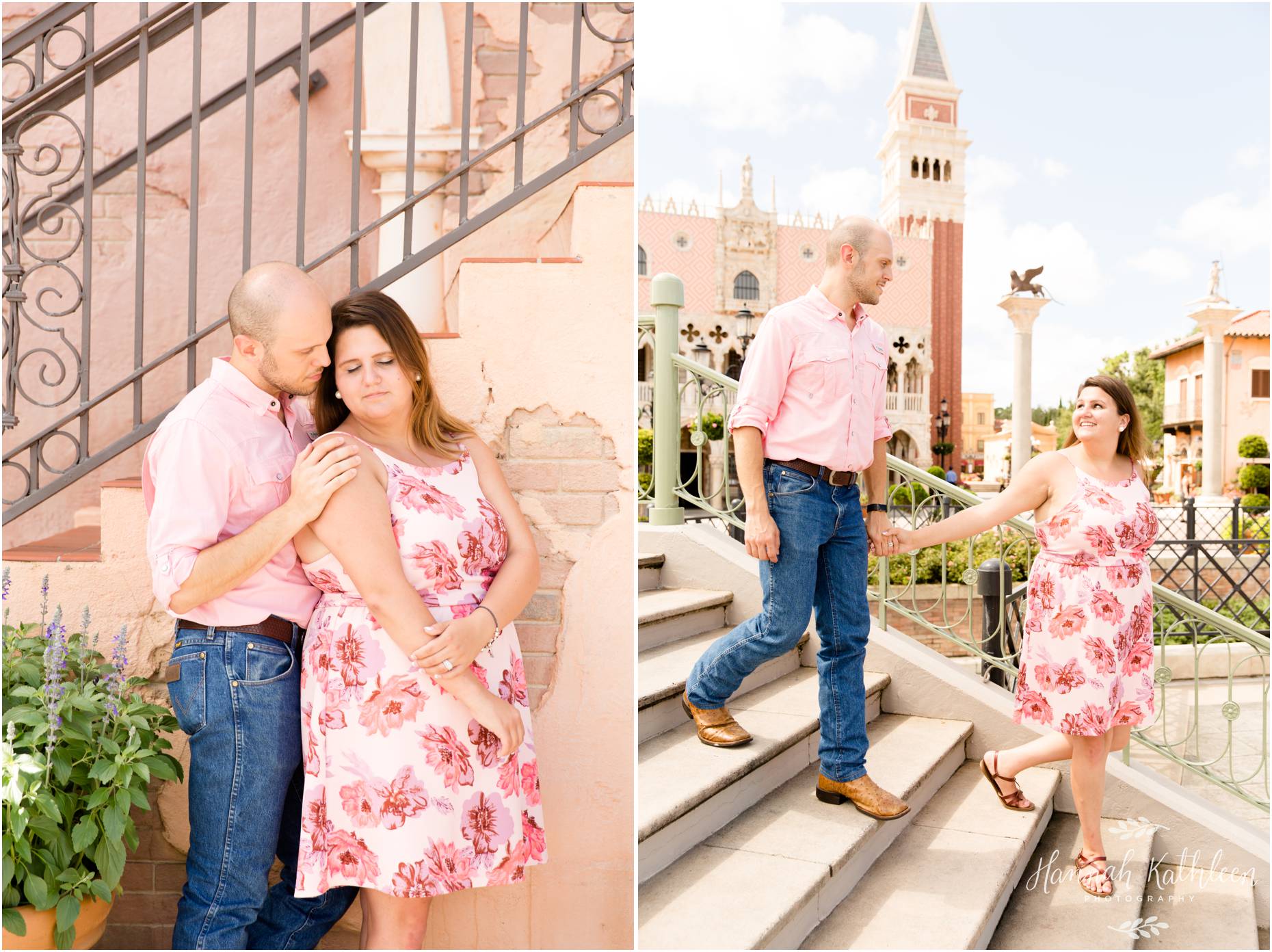 Ashely and Taylor, you are both troopers to stick it out til the end of our session through the sun, heat, and humidity! It was way too hot, but your attitudes stayed positive! You were both a joy to be around, and I found myself very comfortable with you two. And that's a good thing, too, since we had to spend another session together the next day! 😉
Thank you for choosing me to document your love for each other on your honeymoon! What an honor it is to photograph such a special part of your life (right after your wedding) and such a fun part of this season of life (vacation!!) thank you for choosing me!!
Hop on over to my website and say "hi!" Follow along on facebook or instagram!
Take a look at my travel calendar and let me know if you want photos anywhere!
Also, if you have a Disney trip planned, message me regardless of your dates, you bring me there and the photos are yours! Yay! (And I'm happy to set you up with some tips and advice before your trip if you're looking for help with anything!) And yes, that isn't a typo on my travel calendar… we will be "snow-birding" near Disney World in Florida for SIX weeks next winter! And I'm available to take photos all around Orlando! Introduce yourself… I love making friends!
Thanks for reading this blog post!