Wedding | Chris & Janet
May 27, 2019
Congratulations Chris & Janet!
From the moment I sat down with the two of them in a coffee shop, I knew their vision for their wedding day totally went along with all the things I love. Janet wore a full lace dress… and hello… that's what I chose for my own wedding dress, so you know I'm a fan! The flowers she chose were mostly white with pops of color, and we all know white is my favorite color. :) And the two of them were so chill and friendly that I knew spending the day with them would be a joyful and fun experience!
Fast forward 8 months later and it was time for their wedding. It was exactly as I expected. A fun, happy day with an adventurous bridal party and super kind families on both sides! Janet was the furthest thing from a Bridezilla ;) and Chris was just happy to be there! He's so sweet to her and watching the two of them exchange looks throughout the day was adorable.
I was honored to be asked to photograph Chris and Janet's wedding day. These two love each other so much and to witness their love was special. It was a joy to be a part of this celebration!
To start the day, Janet got ready in her parents' home with ALL of her family around! It was special seeing her cousins, aunt, grandma, and mom and dad all there along with her best friends. Each person had a role in helping her get ready for her Groom!
Chris and Janet had their wedding ceremony at Our Lady of Pompeii in Lancaster, New York. When I met Chris before the ceremony, his mom helped him put on his boutonniere. I also had a few minutes to take portraits of just Chris during this time.
Their ceremony was extra special because it was performed by Chris' very good friend! They mentioned during the ceremony that both officiants went on a trip to Disney World with Chris! You better believe that little detail stuck out to me! ;) Yay!
As much as I'm a sucker for a short and sweet ceremony, the long catholic ceremonies are so fun because I have plenty of time to get creative and move around for interesting angles. Something you just don't have time for in a 10 minute ceremony!
Aren't they just the cutest!?
After family portraits, the whole crew hopped on the party bus which took them downtown to the Ellicott Square Building.
Though this was the coldest and windiest part of the day… this was definitely a highlight for me! When brainstorming locations for portraits, Janet mentioned she envisioned something industrial and loved the look of pictures in a parking garage!!! I have been telling people for YEARS that a parking garage is a great rain plan. We are blocked from some wind, covered from rain, and a lot of sunlight still leaks in through the sides making it a great location for pictures! It's a solid Plan B. Or in our case… a great Plan A!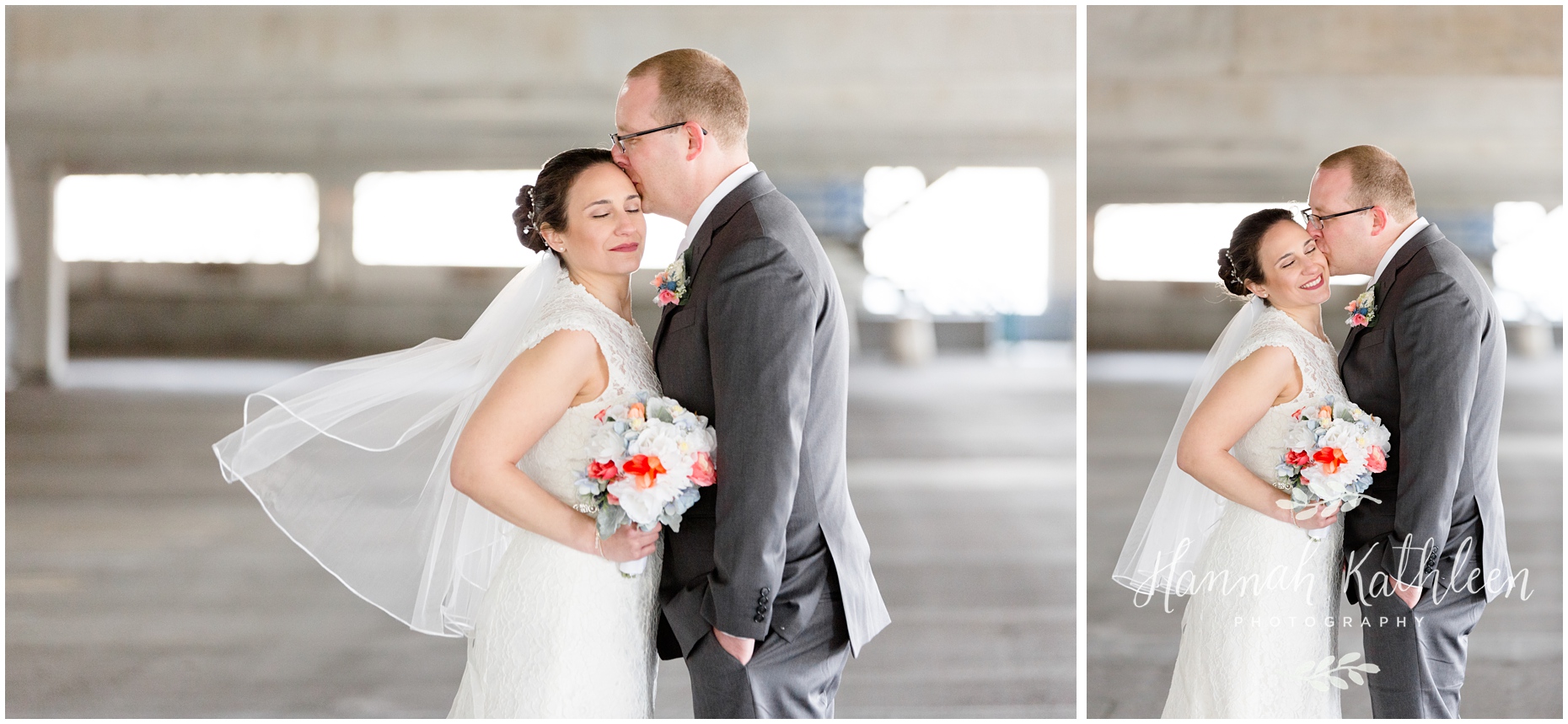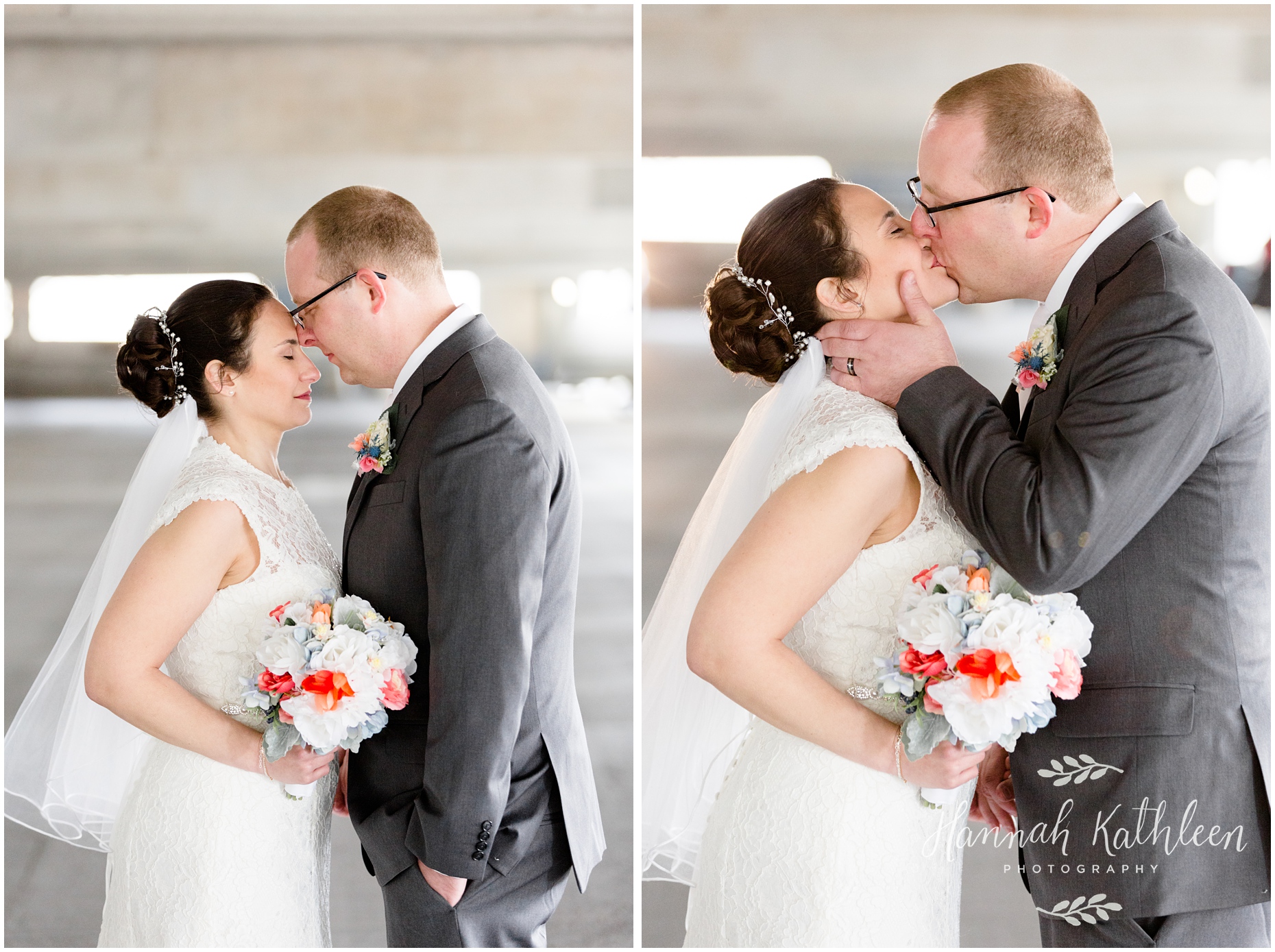 What do you think about pictures in a parking garage!? Would you do this for your Plan B or even your Plan A!?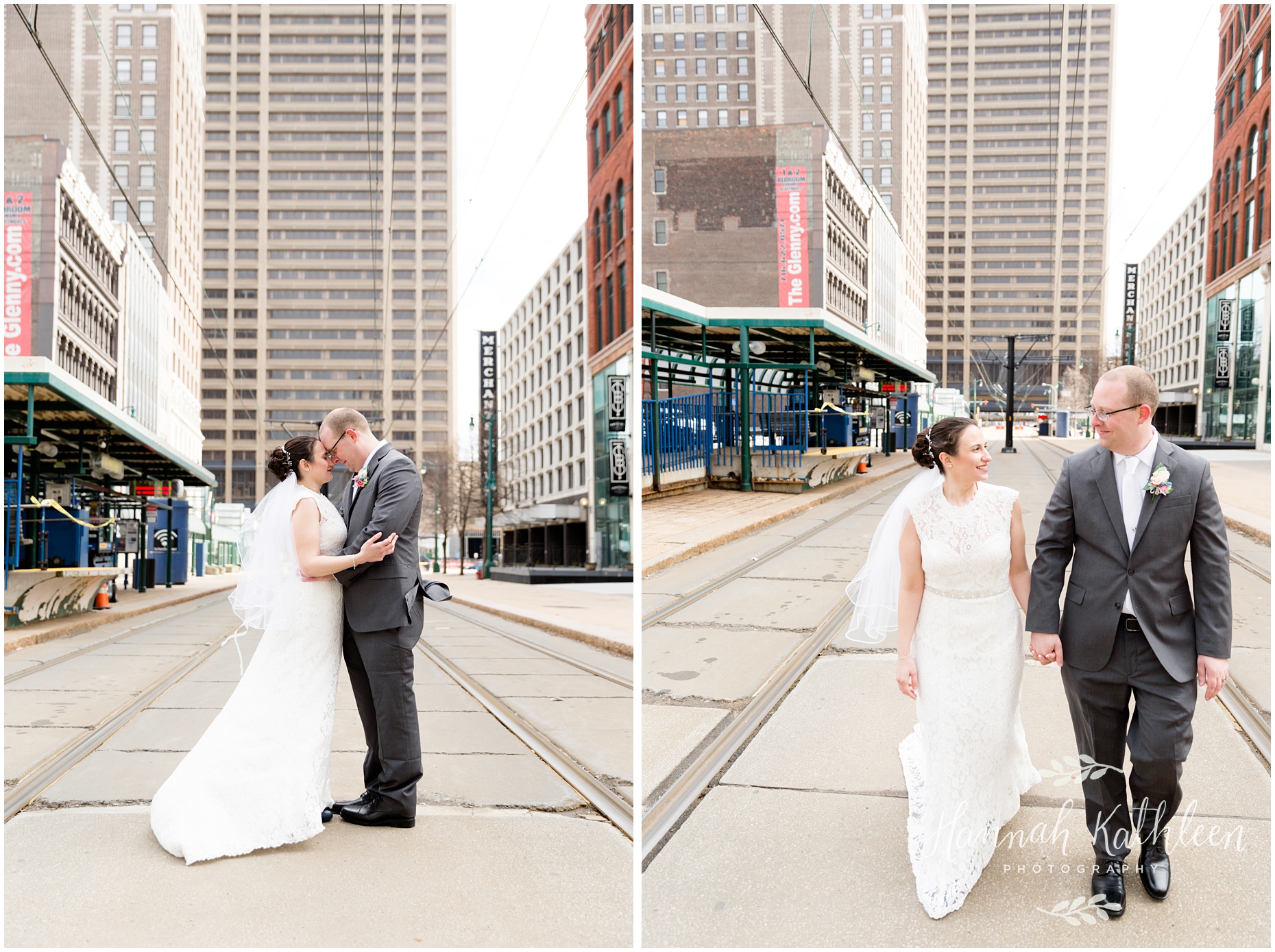 Chris and Janet chose Classics V on Niagara Falls Boulevard for their reception! It was the perfect location for their big and fun reception.
I loved watching all the dances and capturing the emotion of everyone involved. There were many sweet moments during the first dances.
Time to cut the cake!
After toasts and dinner the dance floor opened up for a few minutes before it was time for me to head out!
We finished our day with a few extra bride and groom portraits and hugs goodbye!
These two are kind, sweet and so in love! Being a part of this celebration was the best feeling in the world and I'm excited for whatever the future holds for you two! Congratulations!
Love,
Hannah
Want to see more weddings!?
Click here to see more of my wedding photos!
Click here to see more wedding blogs! Here are a few of my favorites:
Jordan & Melissa | Avanti Mansion Wedding
Ryan & Nicki | Templeton Landing Wedding
Chris & Elena | Buffalo Riverworks Wedding
Hop on over to my website and say "hi!" Follow along on facebook or instagram!
Take a look at my travel calendar and let me know if you want photos anywhere!
Introduce yourself… I love making friends!
Thanks for reading this blog post!