Wedding | Ryan & Nikki
Jul 14, 2018
Let's first talk about how Nikki and I met! One of my best friends (hey Alicia) was hosting a candle party (you know… like tupperware, but with candles) and I went telling her I would not spend any money but I would go to support her. Lo and behold, I walked away with some free candle samples and a new friend who would just a short time later, become an HKP bride! Nikki is one of the most easy going people I have ever met, she was the furthest thing from a Bridezilla. Her friendly and genuine personality makes her so easy to get along with, and very easy to become friends with. She's bubbly, loving, and so freakin kind. One of those brides that tells you to stop taking pictures and sit down and eat dinner or get on the dance floor. I think she told me three times to go get a drink. 😀
And then I met Ryan… 😂 The true opposite of Nikki. My most favorite thing about Ryan… he's extremely teasable, and LETS me tease him. He hates getting his picture taken and does not like to smile for photos, so I just had to make fun of him over and over again until I got a real smile or laugh. 😂 I truly appreciate people who can laugh at themselves and have fun with me even though they hate my occupation. Ryan, if you're reading this… thank you for making your wedding day a ton of fun even though I forced you against your will to take your sunglasses off 5 seconds before your bride walked down the aisle. You're the best, Ryan! A good sport, that's for sure!
After Ryan and Nikki's downtown Buffalo wedding, I have added a new favorite getting ready hotel to my list! Embassy Suites on Delaware Ave has the most perfect suites for getting ready photos. The bedroom had two FULL walls of windows, a photographer's dream! I had a lot of fun documenting the getting ready portion of the day.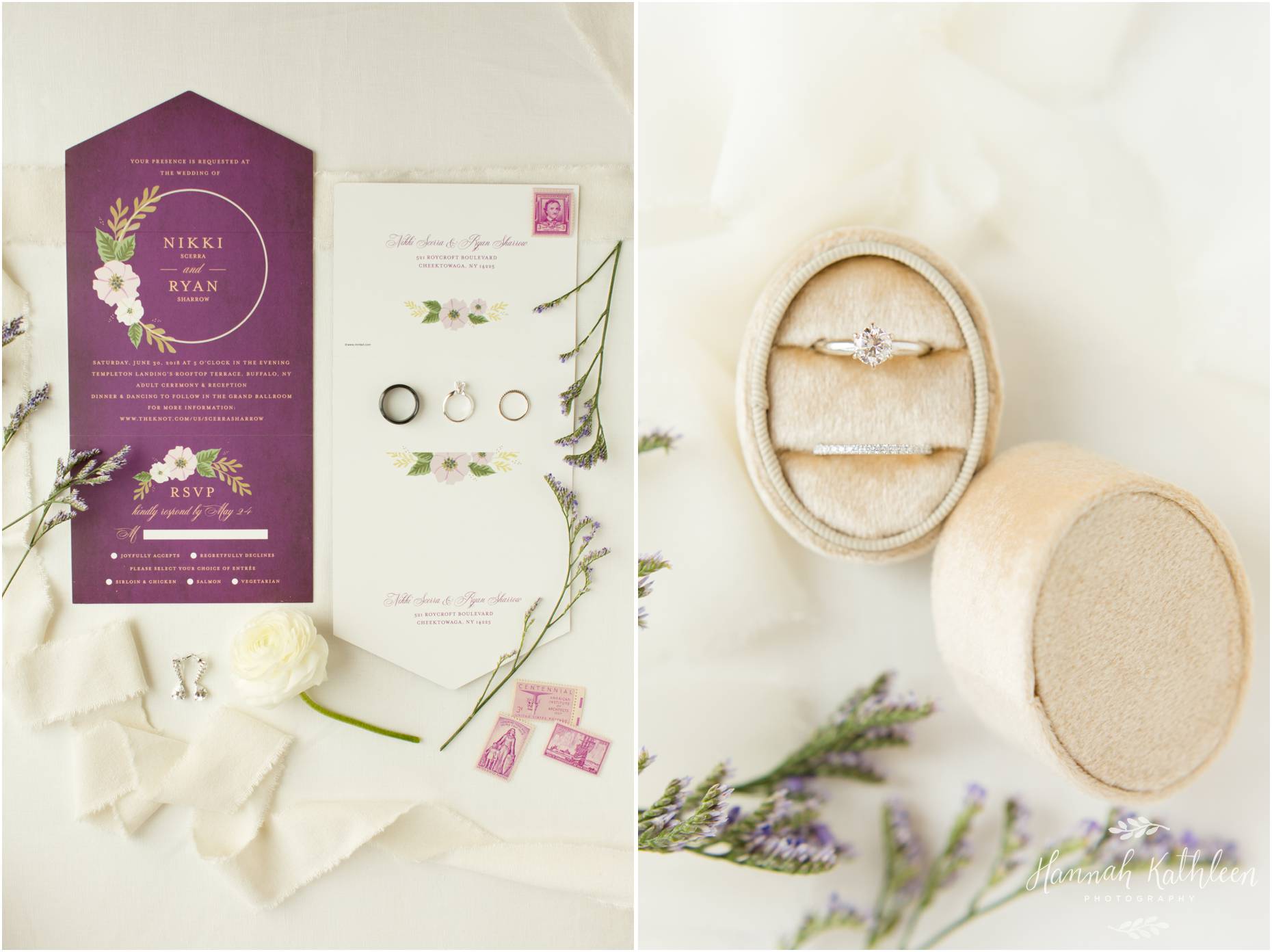 Ryan's turn!
Ryan's mom helped him with his boutonniere which completed his wedding attire!
And back to Nikki!
That moment you see yourself in the dress!
And can we just talk for a minute about how beautiful Nikki is!? She has natural beauty, that's for sure… but to see her hair and makeup complete with a dress on that was clearly made for her 😩 she was one of the most beautiful brides I have ever seen, and that was one of my favorite dresses I've ever seen, too! Take a look for yourself.
You guys know I am a sucker for first look photos, so I was very excited when Ryan and Nikki came to me with that plan already in their head! Yay! Take a look at this blog post that talks about all the reasons why and why not to have a first look at your wedding!
Wedding portraits don't get more light and bright than at Albright Knox. Definitely one of my favorite locations for pictures, and then you put a drop dead gorgeous bride there with one of the best bouquets from Beck & Forth Co.!! 😍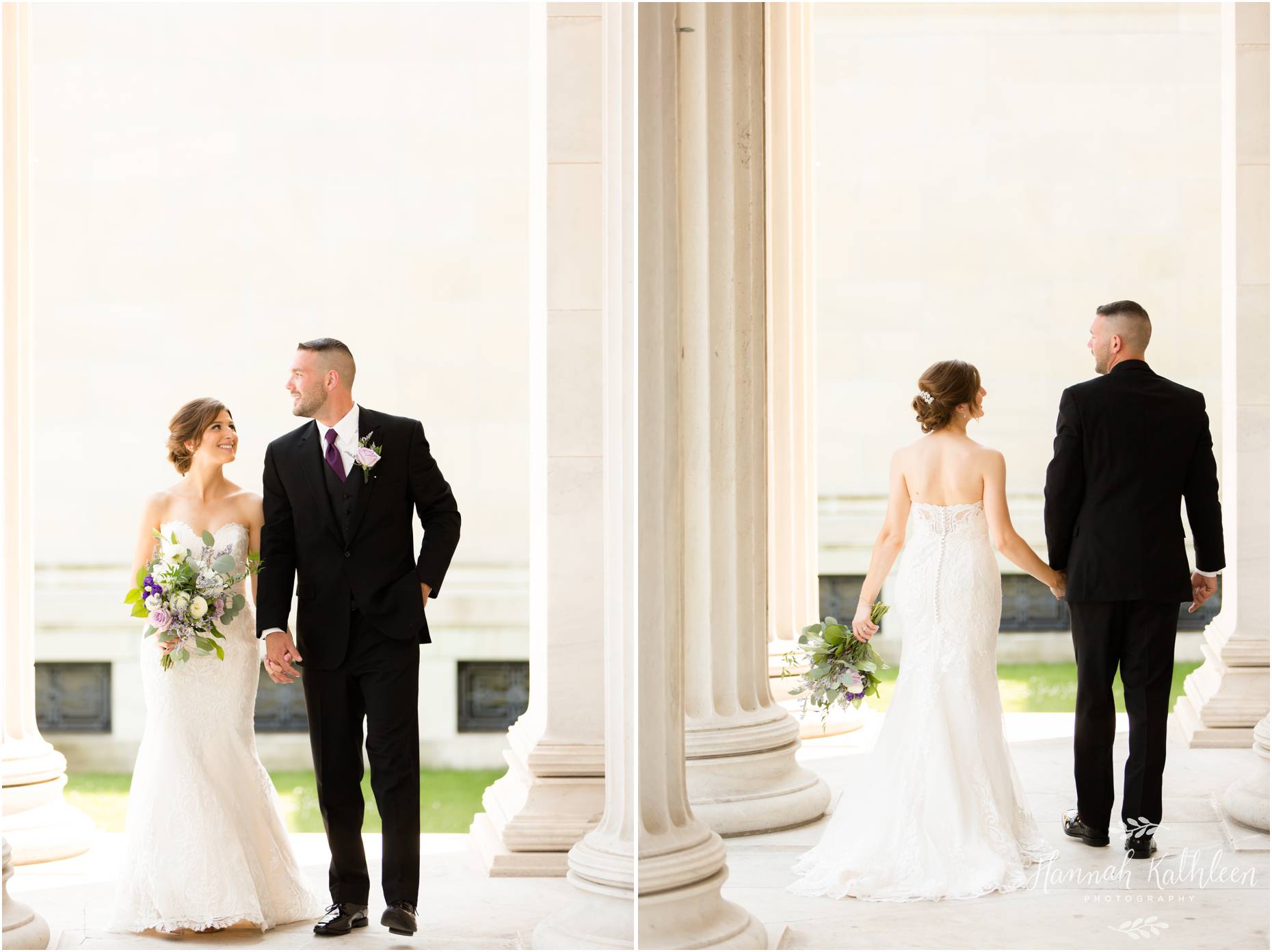 After some bridal party portraits at Albright Knox, we headed over to the Cobblestone District to finish up!
Nikki and Ryan got married at Templeton Landing on the Erie Basin Marina (right near Canalside). You can imagine how thrilled I was to see how perfectly City Hall lined up with Beck & Forth's floral arch for the ceremony. This just seemed to suit their Buffalo, NY wedding perfectly! #onebuffalo (Am I talking about Buffalo pride, the beer, or the ice cream? You decide)
the ice cream
One of the hottest days of the year, and Ryan and Nikki had an outdoor rooftop ceremony overlooking the marina and Buffalo skyline! Ha! Everyone was sweating and probably got a nice sunburn, but none of us will ever forget their ceremony.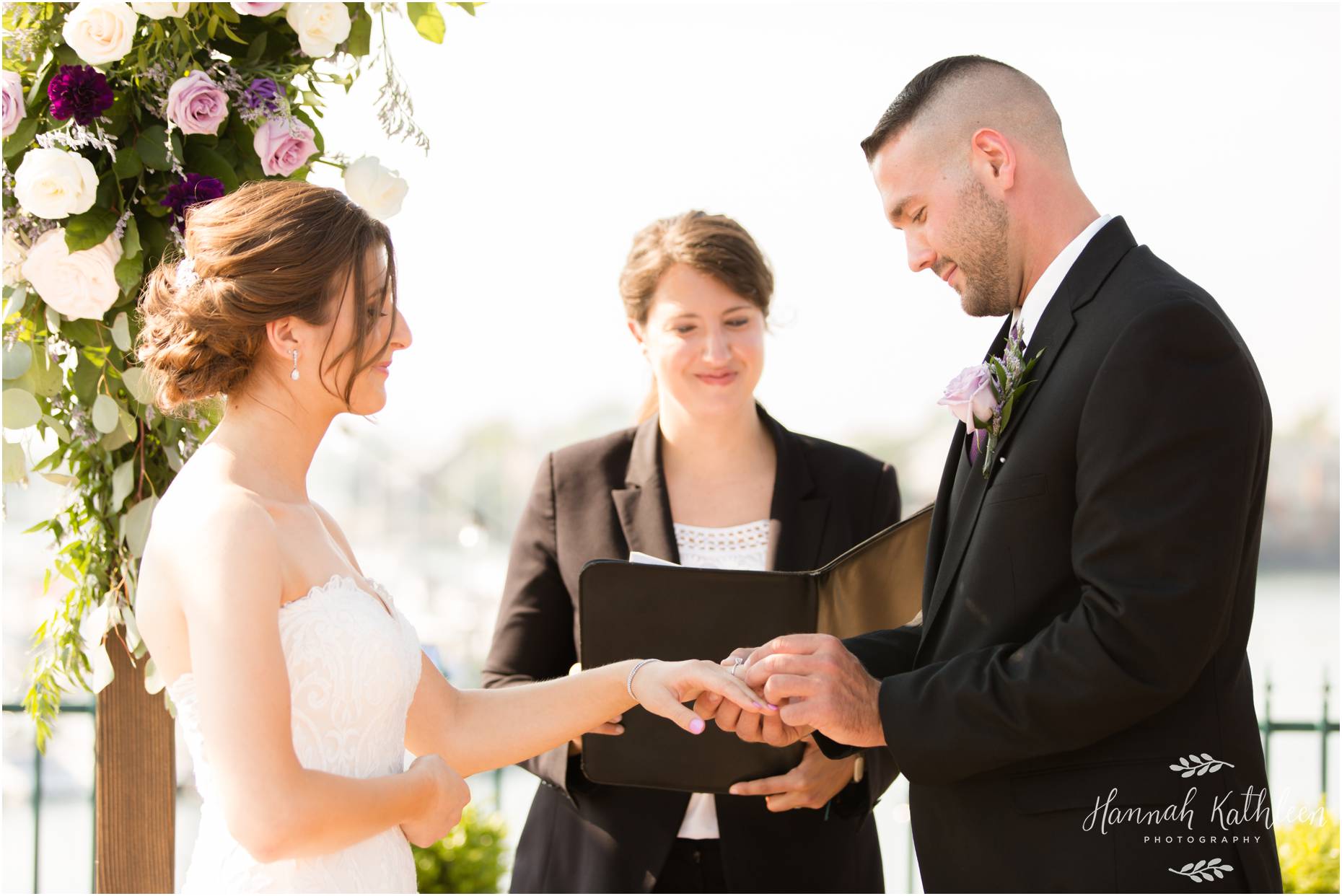 We took some photos of the bride and groom's family while guests enjoyed cocktail hour!
The reception was downstairs in air conditioning (thank God). They had a beautiful ballroom with lots of windows, and lots of flowers. Their decor was simple and perfect. Just some flowers on each table, the cake pop favors were on a separate table to minimize clutter on the tables, and the cake stood front and center on the dance floor.
After the introductions, the bride and groom cut the cake! Made by Nikki's friend, Kate, this cake went perfectly with the rest of the decor.
The First Dance as Bride and Groom!
Time for toasts!
After dinner, Ryan and Nikki snuck away with me for 5 minutes to go down to the dock outside Templeton Landing. And I'm so glad we did! Look at those colors!
Then it was time for the parent dances and open dance floor!
I love seeing all the happy faces breakin it down on the dance floor. And Nikki and Ryan were right in there with all their friends!!

These two had me at "ice cream bar." During dancing, the amazing staff at Templeton Landing brought out chocolate and vanilla ice cream! There was caramel, hot fudge, resee's pieces, m&m's, sprinkles, whipped cream, everything! I think all brides need to take a note from this wedding and turn this into a tradition, what do you think?
Mr. and Mrs. Sharrow, thank you so much for allowing me the honor to document your wedding day. It is so amazing to be asked to photograph one of the most important days of someone's life. You two made the day a true joy, and I had so much fun being a part of it. Thank you for letting me do this for you. I hope these photos help you relive your day over and over again.
Love, Hannah
Vendors:
Want to see more!?
Click here to see more of my wedding photos!
Click here to read more wedding blogs!
Chris & Elena | Buffalo Riverworks Wedding
Roger & Taurie | Camp Timbercrest Wedding