First Looks | Reasons Why and Reasons Why Not
Feb 26, 2018
First Look? Or No First Look?
Every Bride and Groom are faced with this decision at some point in their engagement. Some find their answer easier than others. Some know exactly which decision would be best for the two of them. Others don't see a clear winner and have to weigh the pros and cons… for those of you having a hard time knowing which direction to go in, this blog post is for you!
If you are reading this, you have likely already heard of a First Look, but if this happens to be your first look at one (get it?), then here's exactly what we are talking about!
A First Look is when the Bride and Groom have a planned moment to see each other before their ceremony. It's built into the schedule, it happens prior to the ceremony, and it's usually just the two of them with the photographer and videographer off in the distance. There are a number of different ways the First Look can go down, so it's fun for a Bride and Groom to choose their favorite!
The Bride and Groom can both round a corner to meet each other in the middle. Or the Bride can come around a corner to reveal herself to the Groom! I've seen these done, and both ways are really cute!
The second most common First Look is to have the Groom stand with his back to the Bride, and as she walks towards him, he turns around while she is a few steps away so he can see her coming toward him. This builds quite a bit of suspense, and it's extra special because the Groom gets a really good look at her dress!
The most popular option is the classic tap on the shoulder! This one may be the cutest, so you can see why most couples choose this specific First Look. The Groom has his back to the Bride and she walks up behind him, taps him on the shoulder, and he turns around to see her for the first time!
No matter what First Look option you go with, you'll want to do a princess twirl to show your soon to be husband the back of the dress! Because, let's face it… you spent just as much time picking out the back of your dress as you did the front!
You are not limited to choosing one of these First Look ideas, but these are the most used. And for good reason! They are so suspenseful and sweet!
Reasons To Do A First Look
Now, let's get to the good stuff… Why would anyone want to see their Bride before the ceremony? Good question. There are a few really good reasons why some couples choose to do a First Look!
#3
The first look is almost always more emotional than the "traditional" way. Think of your Groom. Does he want to cry in front of all his family and friends… in front of his guy friends who might make fun of him or even worse... in front of your brother!? The majority of guys fight back the tears so hard, and are not okay with showing emotion.
Give your groom a private, intimate, beautiful setting without any family and friends around (just a couple of quiet cameras), and he'll feel a million times more comfortable to let his emotions take over. Not every guy is going to cry, it's just the way it is. But you might be surprised. I never expected my husband, Caleb, to cry… but he did! (And Brides, let's keep this between us - we all know the goal is to get him to cry, we all want those pictures, and we all want that moment! I get it!)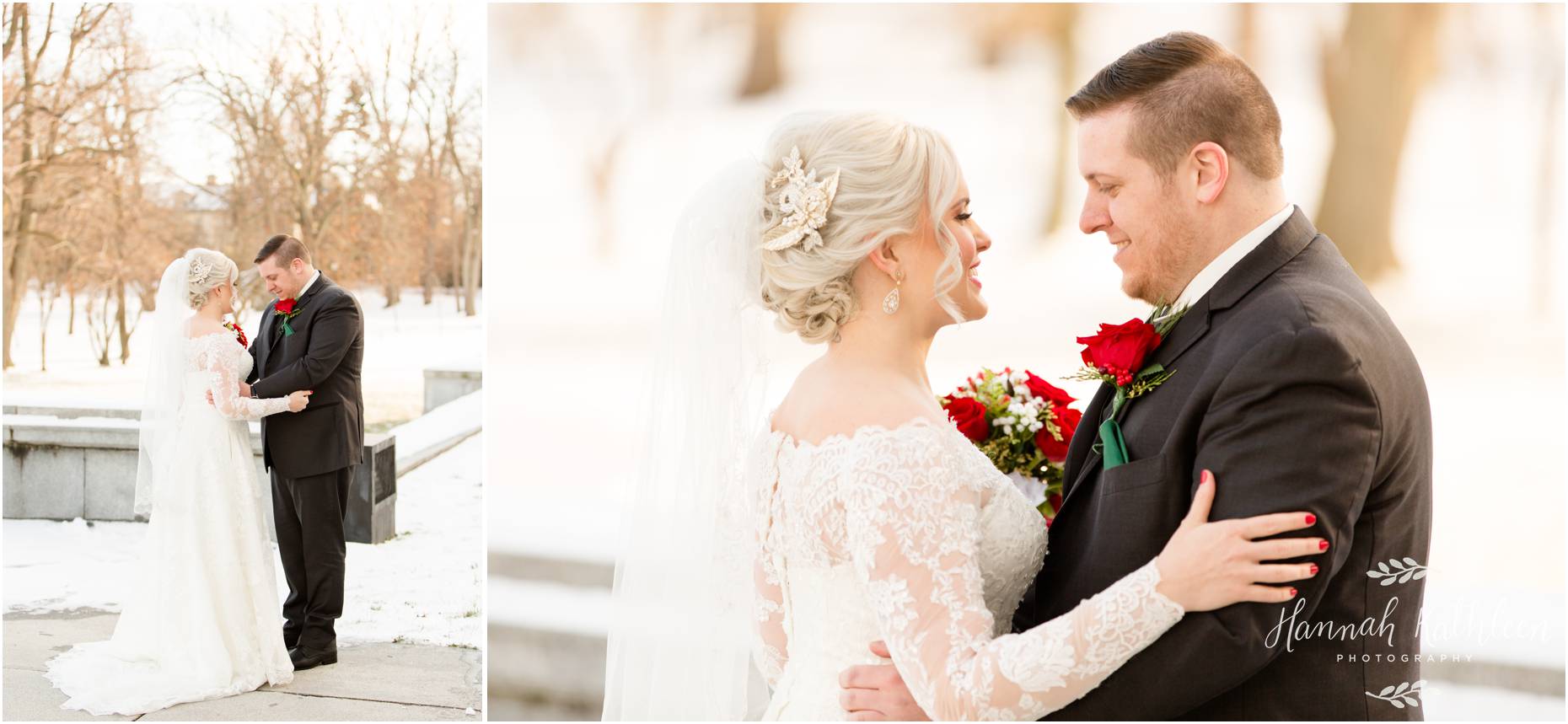 #2
Have you ever been to a wedding where you were waiting at the reception for hours because the darn photographer was taking photos of the bridal party FOREVER!? (Well, this might not be a strong point because if you choose me as your wedding photographer, I would never let that happen!) If it's important to you to not keep your guests waiting (again, this does not apply if I'm your wedding photographer), do a First Look! All of your Bride and Groom portraits and Bridal Party portraits will be completed before the ceremony even begins. This allows you to enjoy your cocktail hour and mingle with guests. When a Bride and Groom do not do a First Look, we take all the Bride and Groom portraits and Bridal Party portraits during the cocktail hour, so you wouldn't be able to visit with your guests until your reception. This is extremely normal and most common… most weddings you have attended, you probably didn't see the Bride and Groom at the cocktail hour. This is just a personal preference for what you envision for your wedding day.
Along this line, the cocktail hour is… you guessed it! An hour long. I can easily fit in all the portraits we need (and more!) during this time, however, the more time you give a photographer, the better! Personally, I love having the flexibility of moving around a bit more, doing more poses, and having the time to create more unique shots. The hour long portrait time is plenty (I've done portraits in 5 minutes before), but I always get excited for a First Look because that means that all the portraits can be taken before the ceremony… and we won't be rushed! Usually we have at least 2 hours for portraits if this is the case, and it allows us more time to drive to new locations, walk further, and increase the number of photos we get. With no rushing, no stress, and the ease of having the photos done before the ceremony. Once you arrive at the ceremony, you can focus on your almost husband or wife. After the ceremony, you get to enjoy your party!
A groom just told me a couple months ago how glad he was that they decided to do the First Look. He said that the wedding day felt so smooth and care-free because he got all the photos finished before the ceremony. We weren't running around like crazy people during the portraits, and after the ceremony, he and his Bride were able to go to the cocktail hour together to see all their friends and family. He couldn't say enough about how smooth their day went and how calm he was. He really noticed how his nerves disappeared after the First Look and he was able to truly enjoy his wedding day.
#1
What is a wedding a celebration of? The love of two people and their families uniting and being excited for them. The focus is definitely on the Bride and Groom, I think we can all agree. However, with so much focus on the Bride and Groom, they are constantly bombarded with visiting with their guests, giving hugs, and saying hi to everyone. I mean, it IS a party for them! This makes sense! The hardest part of all this, there is no alone time for the freshly married couple! You move from thing to thing, person to person, picture to picture, event to event… and before you know it, you are absolutely exhausted and the party is over. And you didn't have but one real conversation with your brand new spouse. This is the saddest truth about the majority of weddings.
There are two ways to fix this, plan 10 minutes of alone time before the reception starts or have a First Look. The beauty of a First Look is the intimacy and calmness in the quiet moment of finally seeing each other all dressed up for the other person. You've worked months, if not years, on picking the perfect dress, shoes, jewelry, hair, makeup, and bouquet… and it's hard to get to the end of that aisle and not be able to give him a hug, not be able to hear what he thinks, and not have that moment to talk about it! Having a First Look allows you that time to be away from the hustle and bustle, with no eyes on you (just a couple cameras if you want!), and you get to actually spend time with each other! You aren't rushed to trying to listen to a sermon you will barely remember the jist of, you actually get the time to hold each other, have a private conversation, and prepare for the day together. This is the perfect time to pray, give gifts, or even take a walk. It's the only time all day that you will be totally alone, and it's really special.
Reasons Not To Do A First Look
It wouldn't be fair to only reveal the reasons TO do a First Look. There are plenty of reasons to go the "traditional" route, too.
#3
You might just have a strong urge to do it the traditional way, that's fine! Do it! My husband, Caleb, did not want to have a first look… and although, there might not have been GREAT reasons behind why he wanted to wait for the ceremony, that was reason enough. If you can picture your day that way, and you are really looking forward to that moment (and it doesn't bother you to have everyone watch your reaction), then the traditional way is probably the best fit for you.
#2
Your guests aren't going to miss you during cocktail hour. As long as your photographer understands limiting photos to the time on the schedule (like me!!!), your guests are going to be without you for one hour. Give them an open bar, cheese and crackers, and some pineapple and they'll forget all about you. 😉 There are also a number of creative ways to keep your guests entertained during the cocktail hour. Here are some fun ideas: Get a photo booth, set up lawn games, provide games like "guess the amount of candy in the jar", have a fire pit or a s'mores station, provide a tour or shuttle around your wedding venue, hand out paper games about the bride and groom like at a bridal shower… there are so many options to keep your guests busy! If I'm your photographer, don't worry about keeping your guests waiting… You'll be ready for your reception ahead of schedule.
#1
There are some Grooms that are going to cry the first time they see you that day, no matter what. Heck, they'll cry the second time and the third time, too. Some guys are emotional and they can tell you themselves that they will absolutely be bawling their eyes out. If the emotional aspect is important to you, you can have that emotion with or without a First Look. If you know your guy won't choke back the tears in front of all your guests, then it might be worth going the traditional route and allowing your guests to witness that moment with you. It all comes down to personal preference.
Your wedding day is yours. It's no one else's. This is a big decision, I understand. As a photographer, I prefer First Looks. As a bride, my husband and I chose to do it traditionally. Well... as traditional as we could for an extremely non-traditional wedding with 17 of our immediate family members surrounding us on the side of a cliff.
It was intensely emotional. My Groom cried, I bawled. Our parents cried, our sisters cried, my big macho brothers cried.
(👋👋 Heyyyyyyyyyy, big macho brothers... if you're reading this!) Everyone cried. I don't think it's all about a First Look or not. It's about making the most important people in your life feel like they are the most important. It's about honoring each of your family members and making them feel special. It's about reminding your Groom why you are marrying him, 2 minutes before the ceremony with a handwritten letter. It's about love.
(Photos of my wedding by the amazingly talented Nicole Mason!)
You are marrying your best friend. Nothing else matters. You do you. Just keep love at the center and you'll have the best day of your life.
View some engagement sessions here: