Wedding | Matt & Autumn
Jun 29, 2018
Congratulations Matt & Autumn!
I have had the privilege of knowing Matt forever through the camp I grew up at, Camp Hickory Hill! You can read more about that on their blog post with their engagement photos!
It's also worth taking a look at their blog post to learn how Matt and Autumn met!!
It brings me so much happiness to be asked to photograph my friends' weddings. Matt and Autumn were no different. I haven't known Autumn for long, and we have really only hung out a handful of times… but she is the most chill and easy going girl around! We became friends quickly, so it instantly turned into a friendship shared with Autumn and not just Matt. I love that.
Autumn and I share a love for cats, greenery, oldies music, and The Parent Trap. 😂 Quick story about the moment I realized I had more in common with Autumn than I thought: Growing up I loved the movie The Parent Trap (the newer one with Lindsay Lohan and her twin sister Lindsay Lohan), my parents even gave it to me on VHS for a Christmas Present and I had two Cuppy stuffed animals. Anyway, I hear ANY of the songs from the movie, and I ask whoever is around me (usually my family or Caleb) to "name the movie!". My family only knows the answer because I only ask them to play that "game" for one movie… The Parent Trap. Well, sitting next to Autumn at a wedding reception a few weeks before her own wedding, one of the songs came on and I promptly said "name the movie!" and she immediately responded excitedly, "THE PARENT TRAP!" And that's the moment I knew, we would be friends forever. 😂
SO… back to Matt and Autumn's wedding. Upon arrival to Autumn's parents' house, I was greeted with some gorgeous things to take photos of, and an even more gorgeous bride! I love photographing the invitation suite and jewelry, and when you add some flowers and greenery in there… 😍 You can't beat it!
Take a look at the morning I spent with Autumn and her bridesmaids!
Not pictured here: the oldies playing in the background. perfection
She's ready!
I eagerly drove to a shaded field near the wedding venue to meet Matt and his groomsmen.

This was a fun group of guys for me because I knew 4 out of 6! Luke (the best man) and Seth (groomsman) are both friends of mine from camp, too! (They are on the right in these photos). And Matt's brother, Ben (next to Matt on the left)!
The moment we were eagerly anticipating was when Matt and Autumn would see each other for the first time! It was sweet and intimate, and just what they needed. At the end of the day, they talked about highly recommending doing a First Look to other couples they know. They felt calm and far less rushed because they were able to see each other before the ceremony and take their time with portraits before their guests even arrived! Speaking of First Looks, I do have a blog post all about the Reasons Why or Why Not to have a First Look. If you are planning your own wedding, I definitely advise you to take a look!
Time for some portraits!!
We had so much time for the bridal party and bride and groom portraits that we even hopped in the car to go to a new location a few minutes down the road! With the water and hills in the background, you couldn't beat the view. And the little park we stopped at, had the coolest trees, too! Matt and Autumn are walking away with a few more portraits of the two of them because their First Look allowed us to have more time for this than we would have if we did portraits in between the ceremony and reception.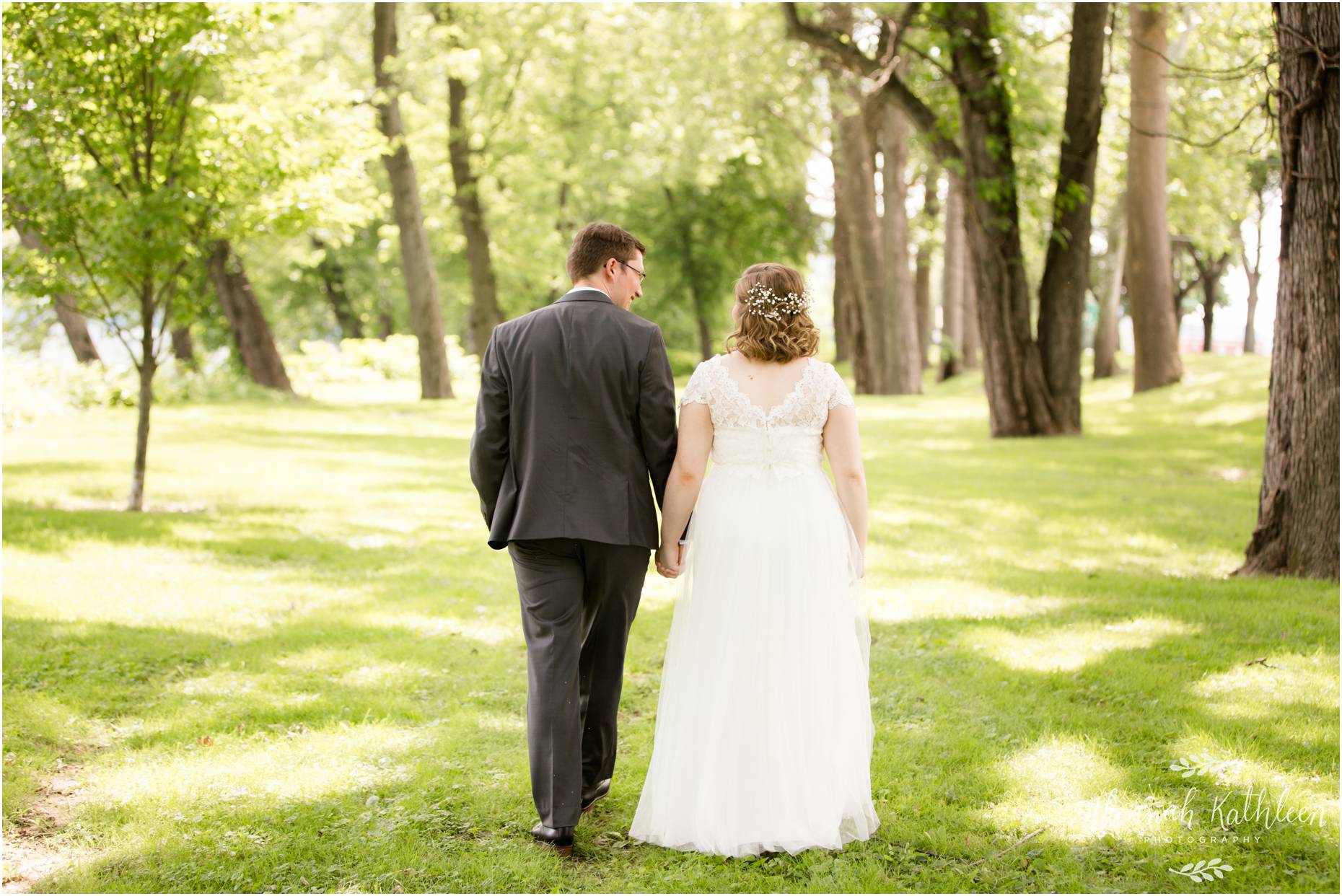 Matt and Autumn's wedding took place in Bloomsburg, Pennsylvania at a wedding venue called The Barn and Boone's Dam. It was so convenient to have both the ceremony and the reception in the same location. There was even an outdoor balcony area on the barn for the cocktail hour. The ceremony location was wonderful being outside surrounded by trees! And I love barn receptions… and this one was painted white on the inside… white!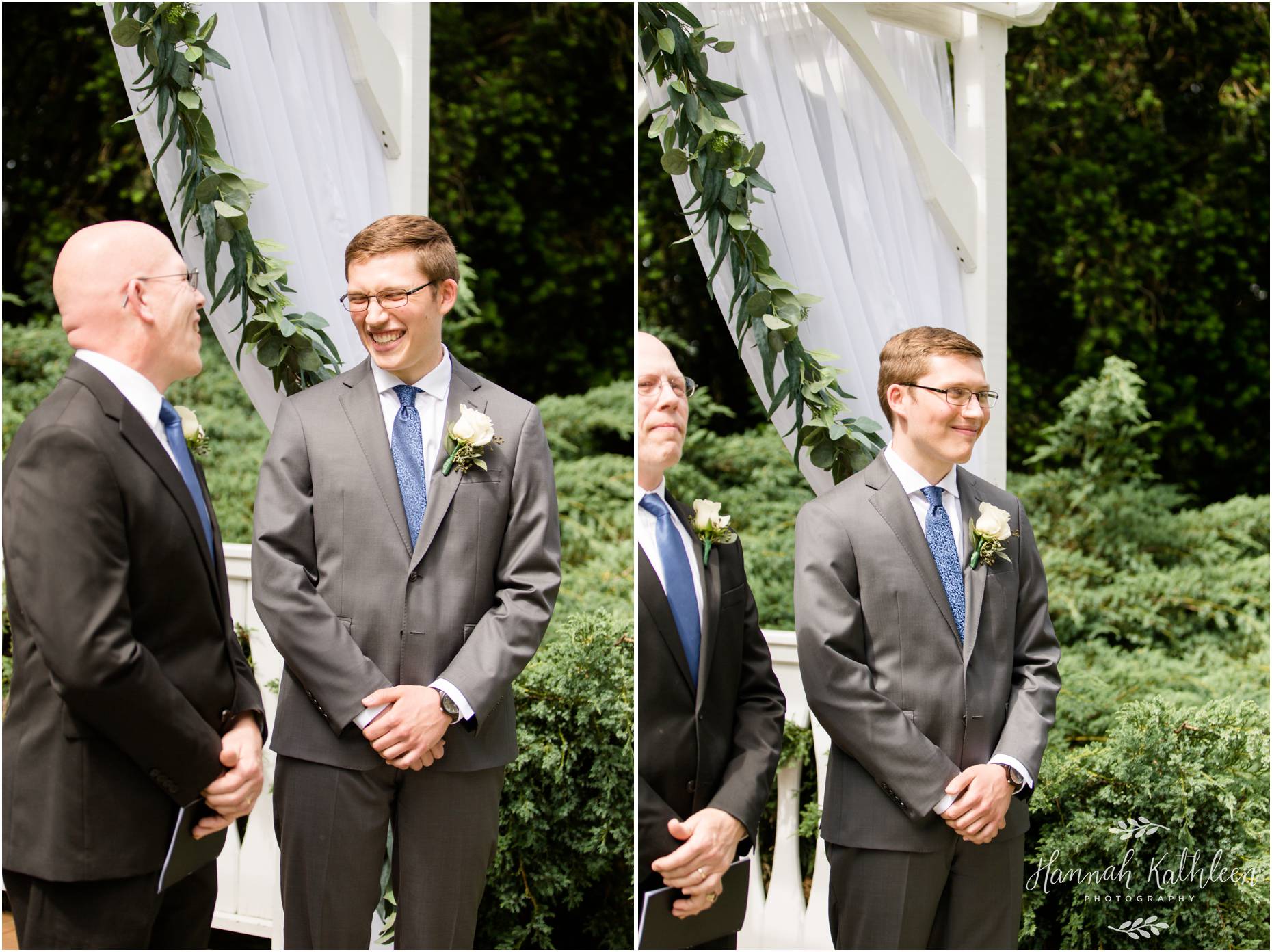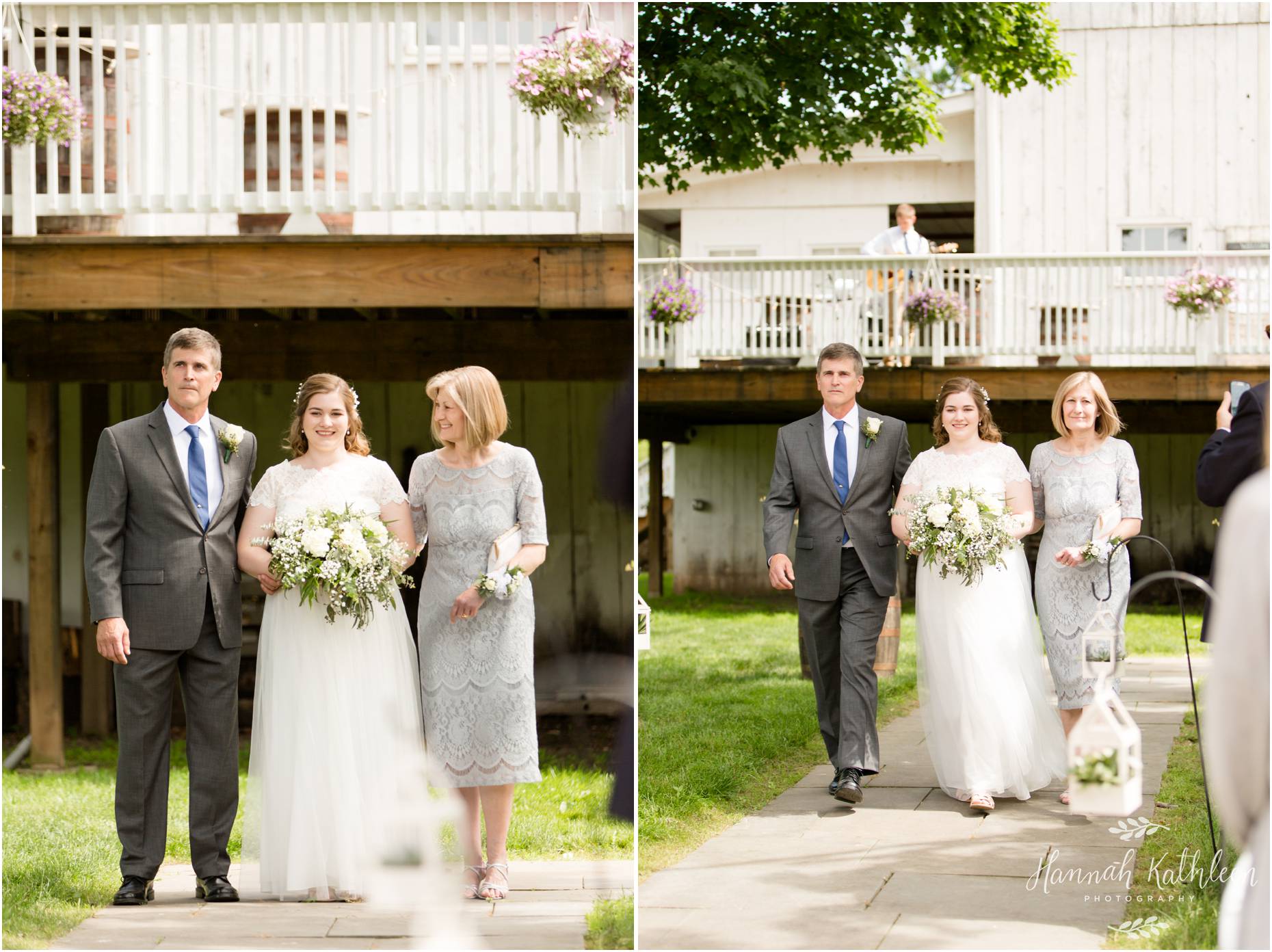 Matt's dad had the special honor of performing the ceremony. You can just tell how proud he is of his son and how thrilled he is to officially have Autumn as a daughter. The ceremony was lovely.
After the family photos, Matt and Autumn were introduced into their reception and the maid of honor and best man did toasts!

No wedding is complete without a little bit of dancing!
To end the night, Matt, Autumn, and I went out into the field before the sunset. We took a few additional portraits before we called it a night.
It's so great when the people in your life find their perfect match. Seeing Matt so happy with Autumn, makes me so happy. I knew from the first time he talked about her years ago, that he was head over heels obsessed with her (though he played it cool 😉). I looked forward to meeting her… and then, when I saw them together… the way they look at each other, laugh with each other, help each other, and care for each other told me that this was something special.
Matt and Autumn, thank you so much for choosing me to document this important day in your lives. It means the world to me that you like my photos enough to have a friend photograph your day. Thank you for that!
Vendors!
Want to see more!?
Click here to see more of my wedding photos!
Click here to read more wedding blogs!
Chris & Elena | Buffalo Riverworks Wedding
Roger & Taurie | Camp Timbercrest Wedding