Wedding | John & Christian
Jun 29, 2019
I knew these two were gonna be awesome, but when their wedding day finally got here, they kept on getting awesomer and awesomer (that's a word, right?)! I actually wish I could relive this wedding day all over again, but since that isn't possible, this is the closest we can do! I hope you enjoy going through their wedding day through my eyes!
John and Christian had their full wedding at Deerfield Country Club out in Brockport, New York near Rochester. It was just over an hour for me to get there from Buffalo, and the destination was oh, so worth it! Country Club wedding venues are often some of my favorite weddings because of the outdoor ceremony locations and the gorgeous property for all the pictures! Deerfield Country Club even had a large bridal suite for Christian to get ready in, so the WHOLE wedding day took place here!
I started my day meeting Christian and her bridesmaids in the Deerfield bridal suite. Christian was getting her makeup finished and man, didn't she look amazing already!?
I was SO excited to see her in her dress because I knew she would make the most gorgeous bride! And she did!!
John looked so sharp in his suit. He's a model, isn't he?
John and Christian chose to see each other before their ceremony. When a couple does this, we call it the First Look. Instead of starting the ceremony at the exact moment that the couple sees each other, they actually have 5-10 minutes alone to talk and have a moment together.
I'm a big fan of First Looks because we are far less pressed for time since all bridal party and bride and groom portraits (and even most family portraits) can be taken before the ceremony without causing your guests to wait! Another plus of First Looks is that often, the bride and groom are able to join their guests for cocktail hour instead of cramming an hour and a half worth of pictures in 50-55 minutes! YAY! If you're planning your wedding and want to know more pros and cons of a First Look, head here to read my blog post all about it!
Anyway, back to John and Christian and how adorable they are together.
After a few minutes alone, the bridal party joined us in these super cool pine trees!
Before the guests arrived, we had time for family pictures! The First Look allowed all the family and bridal party to truly enjoy cocktail hour instead of being taken away for pictures. I'm a fan, if you can't tell.
I must take this opportunity to tell you a little bit of backstory about this amazing couple. John and Christian both grew up in the small town of Lyndonville, New York where everybody knows everybody. John has only one sibling, a sister named Stephanie (Hi Stephanie!!). Christian had her sister, Clancy, as Maid of Honor, and she also has two brothers, Clay and Chase. Clay and Chase knew John first and were friends with him first. Then their sister, Christian, started hanging around and the rest is history.
Fast forward to their wedding day... John chose for his best men to be Christian's brothers, Clay and Chase!!! How sweet is that!? So when you see two super tough guys sobbing their eyes out on John's left, just know that those are Christian's big brothers... And try not to cry, too.
The ceremony was the perfect amount of time, and the officiant was the perfect amount of hilarious! I haven't laughed that much during a ceremony in a long time. His words were heartfelt and personal and I honestly enjoyed the ceremony a lot!
I did manage to steal the freshly married couple away for 10 minutes right at the beginning of the cocktail hour. I think all three of us thoroughly enjoyed driving the golf carts to this beautiful spot to snap some quick pictures.
I may be just a little bias because peonies, soft, neutral colors and greenery are my absolute favorite combination. But don't you just adore her bouquet!?
The reception was just inside the building right behind the ceremony space. Look at how pretty the tables were!
Guests enjoyed hors d'oeuvres and drinks while the bride and groom greeted everyone.
The reception started off with something I had never heard of before, but I was so excited to witness! I've been told this is called a Manhattan Style Dance Floor, but please don't quote me on this because google doesn't really help me win this point.
Whether it's called that or not, this is the idea... the DJ plays a handful of songs RIGHT AWAY and the guests all have a quick 10 minute open dance floor before dinner! It was super fun and a great time! I loved this idea! If you're interested in giving your guests a good time and looking for something unique, throw this in the mix!
Afterwards, John and Christian had their first dance as husband and wife and it was so sweet!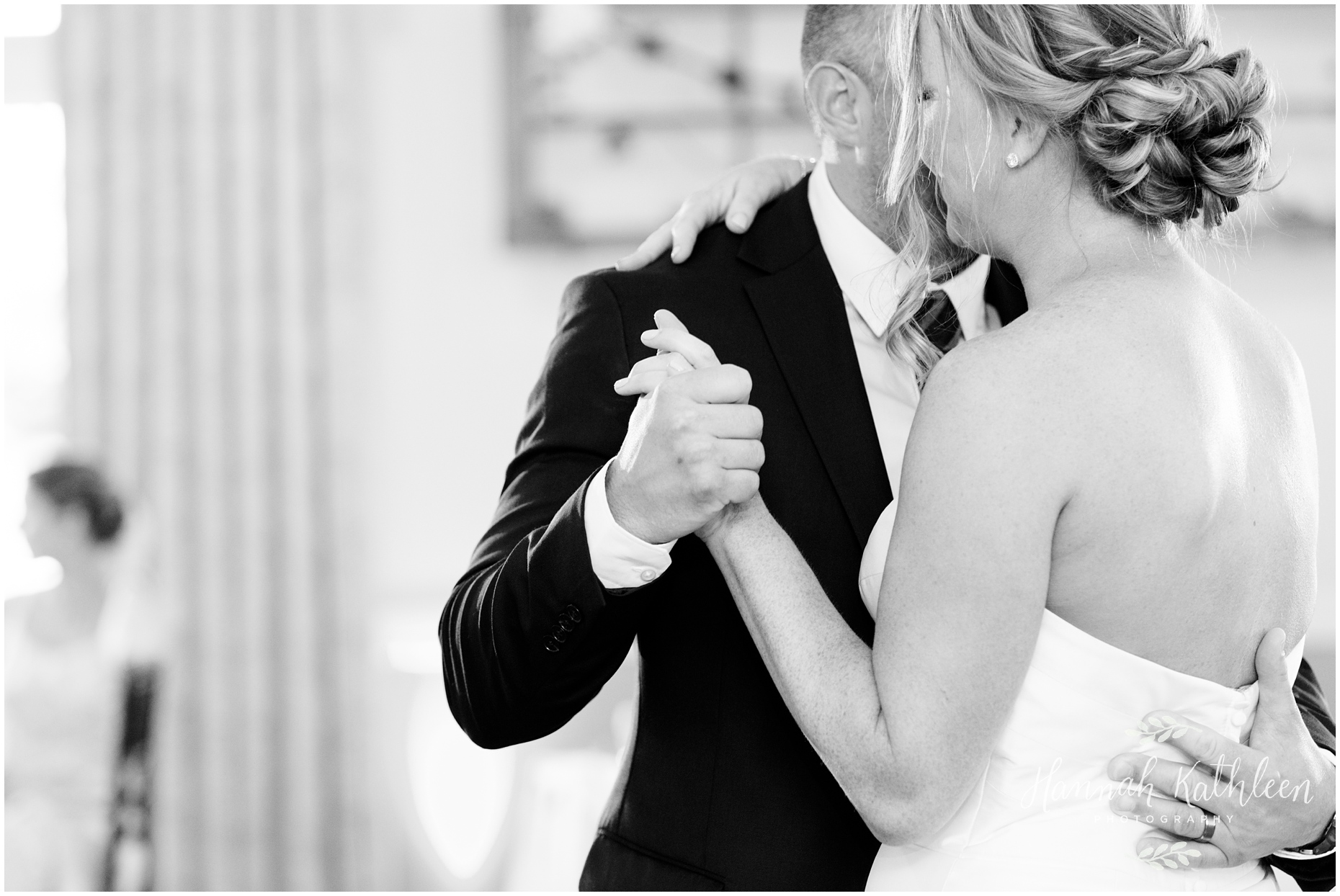 Next, Christian danced with her dad.
Followed by, John's dance with his mom. They invited John's niece up to finish the song with them!
Clay did the first toast, and I'm telling you... there wasn't a dry eye in that place. I was crying like a baby hearing this big brother talk about his little sister like this. I'm still about to cry just thinking about it.
Clancy and Chase both shared awesome toasts as well. Hearing Chase talk about his little sister, really pulled at my heart strings again and Clancy had everyone laughing! Seriously... for not having met any of the family before this day, I felt like I knew this whole crew my entire life. Loved every minute of this wedding.
Dinner came next and if you followed along on my Instagram story you'll know that I took a minute to myself to do this fun ring shot with her bouquet!
After dinner, I was privileged enough to take John and Christian away for 10 minutes as the sun was setting. You can't beat this kind of lighting and I was so grateful to have them to myself for just a few more portraits!
John and Christian, Thank you for trusting me. Every time I asked you something the answer was, "whatever you think is best" or "we'll follow you to whatever you decide!" Having a bride and groom as trusting as you allowed me to do the best job I possibly could on your wedding day and I can't thank you enough for that kind of trust. You two are truly the best and I know you'll have a long and happy life together with the foundation you share. Your love for your families and each other is so clear just by spending one day with you both. I am excited to watch where life takes you and I'm honored to have spent your wedding day with you! Thanks for the opportunity! Congratulations!
P.S. Shoutout to my new best friend, Kayla 😉 who is my hero for helping me out with a tricky flash stand situation! You're the best! (Still breathing a sigh of relief thanks to you!)
Vendors:
Want to see more weddings!?
Click here to see more of my wedding photos!
Click here to see more wedding blogs! Here are a few of my favorites:
AJ & Brittany | Hotel Lafayette Wedding
Jordan & Melissa | Avanti Mansion Wedding
Ryan & Nicki | Templeton Landing Wedding
Hop on over to my website and say "hi!" Follow along on facebook or instagram!
Take a look at my travel calendar and let me know if you want photos anywhere!
Introduce yourself… I love making friends!