Wedding | Matt & Andrea
Nov 21, 2019
I'm all about a couple doing their own thing. I jive best with couples who make their wedding day reflect their interests, their love, their story. In my opinion, your wedding should not be an exact replica of the wedding I went to the previous weekend. Matt and Andrea are a perfect example of two people who planned their day to be specific to their own story.
Matt and Andrea's entire wedding day took place at Glenora Wine Cellars on Seneca Lake. Seneca Lake is one of the Finger Lakes between Rochester and Syracuse, New York. The view from the hotel room, ceremony spot, portrait locations, and dance floor was stunning throughout the entire day.
The Inn at Glenora Wine Cellars had the perfect accomadations for the bride and groom, the whole bridal party, and a lot of the wedding guests! It was perfect for the getting ready pictures too!
Some of my favorite weddings details include Andrea's super sparkly shoes, and Matt's floral pocket square! These two are so fashionable!
Matt got ready and opened a gift from his bride.
One of my favorite parts of this wedding involves the nontraditional bridal party! Andrea chose to have "bridefolk" instead of "bridesmaids" to include her brother and best friend on her side! I love that! Though I did not have much of a bridal party for my own wedding, I did name my three brothers my "best men!" I love the idea of doing something different to honor the special people in your life, no matter their gender!
Andrea received a gift from her groom that had most people in the room in tears. I could tell this day was going to be a special one.
Andrea's mom helped her get in her wedding dress. I loved the lace and flowy look of this dress! Andrea excitedly showed me how loose it was so that it allowed her to move around comfortably all day long… including sitting and dancing! My kind of dress and my kind of girl!
We stepped outside in the cold and wind for some portraits before the ceremony. We truly cannot complain because the forecast showed rain and we maybe had two drops of rain the entire day! What a gift!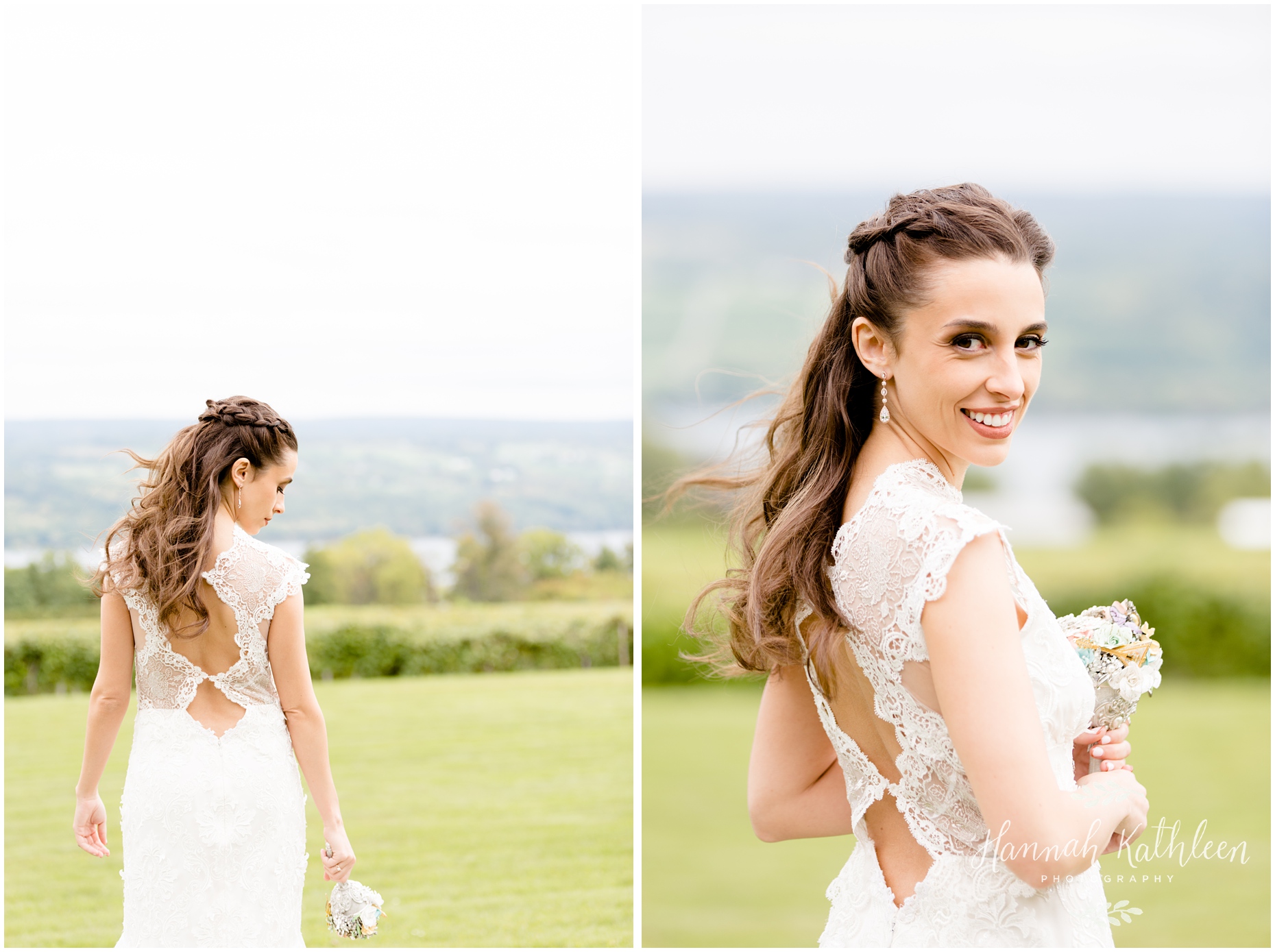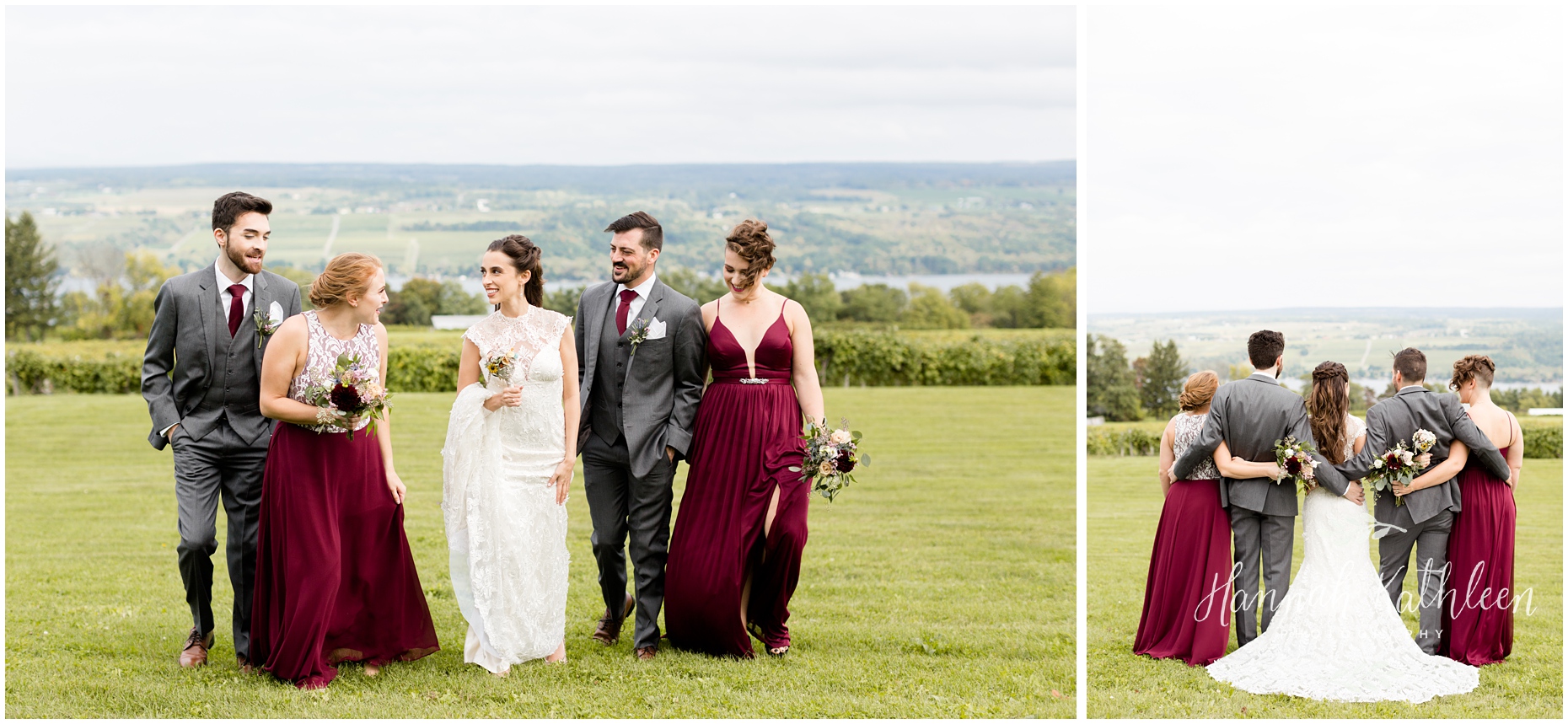 Though I am an easy crier… I don't cry at every single wedding ceremony I photograph… it's usually the toasts, father daughter dance, or mother son dance that gets to me. BUT… for Matt and Andrea's wedding ceremony, I was literally wiping the tears from my cheeks trying to pull myself together to be a professional wedding photographer! HA! It was special, powerful, and emotional. Their vows to each other were beautifully handwritten and members of the bridal party were crying the whole time. Take a look for yourself.

After the ceremony, we took a few more family pictures and lots of bridal party pictures!
Then it was time for me to do bride and groom portraits and these two models made my job easy! ;)
The cocktail hour/reception space was close by and the perfect size for this sized group. It felt cozy and comfy, but not cramped. And how beautiful is all this greenery, with all the decorations! The centerpieces and décor really spoke to who Matt and Andrea are as a couple. I loved it all!

The reception kicked off with a special introduction and the bride and groom's first dance as husband and wife!
Next Andrea shared a special dance with her dad.
Everyone moved inside to their tables and a few toasts were shared before dinner!
Fast forward to after dinner, Matt and Andrea cut their cake!
The rest of the night revolved around a packed dance floor and tons of smiles!
In the last minutes of my time with Matt and Andrea, I took them out into the pitch black vineyard for one very last photo!
Congratulations Matt and Andrea! You are so so loved. You compliment each other well, and you were sure to make the special people in your lives feel special. I enjoyed being a part of your day and being intertwined with such a loving group of people. Thank you for having me celebrate with you! Congrats!
Vendors:
Born and raised in Buffalo, New York, I am a portrait photographer specializing in weddings! I love to travel especially for photos! Don't hesitate to reach out an introduce yourself, I love making new friends!
Take a look at my travel calendar and let me know if you want photos anywhere!
Want to see more weddings!?
Click here to see more of my wedding photos!
Click here to see more wedding blogs! Here are a few of my favorites:
AJ & Brittany | Hotel Lafayette Wedding
Jordan & Melissa | Avanti Mansion Wedding
John & Christian | Deerfield Country Club Wedding
Ryan & Nicki | Templeton Landing Wedding
Hop on over to my website and say "hi!" Follow along on facebook or instagram!