Boston, MA Engagement Session | Ray & Nicole
Jun 20, 2018
Massachusetts was my 23rd state! And thanks to Ray & Nicole, I will be crossing off my 24th state in September when I go to Connecticut to photograph their wedding! I couldn't be more excited about Ray and Nicole's backyard wedding. I knew from the first email I received from Nicole that we would be good friends and have a great time together! She LOVES Disney World, so that's really all we need to be friends! ;) Ray even PROPOSED in front of Cinderella Castle! I mean… come on!! The photos of that magical moment are priceless, and I'm so excited for Nicole and Ray to start their Happily Ever After. PSA: If any guys happen to be reading this blog post (who are we kidding?) and you plan to propose in Disney, fly me down there and I'll photograph your proposal for free. Let's do it.
You might recognize Nicole from a wedding I photographed last spring! She is the beautiful bridesmaid on the the left of these photos! Both her and Ray were in the bridal party… how cool is that!? You can see them both in the bottom picture second from the left.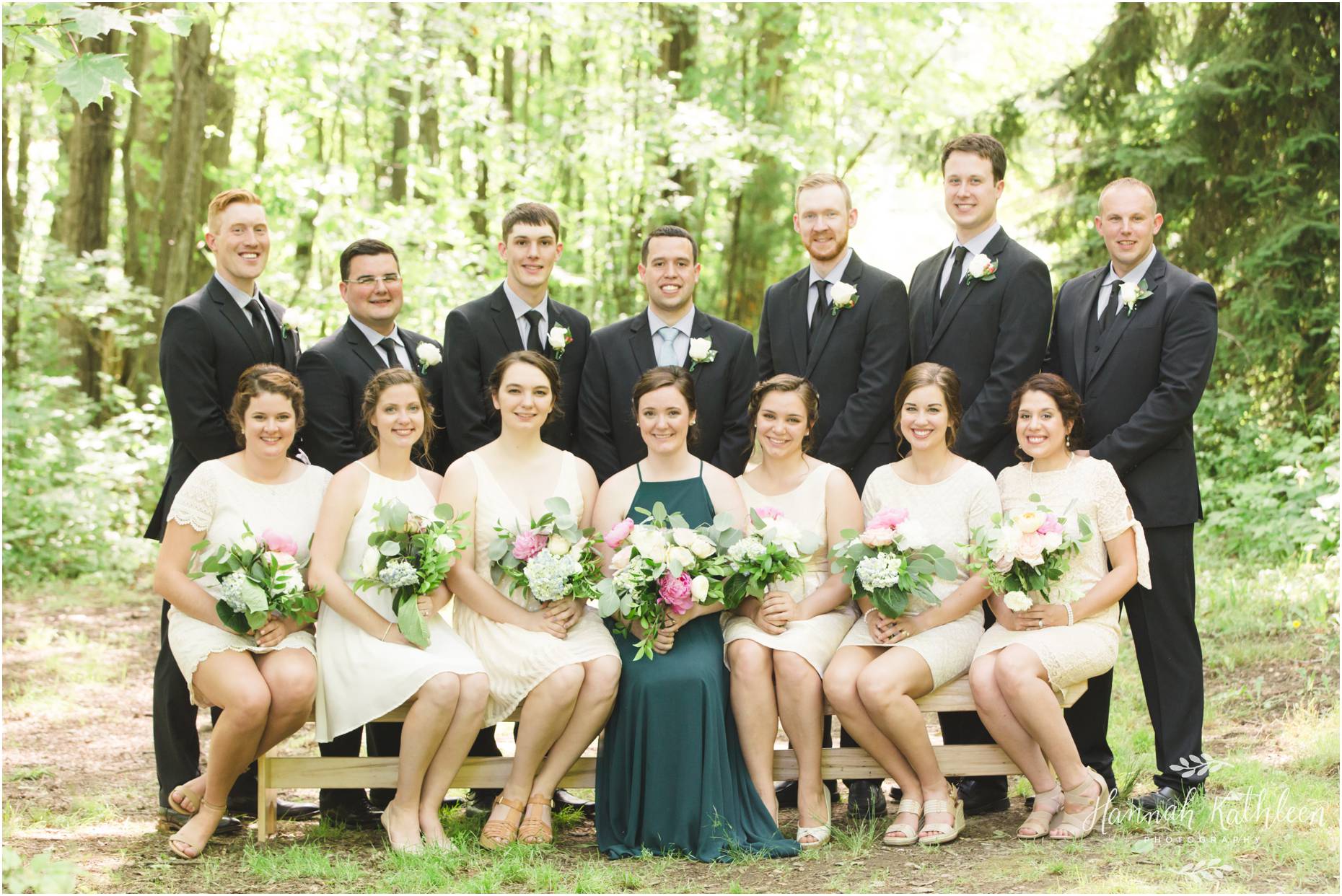 Visiting Boston was a blast. It was both Caleb and my first time to Massachusetts and we packed a lot in our long weekend there! We came to Boston to attend a friend's wedding, which was definitely the highlight! We spent most of a day driving around to different historical sites like Lexington and Concord, going on walking tours, and seeing super old gravestones. I finally found a way that makes history less boring for me! I learned that I really enjoyed all the walking tours! (This is very exciting for me since Caleb is really into history and I am really not.)
The following day, we spent a long day in the city of Boston. We even took the subway into the city and fit as much in as possible. We saw the bench from the famous Good Will Hunting scene in the Boston Public Garden, we had lunch at Fire and Ice (thanks to my sister in law for giving this meal to us as my birthday present!), we did a long walking tour on the Freedom Trail, explored Quincy Market and got my free Ghirardelli Chocolate, rode on the Duck Tour (thanks to Caleb's parents who gifted this to us for my birthday present!), ate dinner at the Cheers Replica bar, and even found time to squeeze in an engagement session! ;)
Spending time with Ray and Nicole was a joy… I just wish we lived closer so we could do it more often! I'm looking forward to celebrating with them in September as they say "I do" and I know Nicole and I will stay friends even when the wedding is over.
Starting at the Rose Kennedy Rose Garden, we took photos on a brick path, and then headed over to a park with lots of flowers in bloom!!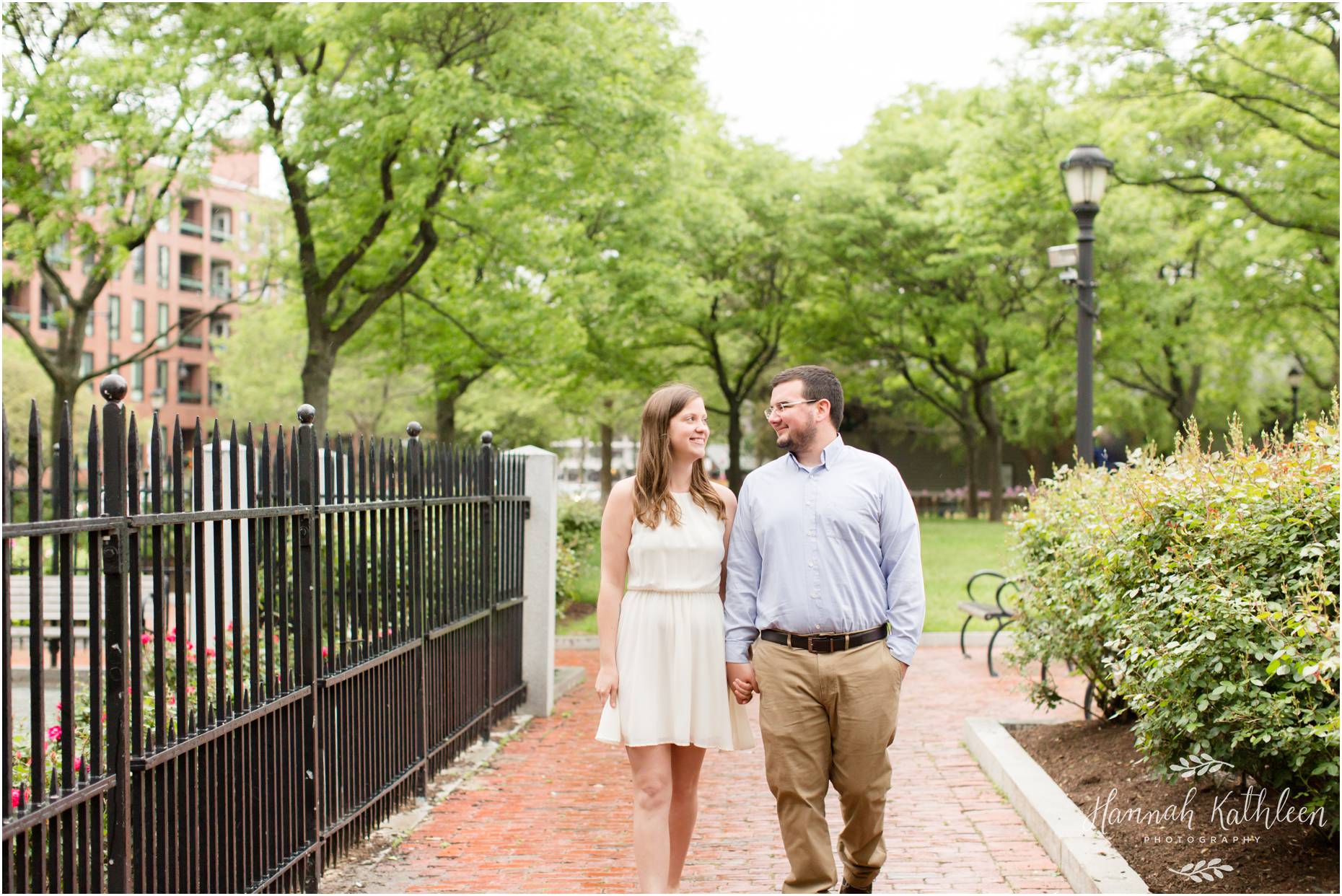 My favorite destination for our engagement session was definitely the final stop at Fan Pier Park… the view just screams Boston to me, and I LOVE that!
Nicole and Ray, thank you for driving from Connecticut to meet me in Boston for these photos! Spending time with you both was one of my favorite parts of the trip, and I'm so grateful that you have chosen me to document your wedding day! It's going to be awesome!
Want to see some weddings!? Here are a few that I love! Click the first to see the whole wedding that Nicole and Ray were in!
Roger & Taurie | Camp Timbercrest Wedding
Chris & Elena | Buffalo Riverworks Wedding
Andrew & Katrina | Knox Farm Wedding
Take a look at my travel calendar and let me know if you want photos anywhere!
Also, if you have a Disney trip planned, message me regardless of your dates, you bring me there and the photos are yours! Yay! (And I'm happy to set you up with some tips and advice before your trip if you're looking for help with anything!) And yes, that isn't a typo on my travel calendar… we will be "snow-birding" near Disney World in Florida for SIX weeks next winter! And I'm available to take photos all around Orlando! Introduce yourself… I love making friends!
Thanks for reading! 😘