Wedding | Mike & Mary Kate
Jul 17, 2019
From the minute I sat down with Mary Kate at a coffee shop, I knew her wedding was one I wanted to be a part of. I wasn't able to meet Mike at this time so I asked Mary Kate about him. She described him as a super genuine and nice person, who is always down for anything. When I met him not too long after for our engagement pictures, I learned her description to be spot on! Mike is such a sweetheart, kind enough to ask about my life and always on the lookout for taking care of his bride.
He is so in love with Mary Kate and my heart skips are beat just looking at the way he looks at her in some of these photos.
Mary Kate is beautiful and sweet, inside and out. I adore her gentle personality and bubbly smile! When she described her wedding vision at the brand new Buffalo wedding venue called SunCliff on the Lake, I listened intently to every word she said. I had already stalked the place online and eagerly waited for the day an email would come my way saying their venue was SunCliff! The day was here and the couple was a perfect fit for me. I couldn't wait to take their wedding photos!
If you follow along on my other blog posts, you know I have a special place in my heart for wedding days where no travel is involved! It's so freeing arriving to the getting ready location and unpacking all my gear knowing I'm here to stay for the whole wedding day. The entire wedding day from getting ready to the dance party took place at SunCliff on the Lake in Derby, New York. If you've never heard of Derby, it's just 10 minutes further outside of Buffalo than my in-law's house in Hamburg. More on that later...
SunCliff on the lake has accommodations for the whole bridal party and family to get ready and stay there. The house is a retreat center while not in use for weddings. That being said, there are dozens of bedrooms, bathrooms, and common spaces. It's conveniently split right in half too, so it was easy for Mary Kate and the ladies to get ready on one half while Mike and the men got ready on the other side.
You know I'm all about rose gold so I was just swooning over all of Mary Kate's rose gold pieces of jewelry.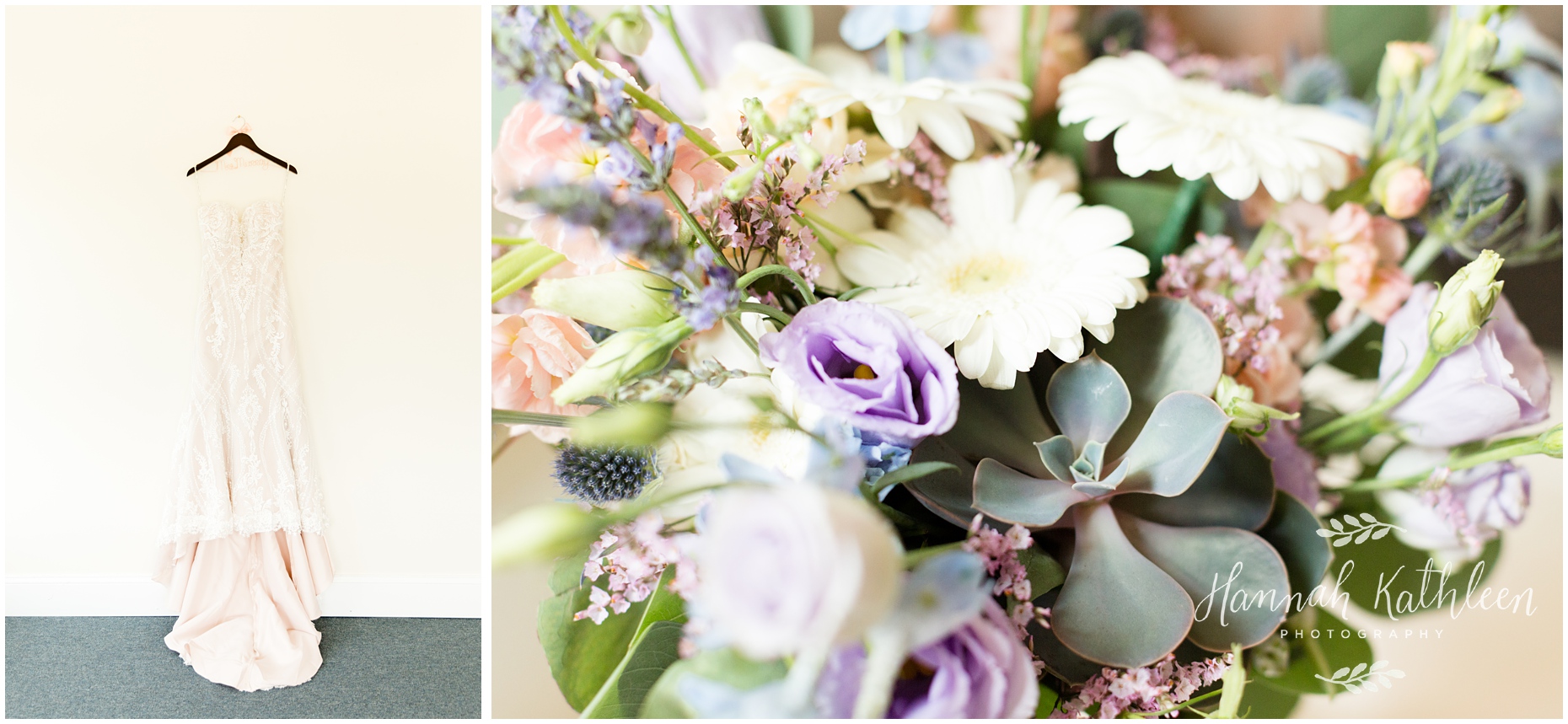 And can you tell that her bridal gown is actually off-white? This perfectly complimented her skin tone and looked amazing with her rose gold accessories!
Mike actually gave Mary Kate this necklace on the morning of the wedding! What kind of guy can give such an amazing piece of jewelry on the wedding day that actually looks great with the wedding dress!? Mike can!! What a guy!
When a couple comes to me with an idea they are passionate about, I'm sure to make it happen! Five minutes before the First Look, Mary Kate mentioned recreating her walk down the aisle. I love this idea and have never done it before! Mike stood at the front and watched as his bride walked to him down the aisle just like she would do with her dad later in the day.
Here are far too many pictures of the moments that followed because Mike is adorable and loves his bride so so much!

I say it in every blog post and I'll say I again... I love First Looks for many reasons, but one that sticks out on this day was the opportunity to fit in all the bride and groom portraits and bridal party portraits before the ceremony so that the newlyweds can be more present at their cocktail hour. Sometimes we choose to do family portraits before the ceremony, too! Click here if you want to see the pros and cons of doing a First Look!
As guests arrived prior to the ceremony, they were greeted with drinks after walking through the gorgeous mansion. Then they found their seat before the ceremony began.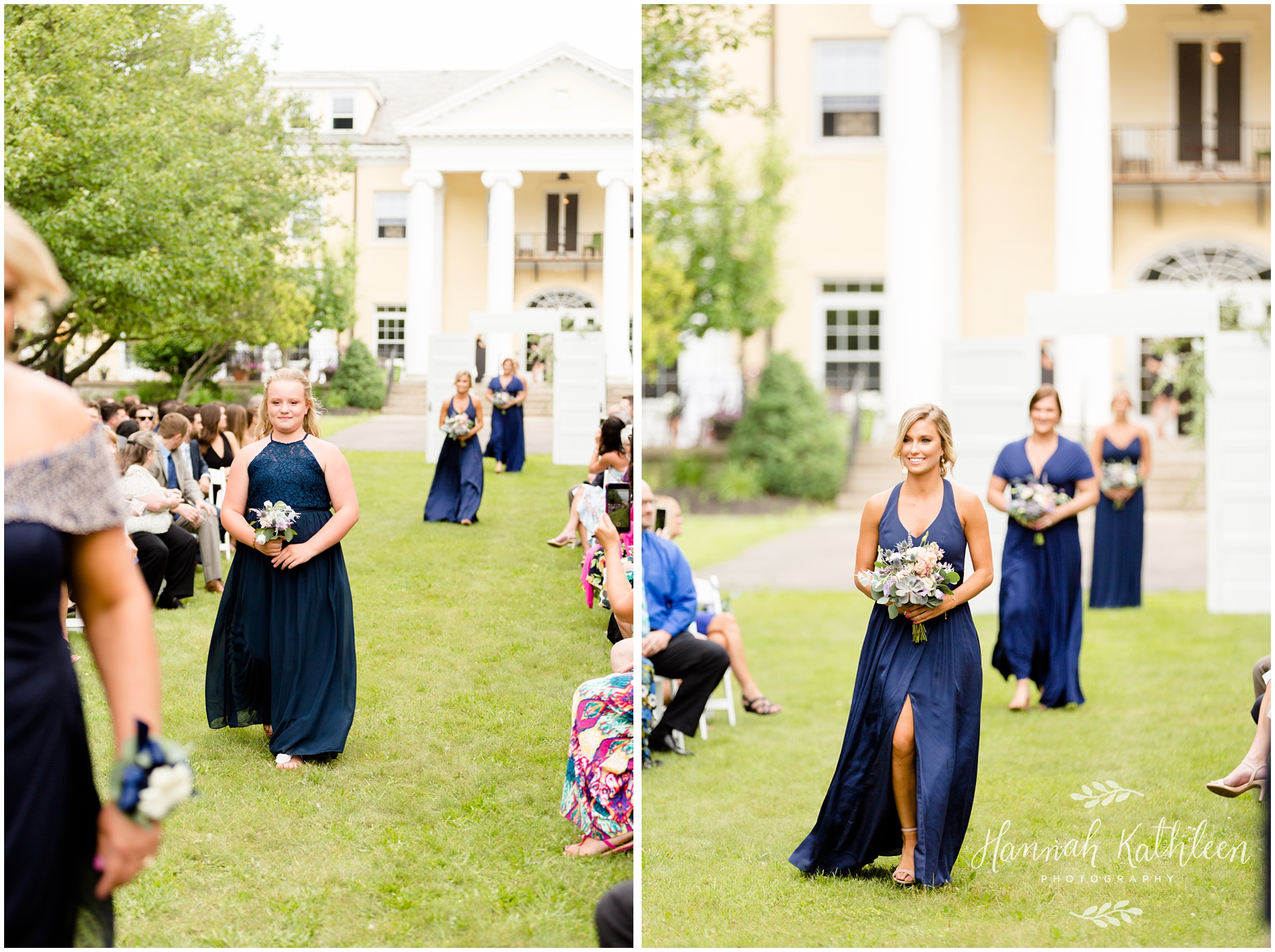 Even with the First Look, Mary Kate's entrance with her dad was still very emotional for Mike. How sweet is this!?
I'm going to take this opportunity to share a crazy fun fact about their wedding. The ceremony started at 5pm and was about 20 minutes long. The sky filled with storm clouds and all of a sudden the bright sun was hidden. The winds picked up and I noticed guests lifting their heads up. I wasn't the only one glancing up at the sky wondering if we were going to get poured on. The ceremony finished without a drop of rain. The entire wedding day finished without a drop of rain.
Later that night, I was at my in-law's house 10 minutes away and I learned that it poured at their house between 5pm and 5:30pm. 🤯
Mike and Mary Kate had the most lucky wedding weather and to this day, I cannot believe we didn't get rained on!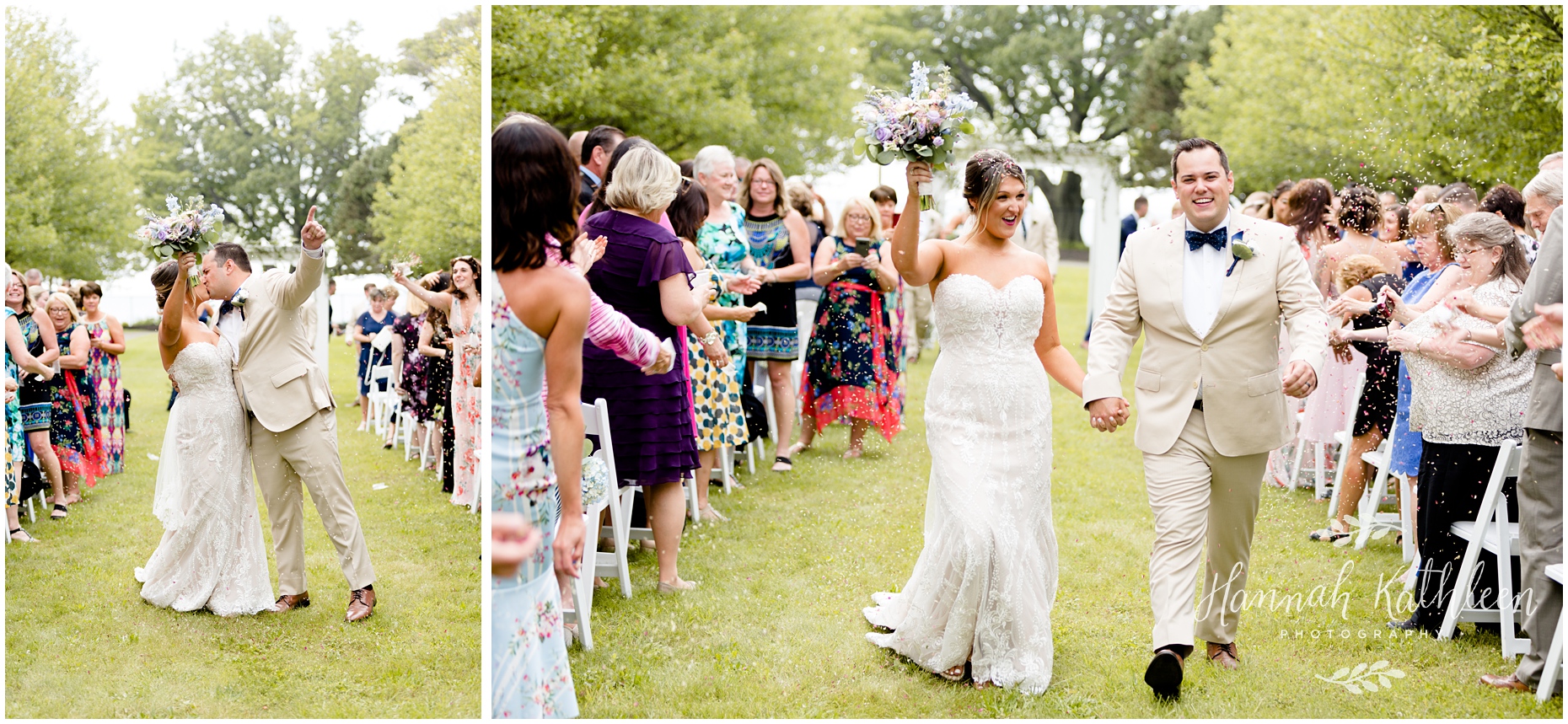 The cocktail hour took place on the patio with drinks and lots of laughs. I stole the newlyweds away for ten minutes of pictures!
The house, ceremony location, and reception all are so close together that it's not a hassle to walk back and forth from each other. Convenient for your guests, and easy for me to get lots of pictures!
Check out this tent for the reception! It's unlike any tent I've ever seen! This thing has character and a sense of permanence. The cloth draping from the middle makes it an elegant option for a wedding reception and the floor allows you to never have to worry about mud and uneven ground! It's fantastic!
The reception started with introductions and the bride and groom's first dance as husband and wife.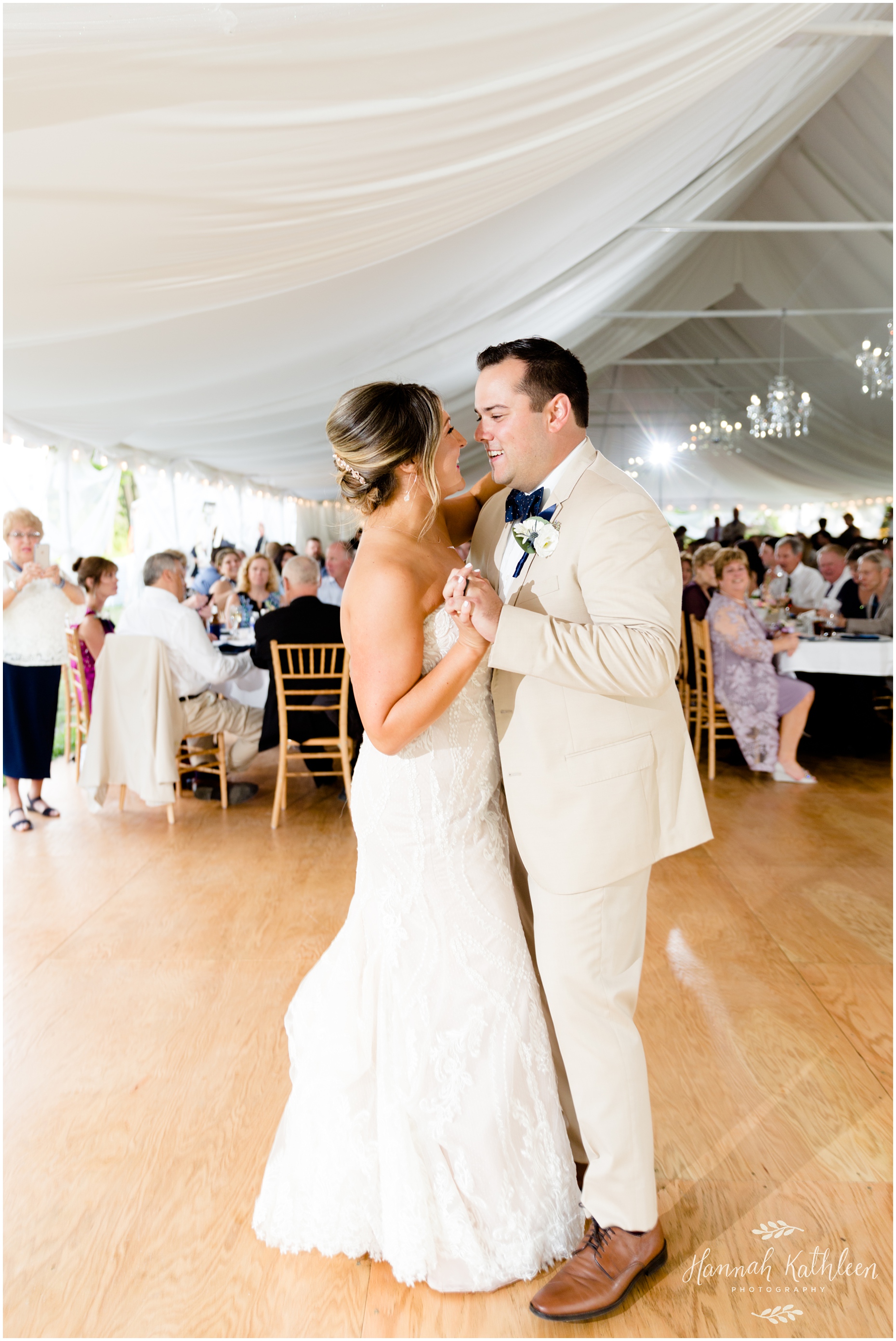 Mary Kate's Maid Of Honor, Claire gave a toast, followed by Mike's best man and brother, Max!
Dinner was unique and fun! Instead of the typical buffet set up, the caterers did stations of different types of foods! My favorite... the martini glasses full of mashed potatoes with a toppings bar.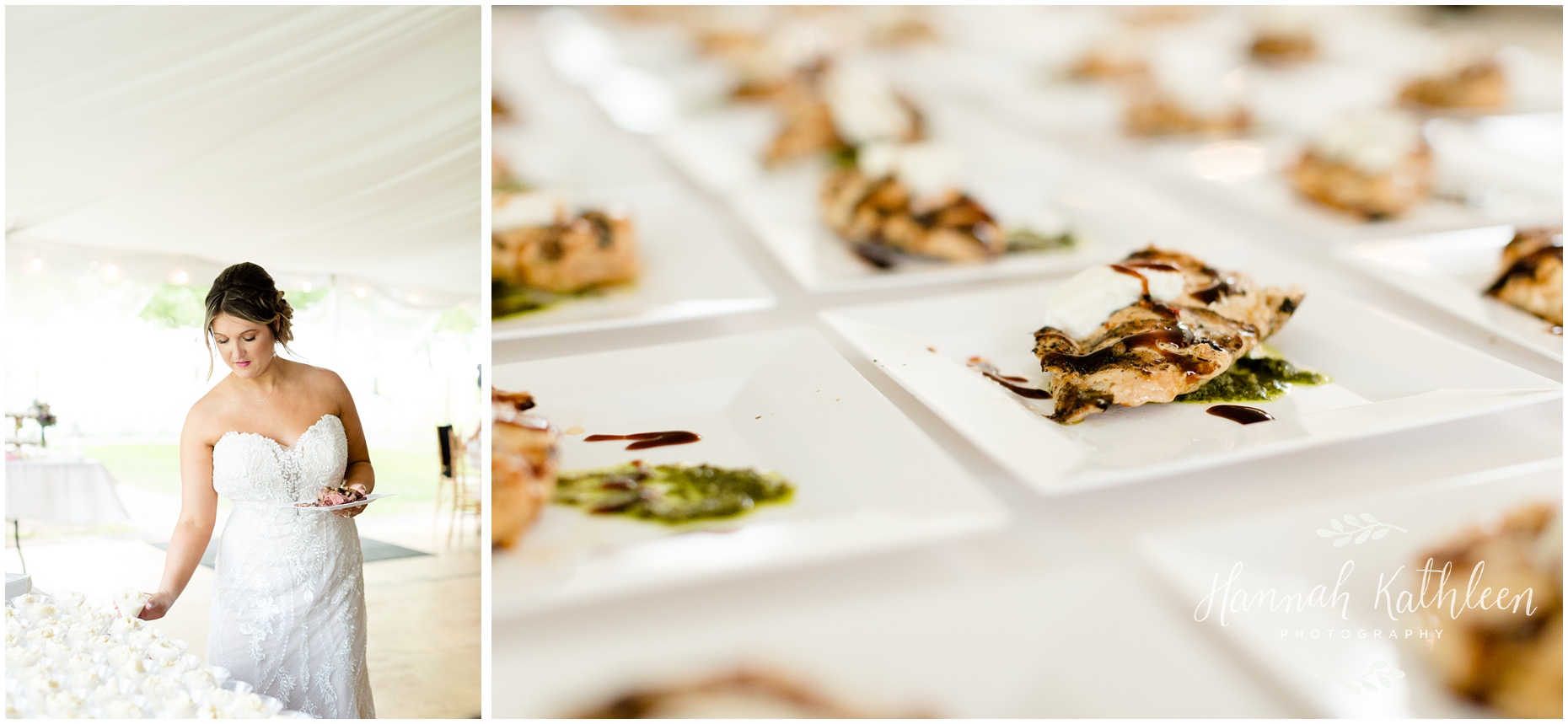 One of my favorite parts of photographing weddings... watching the mother/son dance and father/daughter dance!
As the sun was setting, I took the bride and groom for a few minutes to explore the area near the water! Lake Erie looked beautiful as the sun was setting!
Check out that sunset!
I love photographing a good dance party and these guests were into it!
My time at SunCliff ended with a couple nighttime photographs out front showcasing the big, beautiful house! What do you think!?
Mike and Mary Kate, I am so grateful our paths crossed and that you chose me to capture your wedding day. I'm honored to have been a part of your amazing day and I can't wait to see where this life takes you! Mike, keep looking at your bride with a big smile on your face like you did on this day. Mary Kate, keep bragging about how great your man is... how well he treats you and how good he is at knowing your taste in jewelry! 😉 You two are perfect for each other. Thanks for letting me be a part of your wedding day.  Congratulations!
Vendors:
Want to see more weddings!?
Click here to see more of my wedding photos!
Click here to see more wedding blogs! Here are a few of my favorites:
AJ & Brittany | Hotel Lafayette Wedding
Jordan & Melissa | Avanti Mansion Wedding
John & Christian | Deerfield Country Club Wedding
Ryan & Nicki | Templeton Landing Wedding
Hop on over to my website and say "hi!" Follow along on facebook or instagram!
Take a look at my travel calendar and let me know if you want photos anywhere!
Introduce yourself… I love making friends!