Wedding | Chris & Amanda
Sep 10, 2019
Amanda and Chris both went to Maryvale with me! In fact, the very first year Amanda moved to Maryvale, she was in the same class as me in 2nd grade! I don't have a memory of meeting Amanda, I've just always known her for as long as I can remember! And Chris… I remember seeing Amanda with an upperclassmen boy in high school and thinking "WOAH!" 😂 Who would've known that those high school sweethearts would one day be saying I Do in front of my camera?
I sure didn't expect to be reconnecting with Amanda over wedding photography, but I am so so so grateful that our paths once again crossed! Amanda and Chris are two of the best people on this planet and together, they are even better! This wedding was a dream that I had been waiting for for nearly two years! I cannot believe that their day has already come and gone, and all we have to look back on are these photos. I am so grateful for cameras and the ability to document what I see in front of me. Memories fade, but photos last forever! (just remember to back them up… ha!)
Quick flashback to one of my most favorite engagement sessions ever!
Take a look at their full engagement session here.
Were you at their wedding? I hope these photos jog your memory of the fun times we had! Couldn't make it? I think these photos will give you a glimpse into the events and emotions that we all experienced that day! What a day!
Not pictured here… severe thunderstorms and extreme downpouring rain as I arrived to Chris and Amanda's wedding day at East Aurora's Hayloft in The Grove. I showed up with a big smile happy to be a part of their day, but man, was I worried about the forecast! Getting to and from different buildings was an umbrella-and-run-but-not-too-fast-because-the-puddles-will-get-you-soaked kind of process, but we made it!
The Hayloft in The Grove is a relatively new wedding venue just outside of Buffalo, NY. Compared to other barn venues, I can't think of one that is closer to Buffalo, NY! Technically in Wales, but just on the edge of East Aurora, this wedding venue has everything you could need for your full wedding day. And that's exactly what Chris and Amanda chose to do for their summer wedding.
The Hayloft has a really great bridal suite very close to the action. There is even a beautiful house available to rent with multiple bedrooms and plenty of common space for your bridal party to hang out! Amanda chose to have her hair and makeup done in the house and then they headed over to the bridal suite to get dressed.
One of my favorite wedding dresses ever… Amanda's dress had the most beautiful details and such a gorgeous material that made it really flowy and set it apart from other gowns. What do you think?
I think she's one of the most gorgeous brides I've ever seen!
Next to the bridal suite is a groom's room for the guys to get ready in and hang out before the ceremony.
One of the best things about The Hayloft is actually a two part deal. They have this gorgeous outdoor area for ceremonies to take place with corn fields behind the alter. It's gorgeous. And it would've been the perfect place for a ceremony if it wasn't raining. Unfortunately, we had to move forward with Plan B. Fortunately, the Hayloft has a really great Plan B! This old horse stable, turned wedding venue! There are pews and that back wall is actually a big sliding barn door! So if we wanted, we could've opened it up for a different background.
While it was raining, we did all the portraits inside with our hopes set on the low chance of rain after the ceremony during cocktail hour!
Chris and Amanda's ceremony was lovely and I thoroughly enjoyed photographing it. Aren't they both such beautiful people and so cute together!?
I cannot stress how lucky I felt on this wedding day. Immediately after the ceremony, the rain went away, the clouds cleared, and we had blue skies for the rest of the day! I had to keep reminding myself that it was just a handful of hours prior when I was running through rain trying to keep my camera gear dry! Ha! The blue skies and humidity made us all forget that the morning weather even happened. It felt like a totally new day. And I am SO GRATEFUL we had the opportunity to take these photos outdoors around Hayloft's beautiful property!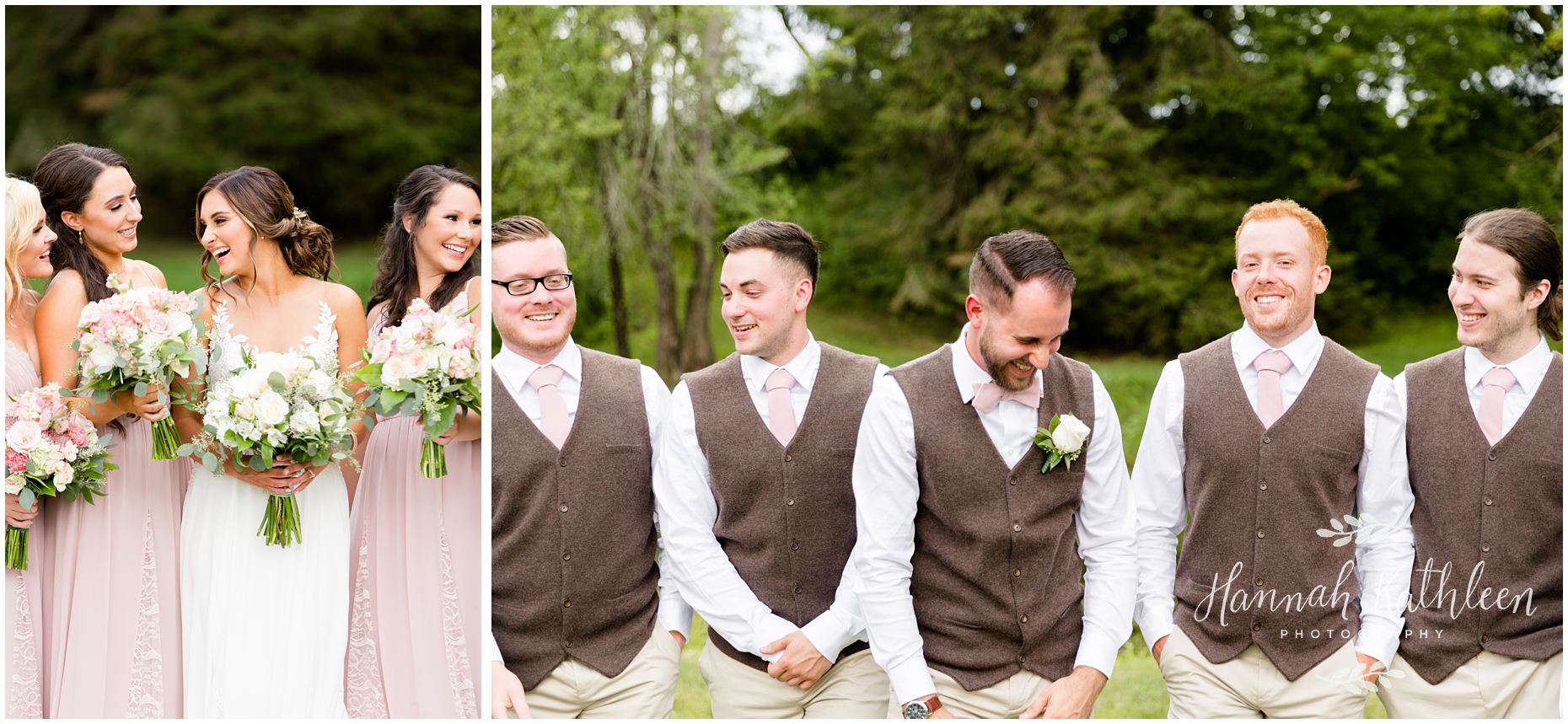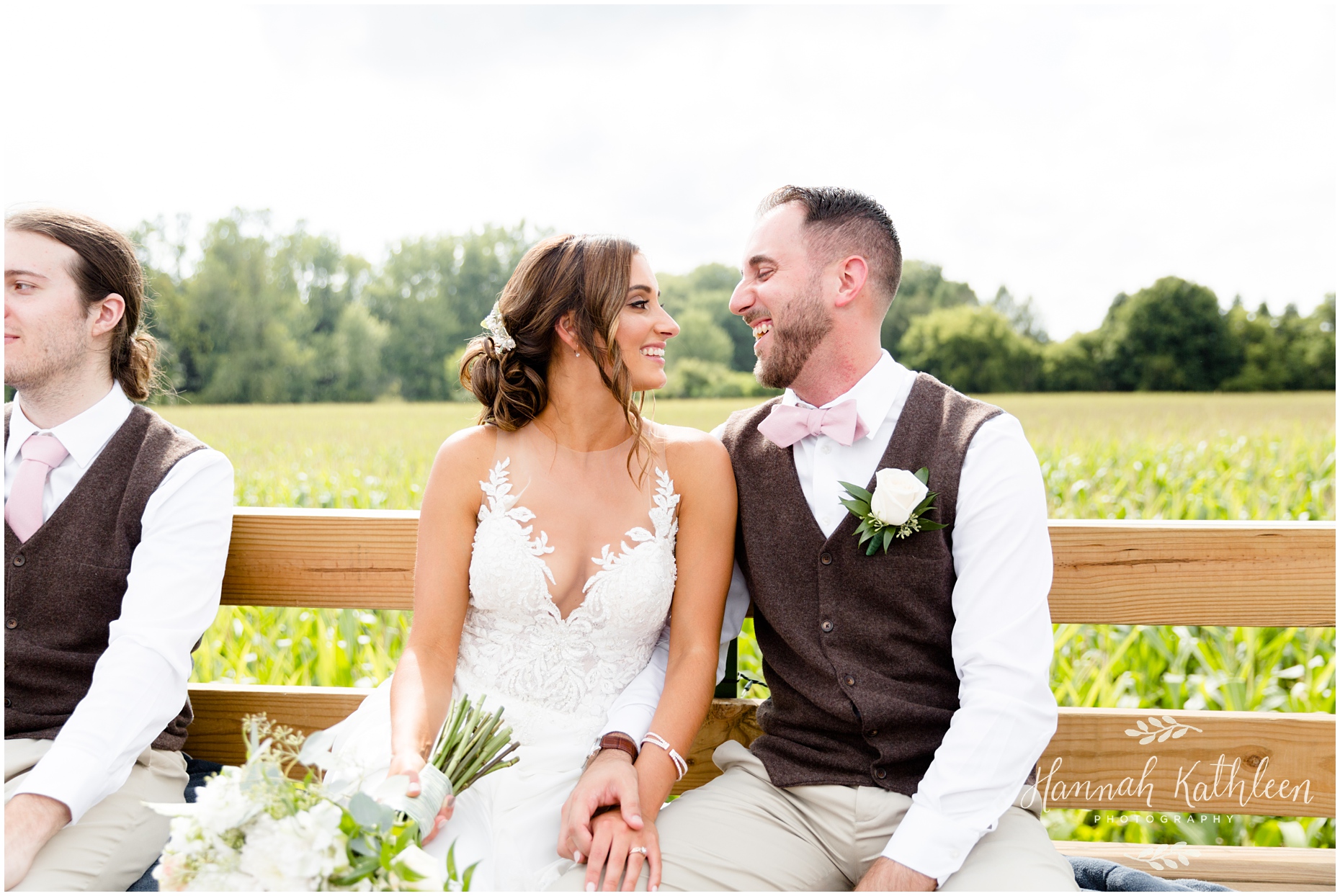 If you followed along on my instagram story for the day, you'll know that I was pretty excited for a guest appearance from a special animal! Amanda loves alpacas and llamas so what better guest to have at her wedding than two alpacas!! It was so much fun photographing these guys! What do you think? Would you have alpacas at your wedding!?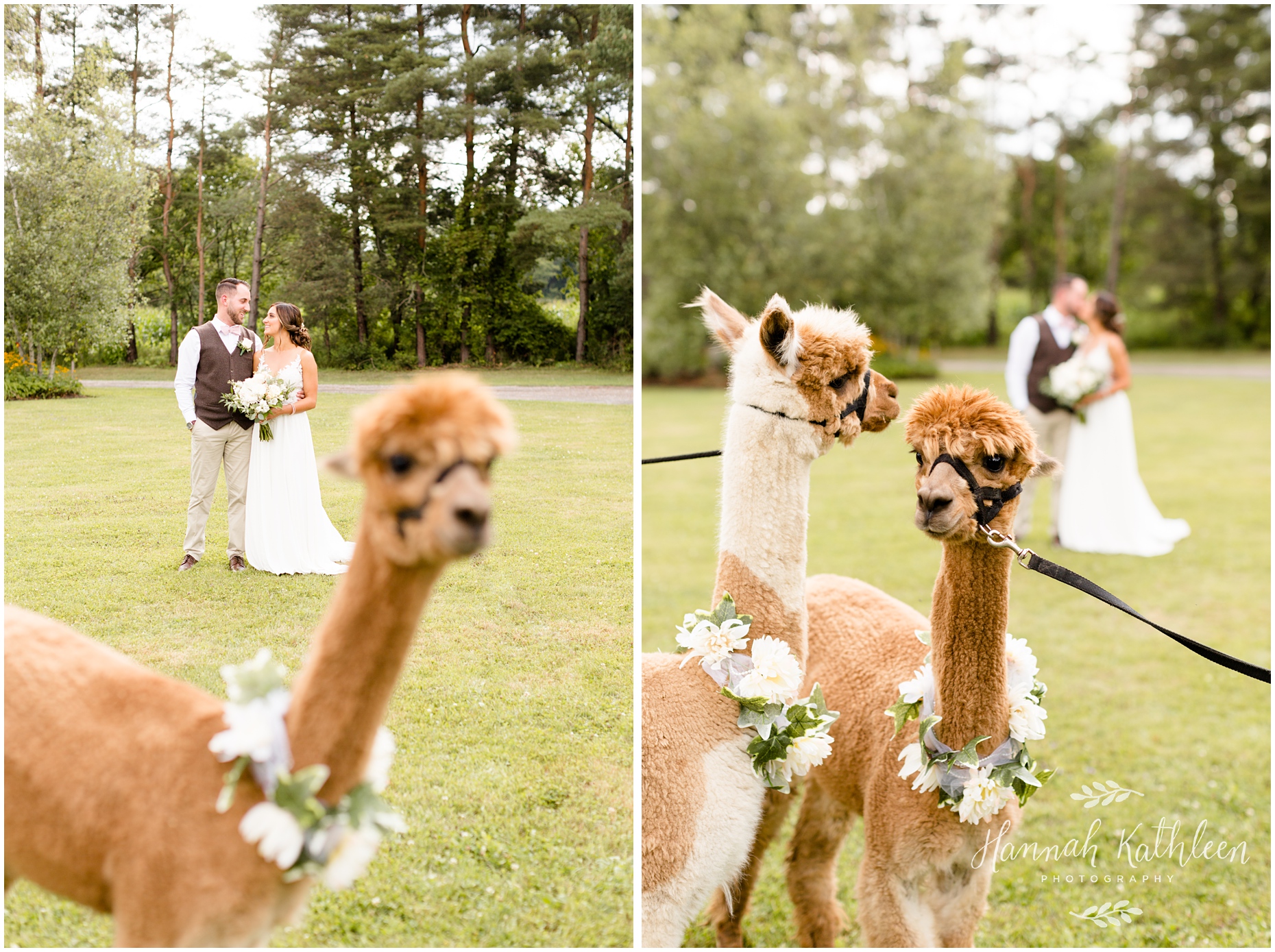 The cocktail hour took place on the upper level and patio area of the large barn! Such a wonderful atmosphere to hang out in before the reception began.
The lower level of the barn was set up with all the tables. This is where introductions, toasts, and dinner took place.
After dinner, the guests all transitioned to the upper level for cake cutting!
Then Chris and Amanda shared their first dance together as husband and wife.
Amanda stayed on the dance floor to dance with her dad.
Followed by, Chris' special dance with his mom. So sweet!
This dance party was no joke! These people know how to have fun!!
I briefly interrupted the dance party for just a few minutes of bride and groom portraits as the sun was setting. We finally got to use the cornfields I mentioned earlier! Isn't this the most perfect setting!?
We came back to the barn to find the late night snack of pretzels out on the coolest display ever!! How fun is this!?
Back to the dance party!
My night ended with some nighttime portraits of the new Mr and Mrs! I was a big fan of this space we found with the tree lights in the background!
Congratulations Chris and Amanda! Your wedding day was a dream to be a part of. Thank you for choosing your old 2nd grade friend to be your photographer. 😉 What a great experience! I wish you both the best in your marriage, you deserve all the happiness in the world. Congrats!
Vendors:
Born and raised in Buffalo, New York, I am a portrait photographer specializing in weddings! I love to travel especially for photos! Don't hesitate to reach out an introduce yourself, I love making new friends!
SEEKING HELP: If you are able to connect me with someone in Paris or Disneyland Paris that I can take photos of while I'm there this fall, I will thank you with a free photo session back home in Buffalo!
Take a look at my travel calendar and let me know if you want photos anywhere!
Want to see more weddings!?
Click here to see more of my wedding photos!
Click here to see more wedding blogs! Here are a few of my favorites:
AJ & Brittany | Hotel Lafayette Wedding
Jordan & Melissa | Avanti Mansion Wedding
John & Christian | Deerfield Country Club Wedding
Ryan & Nicki | Templeton Landing Wedding
Hop on over to my website and say "hi!" Follow along on facebook or instagram!