Wedding | Brian & Jessica
Dec 19, 2019
I saved a fantastic couple for my last wedding of the 2019 season! Thank you Brian and Jessica for inviting me along on your wedding day to document everything. I was so comfortable with you both, and had a really great time throughout the whole day.
From my first time meeting Jessica at a coffee shop, I knew that this would be a chill wedding with a lot of fun and a lot of special people. Brian and Jessica made sure to make their parents, siblings, and grandparents feel special in big ways on their wedding day. I really loved the family involvement and getting to know everyone.
Brian and Jessica got married on October 19th, 2019 right in the best time of autumn here in Buffalo, NY! The leaves were in peak colors, and the weather was absolutely perfect for a wedding! I was outside without a coat at some points when the sun was shining!
I started the day at Jessica's parents' house where she would later get in her dress!
After photographing all the pretty things, Jessica – with only her mom around – got in her beautiful dress! It looked like it was made for her! Isn't it perfect!?
We stepped outside for some portraits!
I hopped in my car to go meet Brian and his parents at Sturgeon Point Marina in Derby, New York.
I just have to point out that Brian and Jessica had socks made with their dogs' faces on them… and they each took one sock of each pair and both wore them on their wedding day! They are too funny!
We prepared for the First Look so that Brian and Jessica could see each other before the ceremony! Not pictured here: both sets of parents watching eagerly with phones out nearby. They were too funny!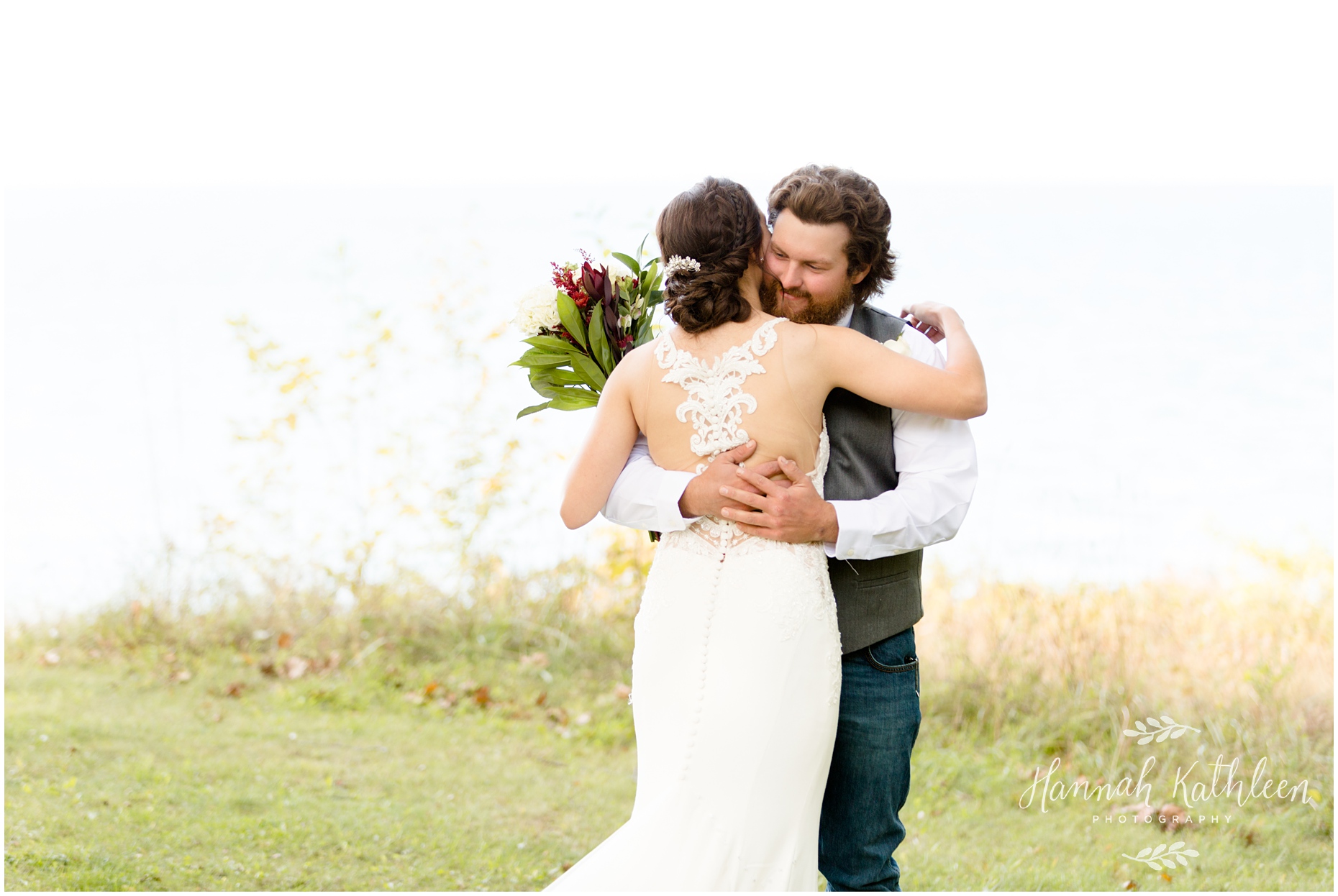 We scheduled in some time for portraits right at Sturgeon Point Marina and had a great time doing lots of different poses and using a few different locations with no major rush. One of the main reasons I LOVE doing First Looks!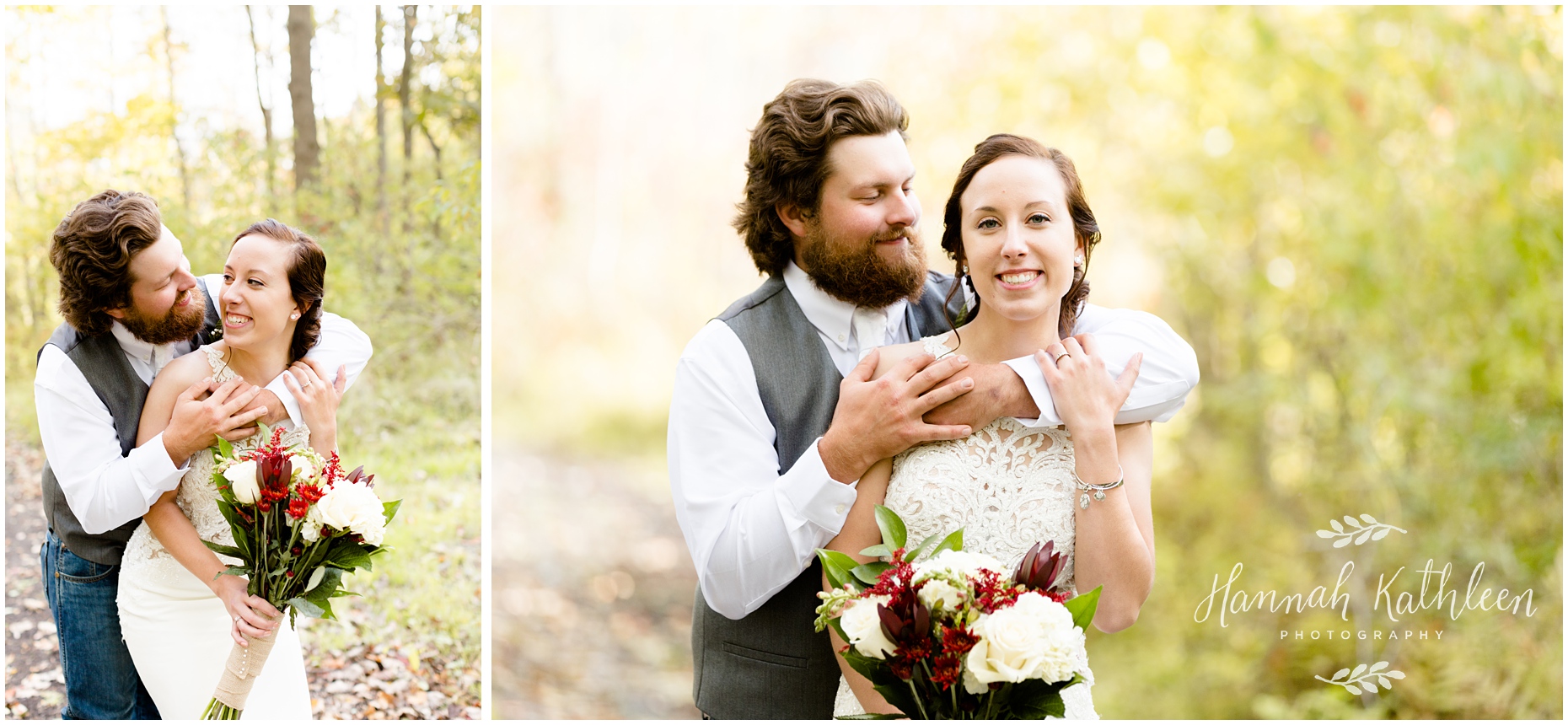 Brian and Jessica got married (and had their reception) at Evans Center Volunteer Fire Company. It was a plain venue… a blank canvas for an artist to paint… or in this case, for Jessica to decorate the heck out of! And boy did she decorate! She made pretty much every single decoration you'll see pictured here for the ceremony and later on for the reception. Plus, I had never seen more pumpkins in one location in my entire life. I think they brought the whole pumpkin patch in there!
Time for the ceremony!
After the ceremony, we stepped outside behind the Fire Hall to use the field and tree line for family portraits.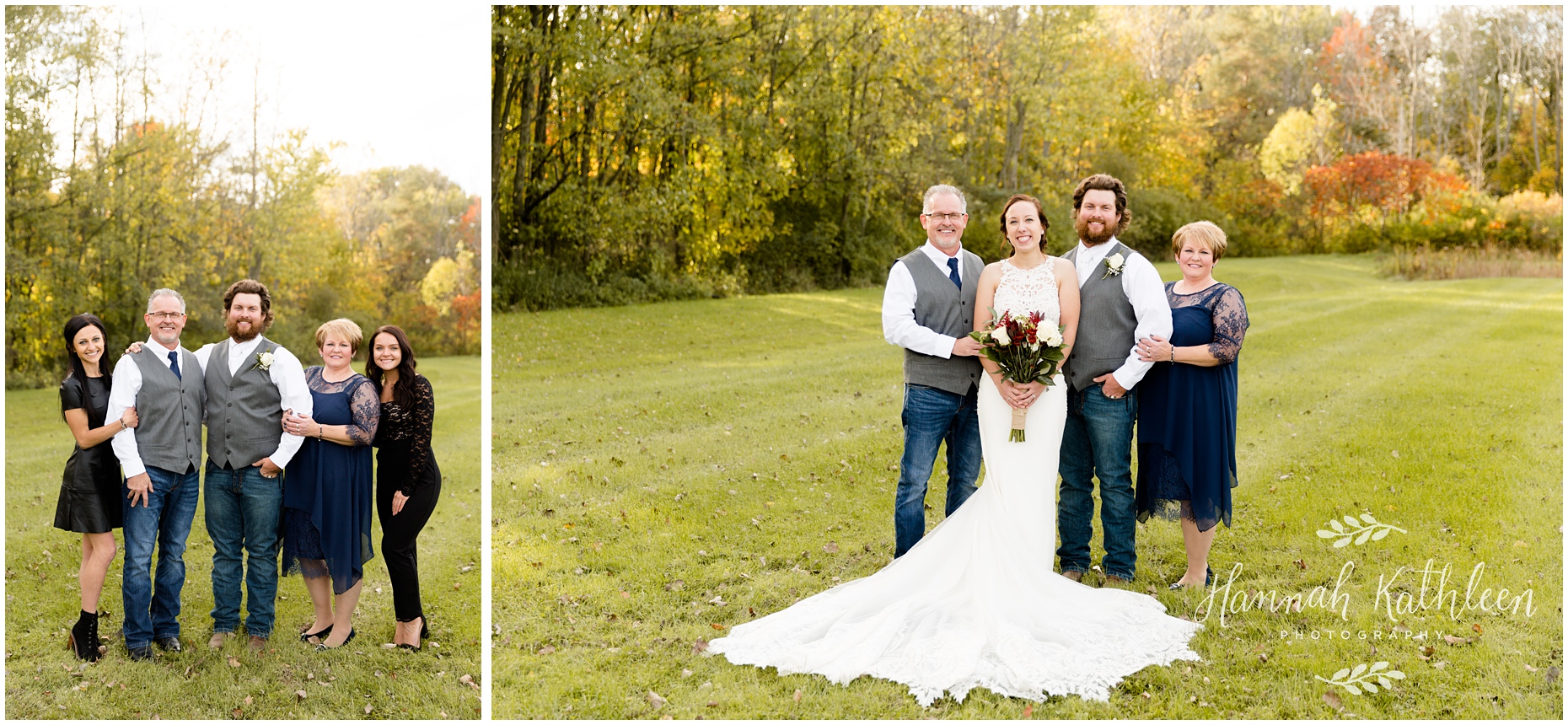 Then, I chauffeured the bride and groom to the nearby Evangola State Park for a few more portraits of them! I am so glad we made time for two sets of portraits in two different areas. You can never have too many pictures of you and your new bride or groom on your wedding day!
More decorations… clever and creative! The place was transformed into a glorious fall wonderland with shades of orange everywhere!
The introductions kicked off the reception!
Dinner was amazing! Some of this delicious food was made by the family, (the pulled pork and the chicken… YUM!) and the sides were from Master's BBQ!
After dinner, the bride and groom cut the cake!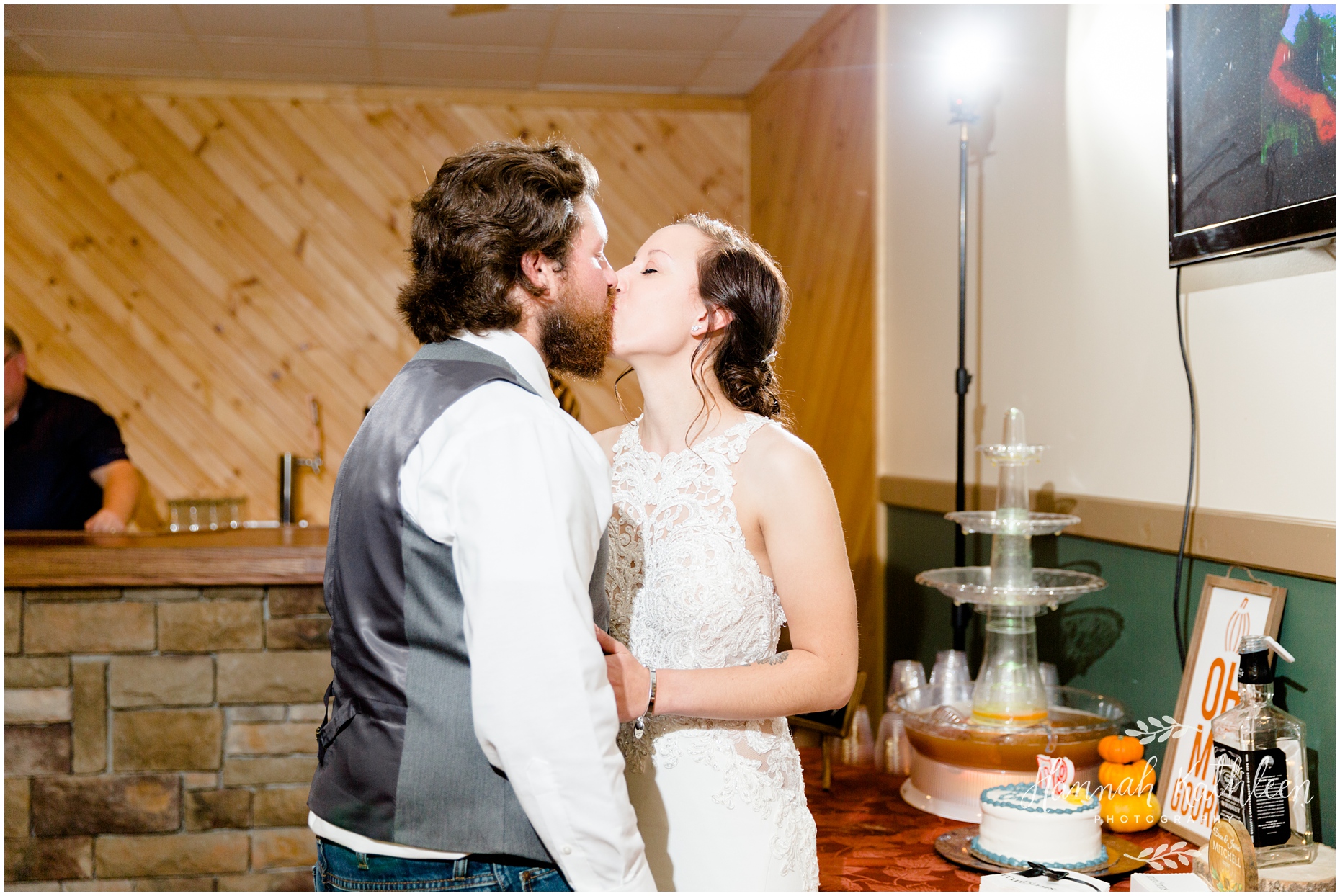 And they surprised Brian's grandma with a birthday cake and everyone sang 'Happy Birthday'! I can tell this is a very special lady, loved by many people… this was special!
The dances kicked off with the bride and groom's first dance as husband and wife.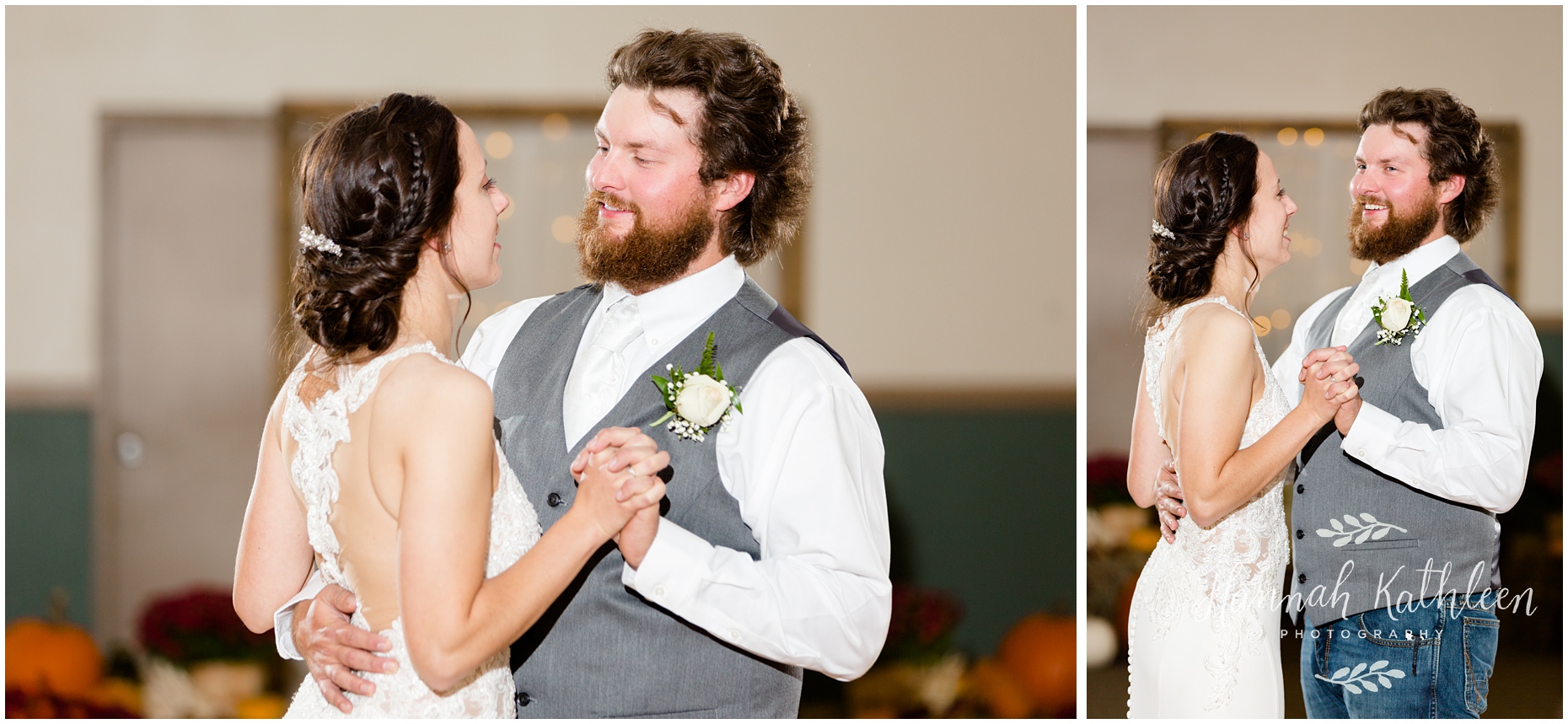 Jessica began a dance with her brother, Andy!
Partway through, her dad came in and finished the dance with his daughter. And then Brian danced with his mom.
And then… we had a fun dance floor for the rest of the night! It was a great crew!


Brian and Jessica, congratulations! You are both such wonderful people and I am so glad you found happiness with each other. You both deserve it. Everyone knows you love people well and they cling to that. Just by being with your families for one day, I can tell how much you mean to everyone in your life. You are both very special and are even better together… What a great match! Congrats! :D
Vendors:
Born and raised in Buffalo, New York, I am a portrait photographer specializing in weddings! I love to travel especially for photos! Don't hesitate to reach out an introduce yourself, I love making new friends!
Take a look at my travel calendar and let me know if you want photos anywhere!
Want to see more weddings!?
Click here to see more of my wedding photos!
Click here to see more wedding blogs! Here are a few of my favorites:
AJ & Brittany | Hotel Lafayette Wedding
Jordan & Melissa | Avanti Mansion Wedding
John & Christian | Deerfield Country Club Wedding
Ryan & Nicki | Templeton Landing Wedding
Hop on over to my website and say "hi!" Follow along on facebook or instagram!