She Said Yes | Jeff & Rachel
Sep 17, 2018
Once upon a time…
For me, this story begins in Kindergarten at Maryvale Primary School! Jeff and Rachel went to the same school as me from Kindergarten through Senior year (except Rachel moved a couple years before we graduated).
Jeff and Rachel connected after high school, and started dating about 4 years ago! My favorite story, however, comes from long before that... In 6th grade, Rachel professed her crush on Jeff and asked if he would be her boyfriend. He denied her saying, "No, I don't like you." 😂 Well, I suppose it all worked out in the end, right? Somewhere around 11 years later… these photos were taken! (She said "yes!")
So, I've been getting a lot of questions on how this all played out. Well, let me explain. It was pretty much a dream situation!
Jeff contacted me from their home in North Carolina about setting up a session for him and Rachel to have photos taken! (Not out of the ordinary for a couple who's been together for a long time)! Turns out, Rachel loves my photos and has been asking Jeff for a photo session for a while now! She thought he finally had "given in," but really, he was planning the perfect time to ask her to marry him! 😫 He asked her where she wanted the photos taken and which photographer, and she knew it had to be me on one of their trips up to Buffalo. <3 What an incredible honor to have been chosen as opposed to a more conveniently located photographer in North Carolina! Plus, they took time out of their precious trip visiting family and a brand new baby nephew to spend time with me taking photos... seriously, an honor.
Jeff and I chatted about his plan to propose during their photo session 🙌 and how we would go about keeping this a secret from Rachel. My favorite part about all of this... Rachel had no idea that she planned the exact location she would get proposed to, she created the perfect outfits to get engaged in, she had her hair, makeup, and nails done... everything was up to her standards for a perfect photo session, so of course it would be the perfect proposal, too!! How fantastic is that?
These photos were taken at Stiglemeier Park in Cheektowaga, New York. Jeff and Rachel introduced me to a whole new trail I didn't know about! Yay!!
Rachel chose this location because it is where they had their very first date! How perfect is that? I also melted inside when I heard that's where she wanted these photos because I knew having another milestone there would be perfect.
We started our session just as I would any couple session. Little did Rachel know, that in about an hour, she would have a ring on her finger!
Take a look at these photos, but make sure you keep scrolling to get to the good stuff and to hear how Jeff and I pulled off such a big surprise!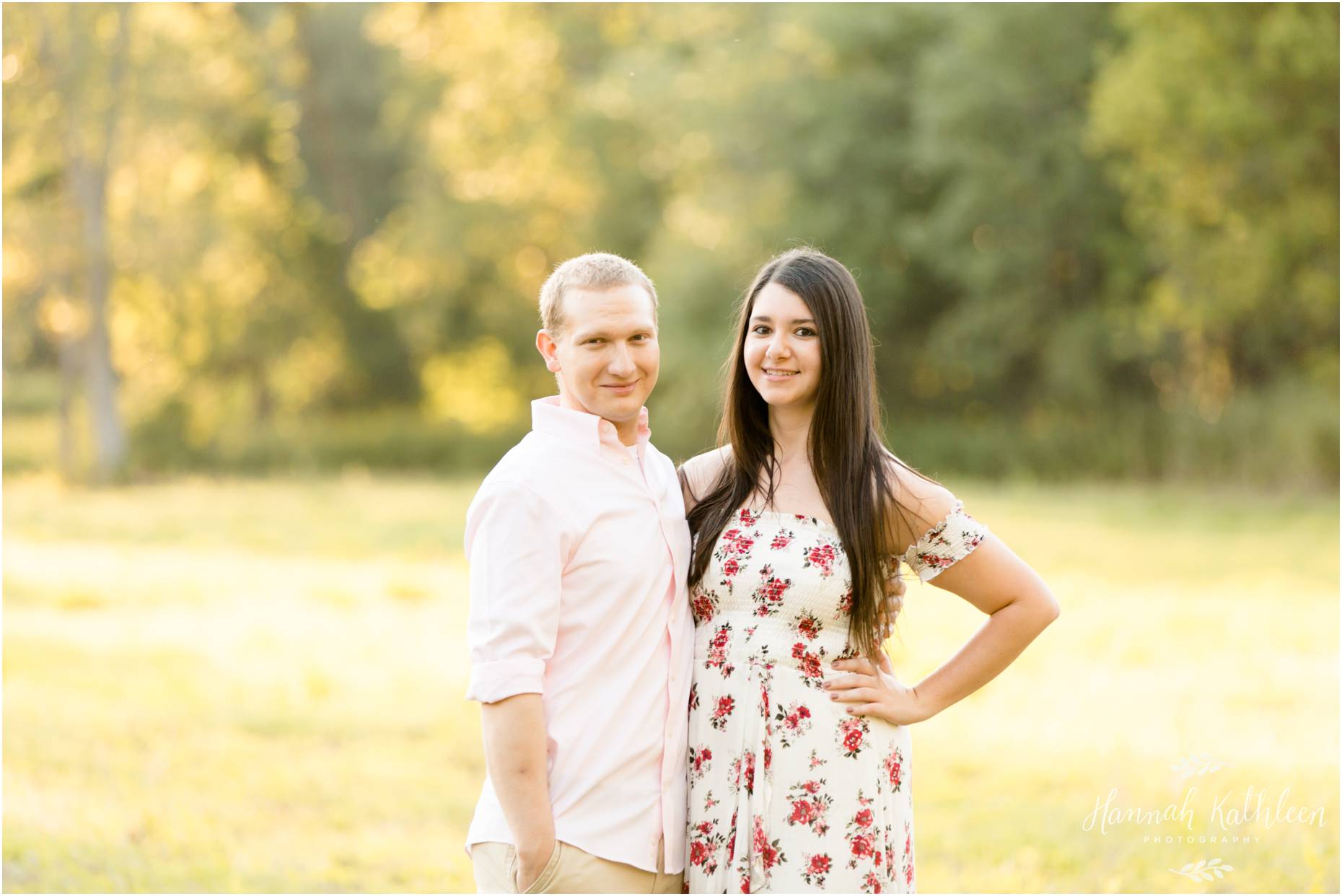 I have photographed two proposals before this one. But both times, I was hiding and the bride didn't know I was there! Once, I hid in the back of a pickup truck while one of my best friends got proposed to in the snow! And a few months later, in the summer, I hid in bushes while a good friend of mine proposed to his perfect match. Both of these proposals were nerve wracking, thrilling, and so so exciting to be a part of. But this... this one was different!
We are over an hour into our session, where I keep directing them on exactly what to do, how to stand, where to look, etc. And now, I have to get them in the perfect spot, with the perfect lighting, in the perfect angle, and keep her from turning around!! I have to keep posing Rachel in a way that provides Jeff with the right amount of time to pull the ring out of his pocket, and get down on one knee. This needs to happen while Rachel has no idea and is perfectly content in staring in the direction I asked her to, as I snap away pictures and I pretend that I'm getting great stuff. 😂 It was A LOT of pressure, but I wouldn't have it any other way. I ran through the words I was going to say over and over and over again in my head. Because, if I screwed this up, and didn't distract her well enough, she could turn around and see Jeff too soon.
I'll give you the basic run down on what I said. While we were on dry land, I showed them this pose I wanted them to do on the rocks. I said it would be easier for me to show you here so you can try it, get good at it, and be able to do it on the rocks in the water. It was a pose where Rachel faces me, and Jeff is ten steps or so behind her, also facing me. He walks up to her and hugs her from behind, and Rachel keeps looking at me as Jeff snuggles in. In just a couple minutes, Jeff would be proposing during this pose! I needed to teach Rachel to keep looking at me, because I didn't want her getting use to the idea of turning back at him. So... we got in the water, they got onto their rocks, and I was in knee high water or so moving all around taking different angles to get Rachel used to the idea that I'd move for a new angle during the same pose. They do the pose once while I'm in front of Rachel, it's great. Now Jeff knows that this second time is the real deal. Rachel thinks we are doing the pose a second time, Jeff knows he's going to get the ring out. I have to keep Rachel looking straight ahead of her, while I get into the right position to get a side angle of this shot! I ran out of things to say, and was so worried about her turning around, that I told her to look straight in front of her as I do a shot of her profile!? WHAT. That's not even something I've ever done or will ever do! Haha! But it worked and kept her looking the right direction as I reciprocated Jeff's thumbs up!
The rest is history. Enjoy the photos. 😊

Yes, she was totally surprised!
Jeff, thank you so much for trusting me with this task. To keep the secret, and to help you pull off the biggest surprise of your life.
Rachel, thank you for loving my photos and being loyal to me as your photographer! Thank you, also, for being extremely obedient and not turning around. 😆
You two are such a great match, and I'm so so happy that you get to experience the joys of marriage soon! You are both wonderful human beings, and I'm so glad you found each other! Even after Jeff totally rejected you in 6th grade. I'm glad he gave you a second chance. 😉
And they lived happily ever after...
Want to see some weddings!? Here are a few that I love!
Roger & Taurie | Camp Timbercrest Wedding
Chris & Elena | Buffalo Riverworks Wedding
Andrew & Katrina | Knox Farm Wedding
Take a look at my travel calendar and let me know if you want photos anywhere!
Also, if you have a Disney trip planned, message me regardless of your dates, you bring me there and the photos are yours! Yay! (And I'm happy to set you up with some tips and advice before your trip if you're looking for help with anything!) And yes, that isn't a typo on my travel calendar… we will be "snow-birding" near Disney World in Florida for SIX weeks next winter! And I'm available to take photos all around Orlando! Introduce yourself… I love making friends!
Thanks for reading! 😘