Wedding | Luke & Eva
Sep 25, 2018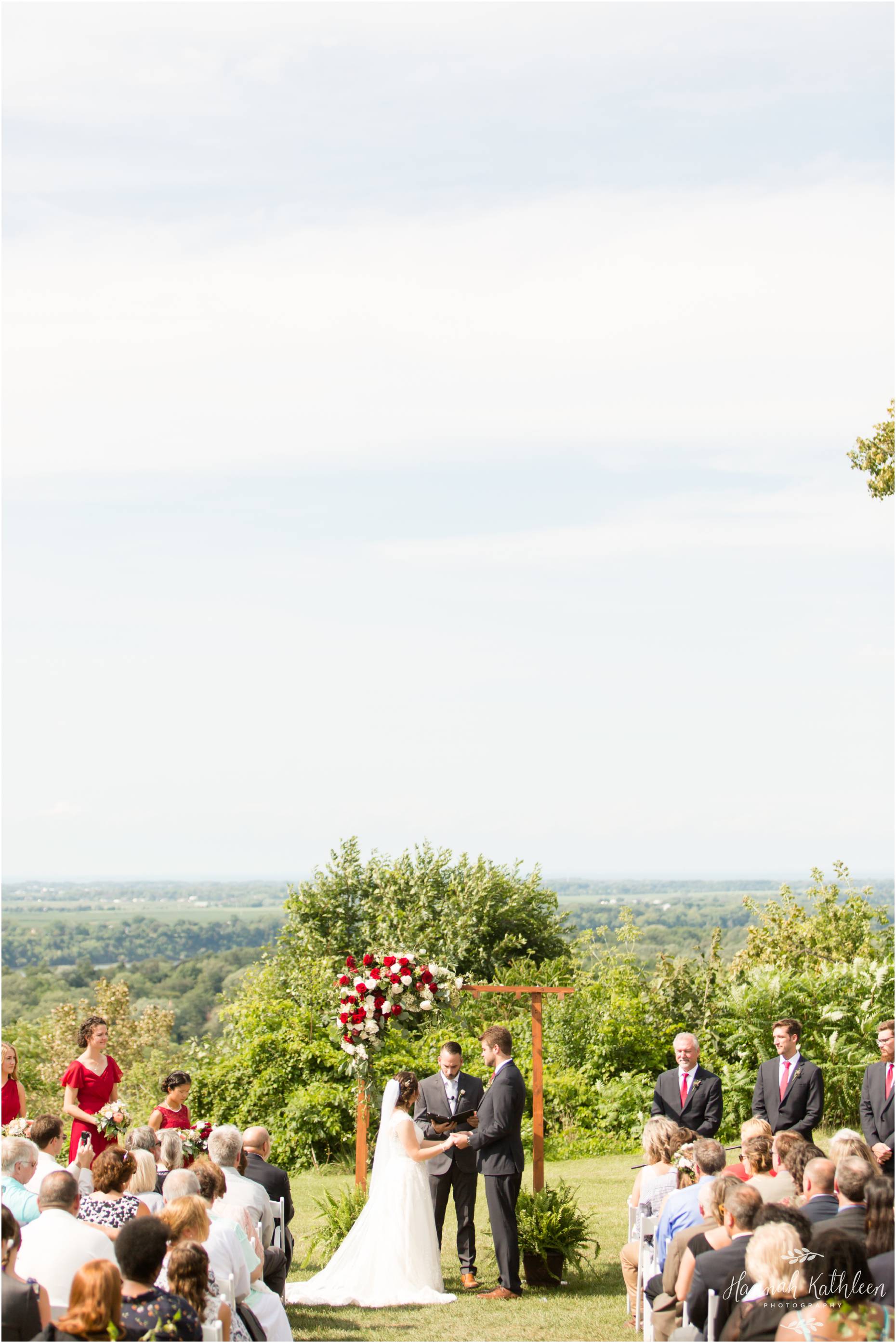 I know Eva through Camp Hickory Hill, the camp that my dad is the director for. My earliest memory of her is her as a little girl (we are about the same age!) with her dad at camp for a father daughter weekend! Her twin brother would come with their dad for the father son weekends, and then they both were campers and worked their way all the way up to program staff. They each have a special place for camp in their hearts, so Eva and I have a lot in common just because of that!
Last summer, when Eva and I were bridesmaids in the same wedding (shoutout to Melanie and Elliott!), we got to know each other a little better and I could see with a short conversation that Eva was really really happy. I inquired about her boyfriend, Luke, and her face lit up. I knew she had found her perfect match.
Not long after that, I was very happy to see on facebook that Luke had proposed to Eva!!!
Eva and Luke came to me for engagement photos this past winter, and we took them in a coffee shop!! You might remember this engagement session that I was totally in love with! 😍
I was so excited when they came to me for wedding photography, too! (And speaking of... I also did Eva's senior photos forever ago, too! How cool that I was able to capture all these milestones!)
On the wedding day, Eva got ready in her childhood home outside of the city of Buffalo, New York. With her bridesmaids, sister/Maid of Honor, and mom getting ready with her, there were a lot of sweet, emotional moments.
This girl has serious beauty. Inwardly, she is one of the kindest, sweetest, easy going people I've ever met. She is genuinely thoughtful, caring, and very loving. That beauty is not limited to the inside. She's a gorgeous girl, and I personally LOVE how subtle and simple her makeup was, since she doesn't need it at all! I was completely obsessed with her hair style, so natural!! The way a few loose locks fell near her face was just perfect! 😍 Luke is such a lucky guy!
After Eva was fully ready, I headed over to the wedding venue! Luke and Eva had their ceremony and reception at the Niagara Falls Country Club in Lewiston, New York.
I met Luke as he put the finishing touches on his outfit. I could tell how anxious and excited he was to see his bride!
The ceremony location could not have been any better. Just outside the reception venue, was this large grassy area for the ceremony. The ceremony overlooked the Niagara Escarpment, and if you looked close enough... you could see Toronto!
Enjoy the photos from Eva and Luke's country club ceremony.
I've never seen a more emotional groom reaction. It was so incredibly sweet! I admire that Luke allowed himself to be emotional when seeing his bride.
Can you tell how excited these two were!?
After the beautiful ceremony, we took family pictures!
Then during cocktail hour, the bridal party stayed with me for some quick pictures!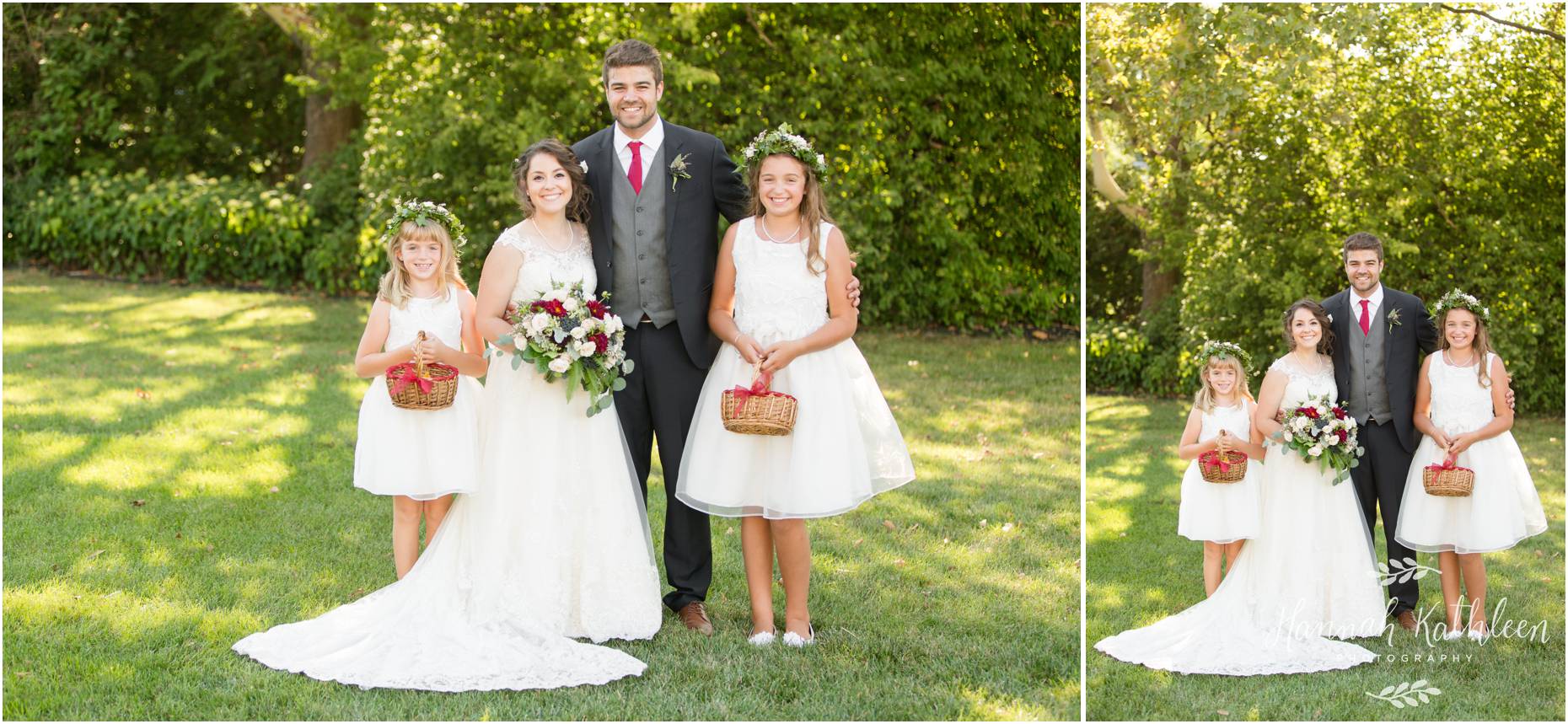 Once we snapped some portraits of just the bride and groom around the property, we hopped in the car and drove 10 minutes to Sanger Farms & Bakery a nearby apple orchard!! Shout out to Sanger Farms for allowing us to use your apple orchard for a few quick, gorgeous photos of the new Mr & Mrs! Thank you!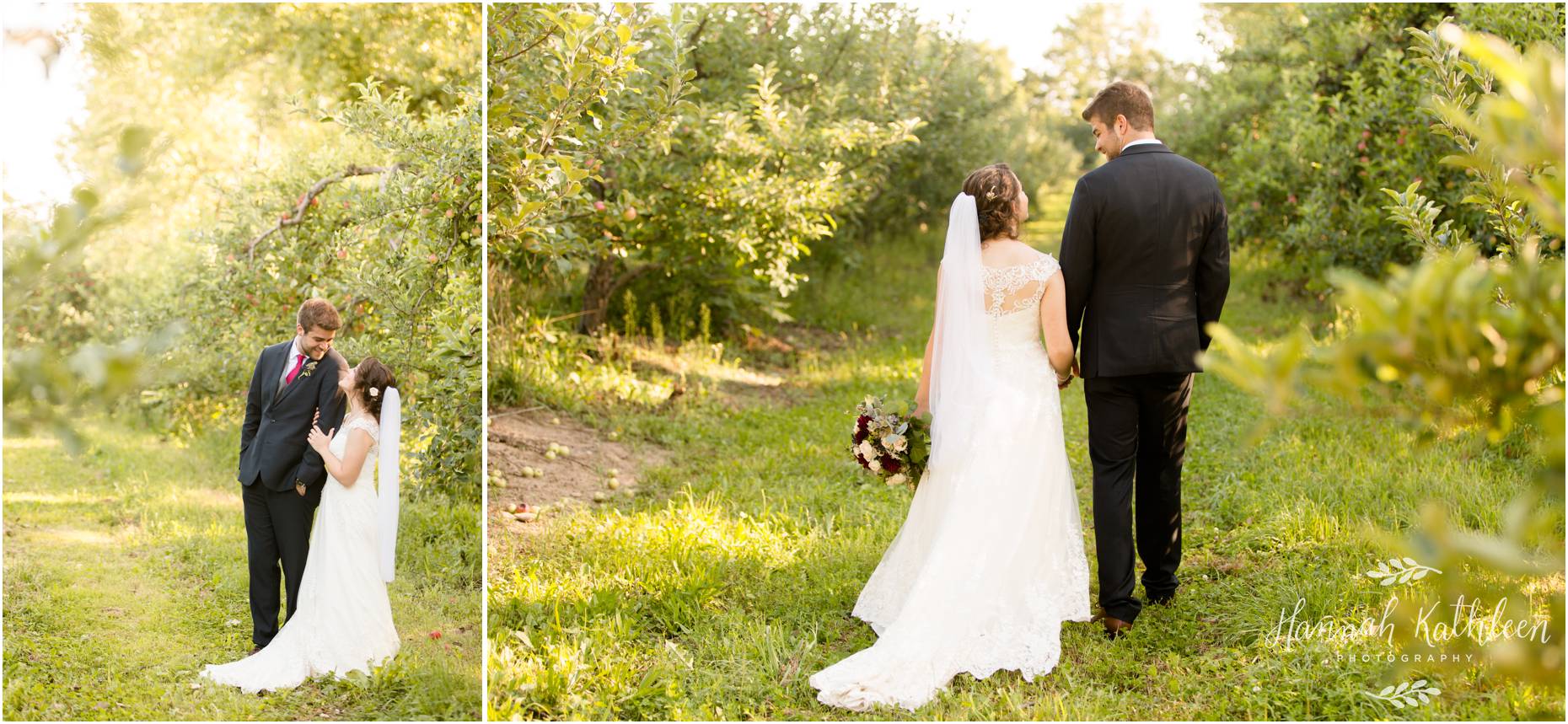 The reception was decorated with the most beautiful floral arrangements! Can you find the subtle apple theme!? Niagara Falls Country Club was up to date with modern wallpaper, and cool lighting fixtures! I totally loved this venue and the way Eva chose to decorate it!
My mom made both cakes, and they were exactly what Eva wanted! She was so excited! (Contact me if you want to learn more about my mom's cakes! They are the tastiest cakes you'll ever eat!)
The reception opened with introductions and a prayer for dinner!

Dinner was a very fancy buffet with more variety than I've ever seen in a buffet!
Toasts closed out dinner, and the bestman and maid of honor both did an awesome job!
Then Luke and Eva cut the cake!
And their first dance as husband and wife!
Followed by the father daughter dance...
And then the mother son dance which quickly became a surprise choreographed dance! Eva was so surprised!
As the sun set across the valley, we took advantage of the perfect lighting and spent five more minutes taking photos of just Eva and Luke!
Can you see Toronto!?
After dancing, the shoe game, and hanging outside on the warm summer night, the night ended with a sparkler exit as the new married couple waved goodbye and hopped in the Rolls Royce!!
Eva and Luke, you two are the cutest and the sweetest. Thank you for having me be a part of your wedding day. I hope these photos are everything you wanted. You two were a dream couple to work with. I wish you the best in your marriage!! Congratulations!!
Want to see more!?
Click here to see more of my wedding photos!
Click here to read more wedding blogs! Here are a few of my favorites:
Jordan & Melissa | Avanti Mansion Wedding
Ryan & Nicki | Templeton Landing Wedding
Chris & Elena | Buffalo Riverworks Wedding
Hop on over to my website and say "hi!" Follow along on facebook or instagram!
Take a look at my travel calendar and let me know if you want photos anywhere!
Also, if you have a Disney trip planned, message me regardless of your dates! You bring me there (which will be very comparable to paying for a session in Buffalo) and the photos are yours! Yay! (And I'm happy to set you up with some tips and advice before your trip if you're looking for help with anything!) And yes, that isn't a typo on my travel calendar… we will be "snow-birding" near Disney World in Florida for SIX weeks next winter! And I'm available to take photos all around Orlando! Introduce yourself… I love making friends!
Thanks for reading this blog post!