Wedding | Matt & Gina
Oct 15, 2018
To say I've been looking forward to this wedding is an understatement. I received an email from Gina right after she got engaged. She was so excited to meet with me and when I met her and Matt at a coffee shop, she informed me that she knew she wanted me to be her photographer before she even got engaged! It doesn't get better than that! Gina has always made me feel so welcome, trusted, and encouraged. She loves my photos and chose me to photograph her wedding months before Matt got down on one knee. Talk about a dedicated bride! I love Matt and Gina so much!!
Gina is so down to earth and Matt is very kind and genuine. If a bride or groom ask about me or my life at some point during their wedding day, they are added to my list of the most thoughtful brides and grooms ever! We were taking nighttime photos before I left for the night and Matt asked how Caleb was doing. 😭 I'm always taken aback when the bride or groom ask about MY life on THEIR wedding day! You two are the best.
Matt and Gina chose Woodlawn Beach for their engagement photos! We did these photos over a year ago and had so much fun! Their precious dogs even tagged along for a bit!
Matt and Gina's dream wedding venue was The Foundry Suites! The whole day took place there! Getting ready, the ceremony, the cocktail hour, and the reception! I always enjoy a wedding venue that can host the entire day and limit travel time!
Gina's dress, shoes, and jewelry were all so sparkly! I had so much fun photographing them all!
Gina is a sparkly girl so I knew she would love a shot of her rings like this! 😍
The hotel suites are fantastic here at The Foundry! Lots of natural light and modern industrial decor.
Gina's flowers completed her wedding day attire, and I thought the bouquet went perfectly with The Foundry Suites courtyard and ceremony location. Wait 'til you see!
I met Matt right below the classic Shea's sign in the Theatre District in Downtown Buffalo! He was anxious to see his bride, seemed a little nervous, but was still able to laugh with us!
Matt, thanks for being the most easy going groom ever!
Now, one of my favorite parts of the day! The time when the bride and groom see each other for the first time... the first look!
This moment was so sweet to witness.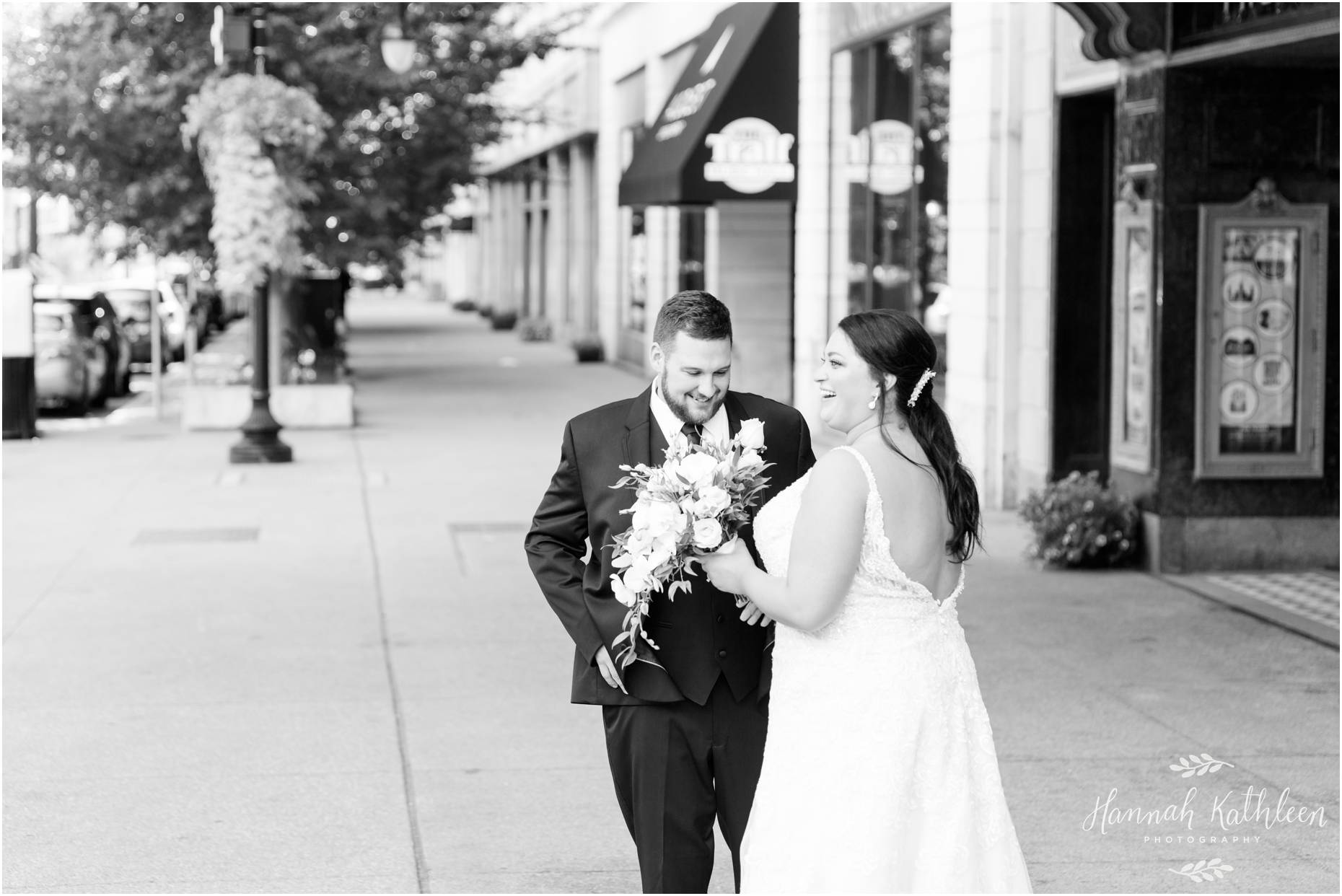 Next we stayed close by Shea's for all of our photos! Such a beautiful location with so much detail and character.
I love the lighting we had for these ones!! 😍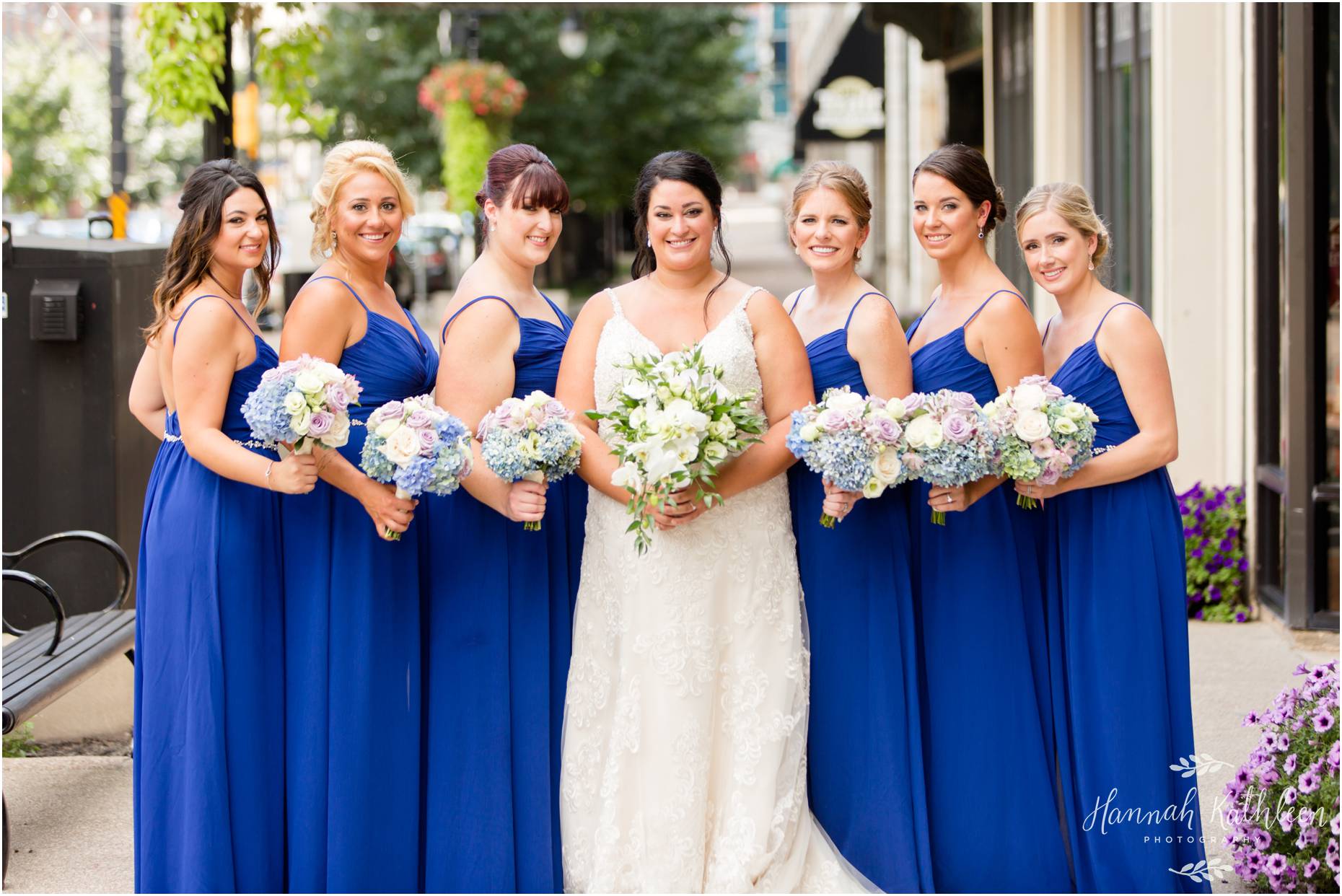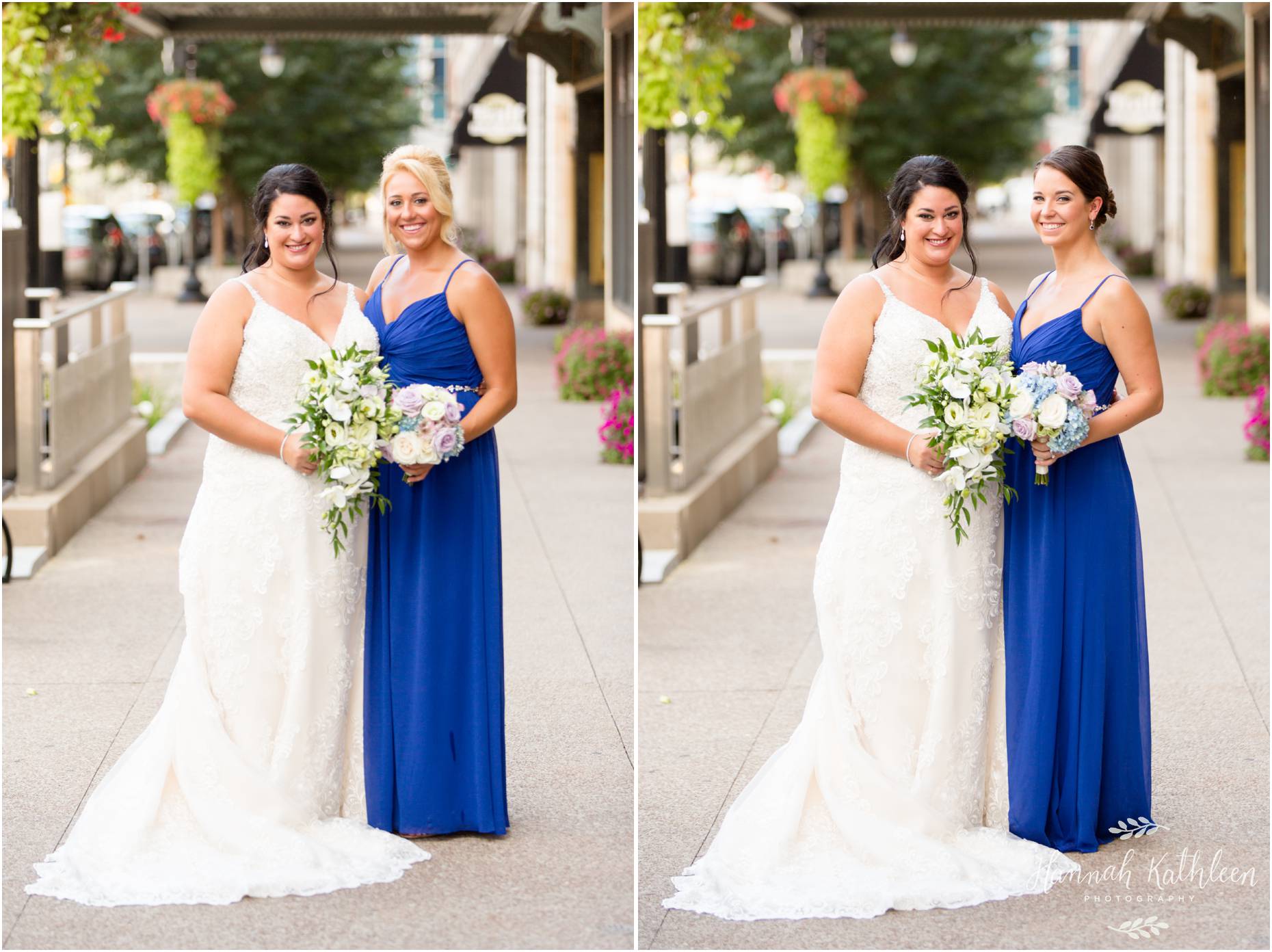 When it was time for the ceremony, we were all ready and it was about to begin... when the fire alarm went off and we started to evacuate the courtyard and building!! It was a false alarm, but the fire department had to come and this created a memory that will never be forgotten! 😂 Out of all the weddings I've ever done, this was a first for me! (Although, I just photographed a wedding on Saturday where the bride's hair started on fire the TINIEST bit! Ha! It was mostly the hairspray so she didn't lose any hair... but ten minutes later the fire alarm started going off there at the reception! Ha!! She found it hilarious, and wasn't hurt! Quite the memories!)
Their ceremony was short and sweet. Full of laughter and surrounded by friends and family.
I think they were just a little excited! What do you think? 😉
After some family photos, we joined the perfectly decorated reception room for the cocktail hour. I just love all the flowers!
Take a look at this dessert spread! I tried the carrot cake cupcake and it was delicious!
Matt and Gina's reception started with introductions, cake cutting, and toasts!
Their dinner was unbelievable! Props to The Foundry Suites for pulling this one off. A mashed potato bar served in martini glasses, a carving station with multiple meats, and multiple pastas, garlic bread, and a very full salad bar! It was all delicious.

But we didn't get too full to miss the opportunity to snap a few more pictures outside before the sun set!
The night of dancing kicked off with the first dance!
Then we had the father daughter dance and mother son dance!
Right before I left, I just had to take these two out in the courtyard under the string lights!
Matt and Gina, you are seriously a dream couple. So much fun to spend time with, so trusting, and so so kind. Thank you for choosing me to photograph your wedding even before you were engaged. That means the world to me!!
Want to see more!?
Click here to see more of my wedding photos!
Click here to read more wedding blogs! Here are a few of my favorites:
Jordan & Melissa | Avanti Mansion Wedding
Ryan & Nicki | Templeton Landing Wedding
Chris & Elena | Buffalo Riverworks Wedding
Hop on over to my website and say "hi!" Follow along on facebook or instagram!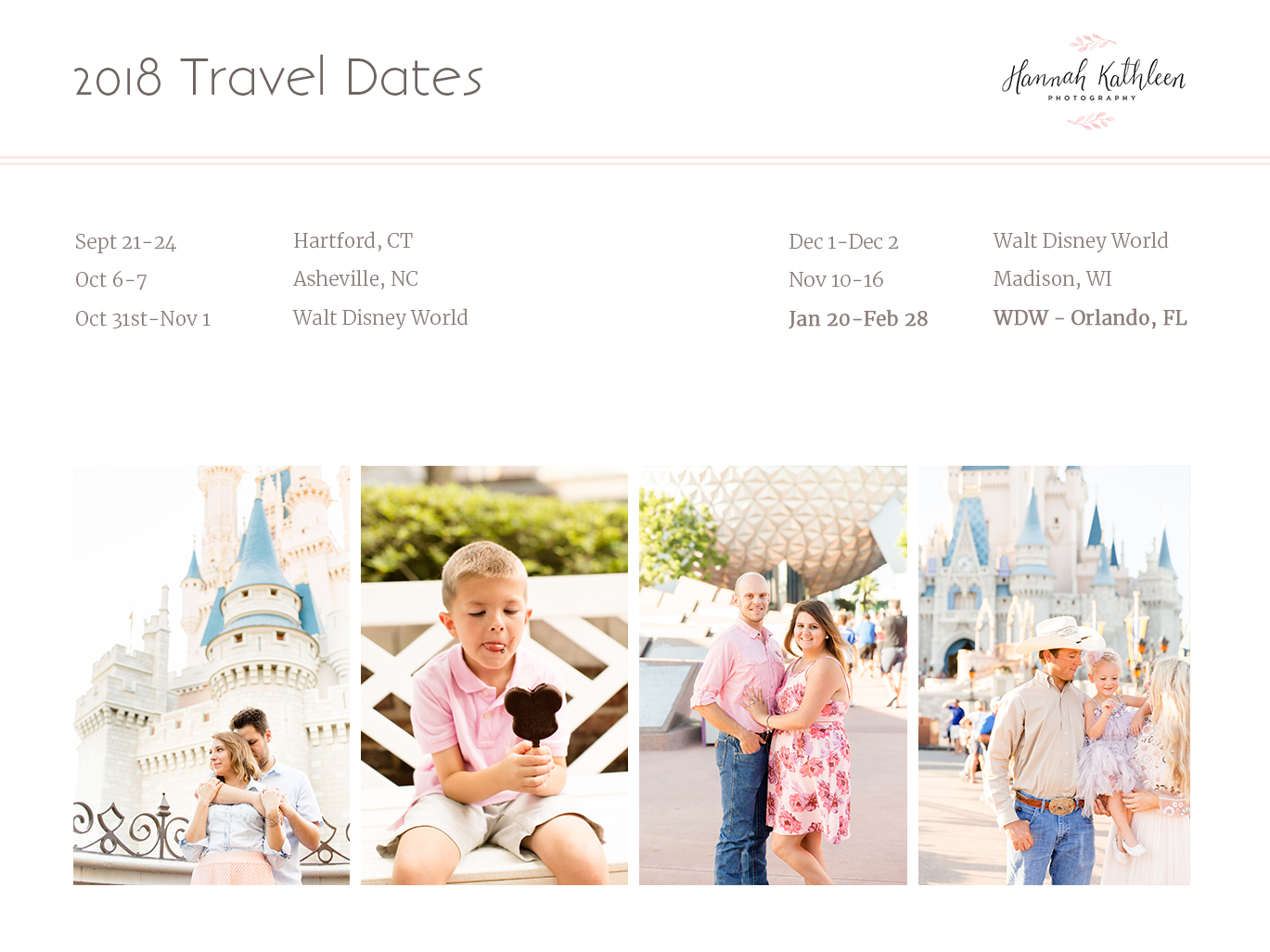 Take a look at my travel calendar and let me know if you want photos anywhere!
Also, if you have a Disney trip planned, message me regardless of your dates! You bring me there (which will be very comparable to paying for a session in Buffalo) and the photos are yours! Yay! (And I'm happy to set you up with some tips and advice before your trip if you're looking for help with anything!) And yes, that isn't a typo on my travel calendar… we will be "snow-birding" near Disney World in Florida for SIX weeks next winter! And I'm available to take photos all around Orlando! Introduce yourself… I love making friends!
Thanks for reading this blog post!