Wedding | Ray & Nicole
Oct 23, 2018
This is a fun story. You might remember Ray and Nicole from their Boston, Massachusetts engagement session! 😍 The connection goes back a few years.
I photographed an amazing wedding for a couple named Alex and Klaire two summers ago in 2016!
Klaire's cousin, Taurie, loved my photos from their wedding and had me photograph her and Roger's amazing wedding spring of 2017! Remember the green dress?
Well, one of Taurie's bridesmaids, the one on the far left, is Nicole, my bride for this blog post you are reading! And another cool part... Nicole's groom, Ray, was ALSO in that bridal party! See him on above her, two in from the left?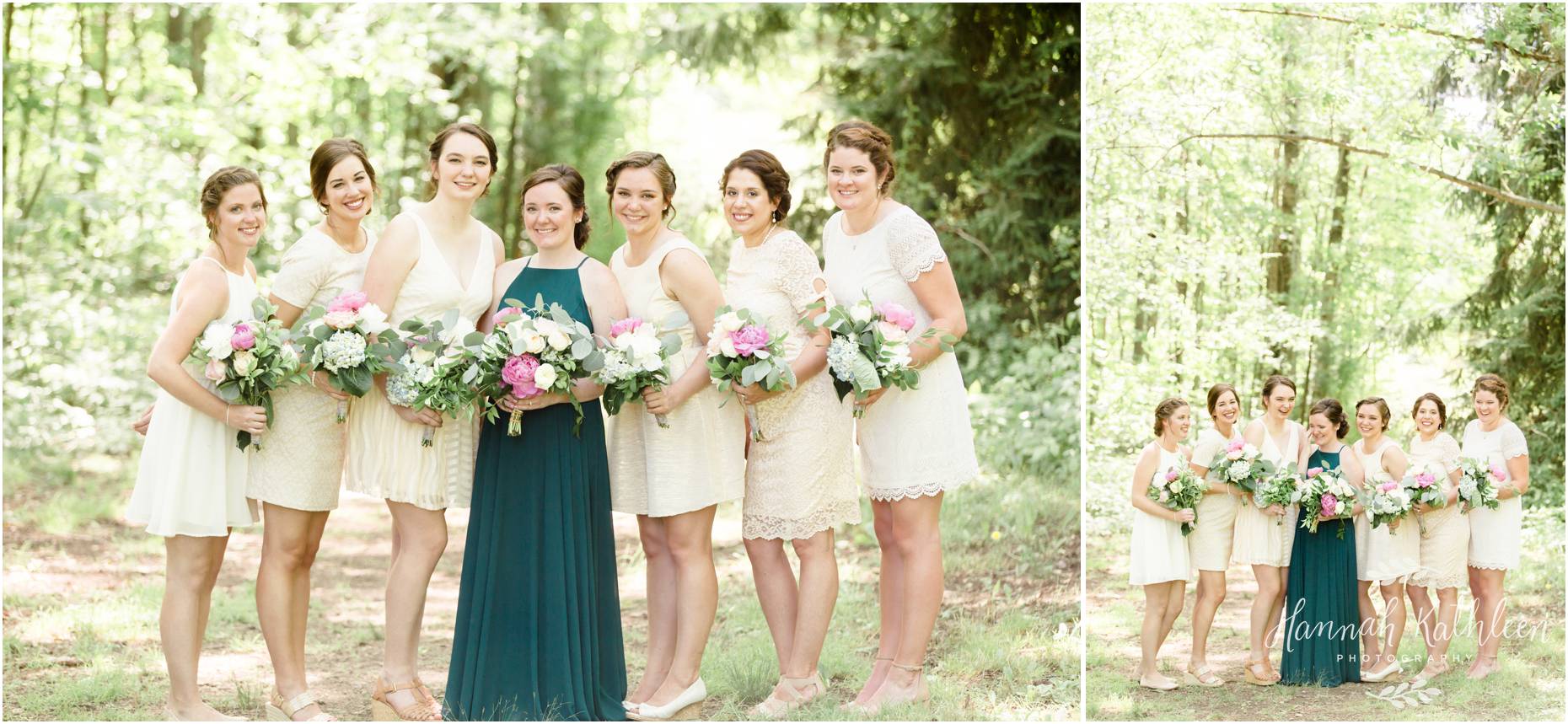 Nicole and Ray had their wedding in Connecticut and drove to meet me in Boston, Massachusetts a few months ago for their engagement session!
I also became instant friends with Nicole because of our shared love of Disney World! Ray even proposed on Main Street in front of the castle! I have serious intentions to overlap a trip with Ray and Nicole so I can take their pictures at Disney World one day!
Anyway... back to the wedding!! You know I love to travel, so I was eager to make the trip to Hartford, Connecticut for Ray and Nicole's backyard wedding! The whole day was a dream, and I couldn't ask for a more kind bridal party, family, and bride and groom. Let's take a look through their wedding day, shall we!?
Nicole got ready at a hotel! (The number one piece of advice I can give anyone wanting the best getting ready pictures possible? Book a hotel suite for you and your girls to get ready in. The window light and lack of clutter in a hotel is better than 99% of houses! Yay!) Nicole has the best eye for design and decor, so her jewelry, shoes, invitation, flowers, and everything was just perfect!
Not to mention I have a serious attachment to dresses with long sleeves... because that's what I chose for my wedding dress!!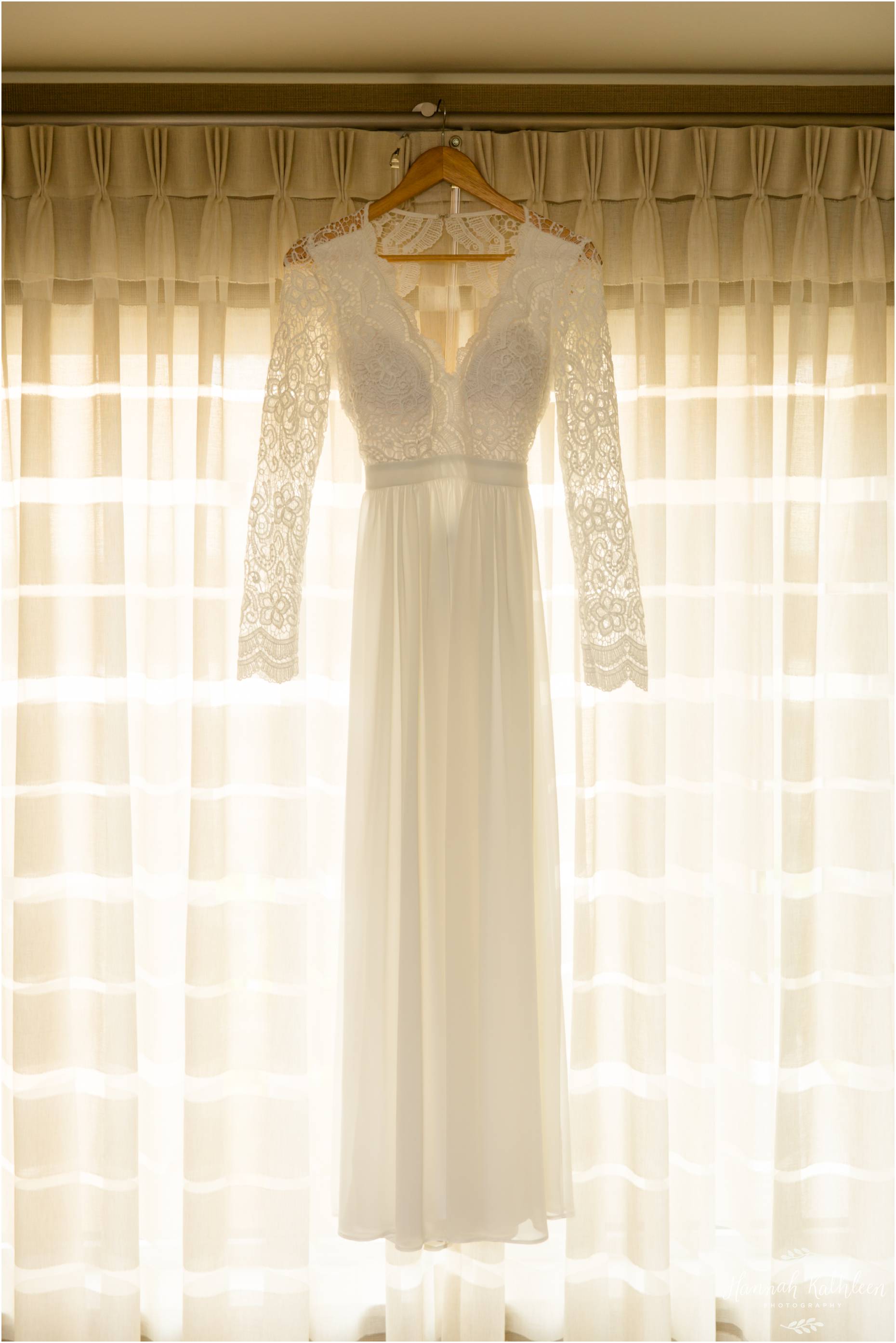 Nicole's mom and sisters helped her get ready.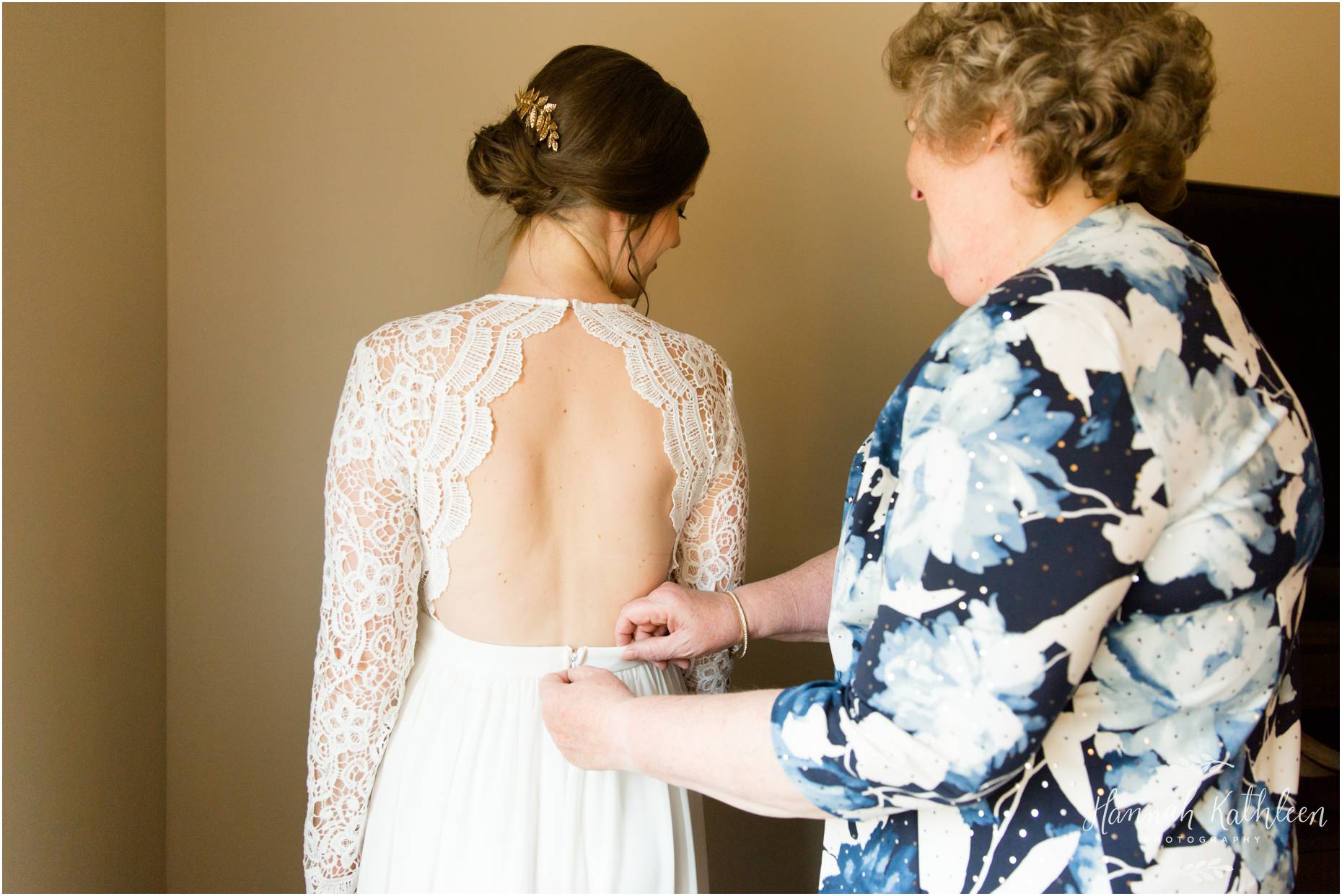 We stepped outside in gorgeous weather into the hotel's courtyard for some portraits! (We got locked out, and then I forgot half of my belongings when we were let in... classic Hannah leaving her stuff everywhere!)
I met Ray and had a minute with the men before the ladies arrived!
It was time for the First Look!!
How sweet is this!?
Ray and Nicole exchanged letters to each other and the moment was perfect.
After they had some time alone, we took advantage of the beautiful property a neighbor provided us with and we did all kinds of portraits!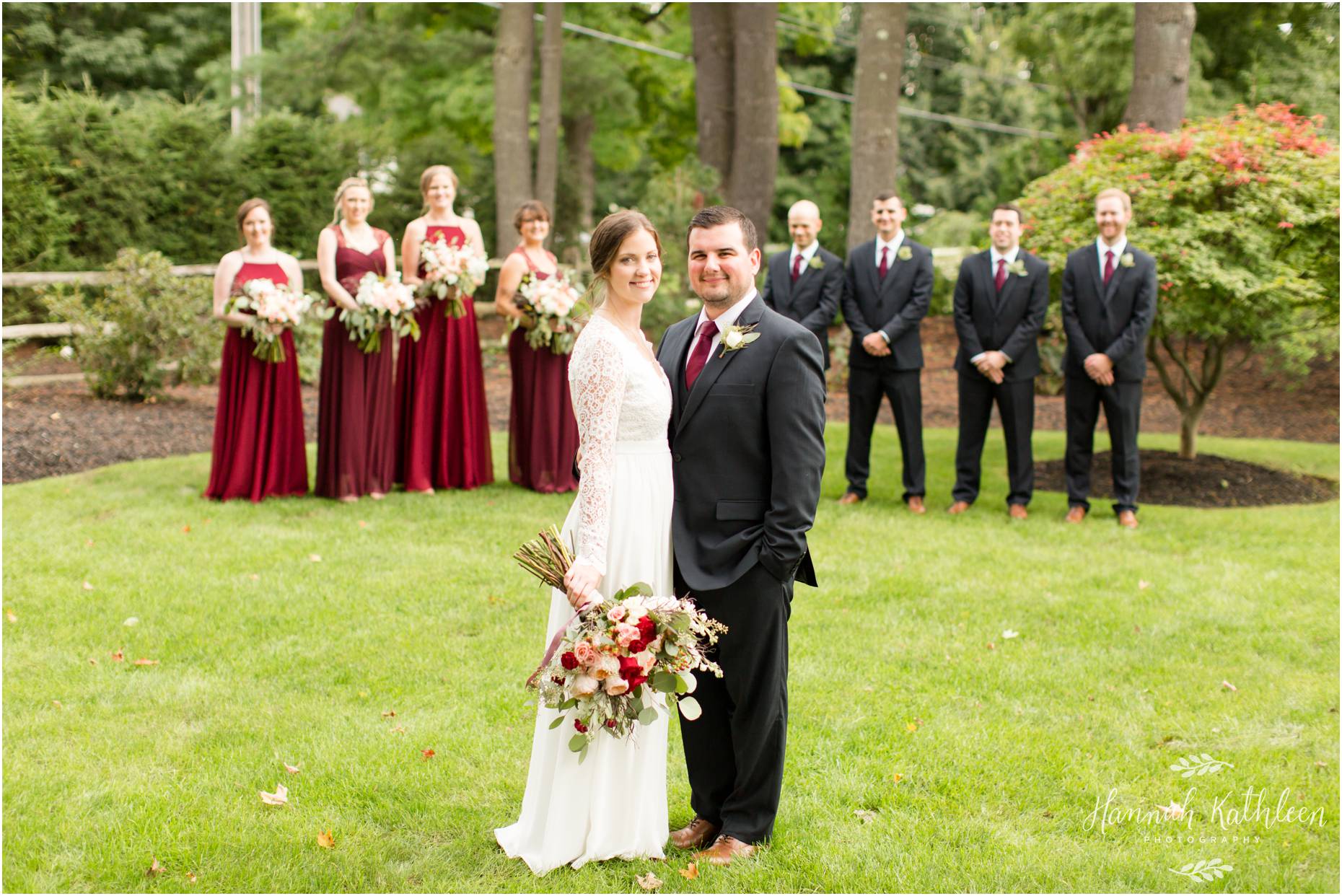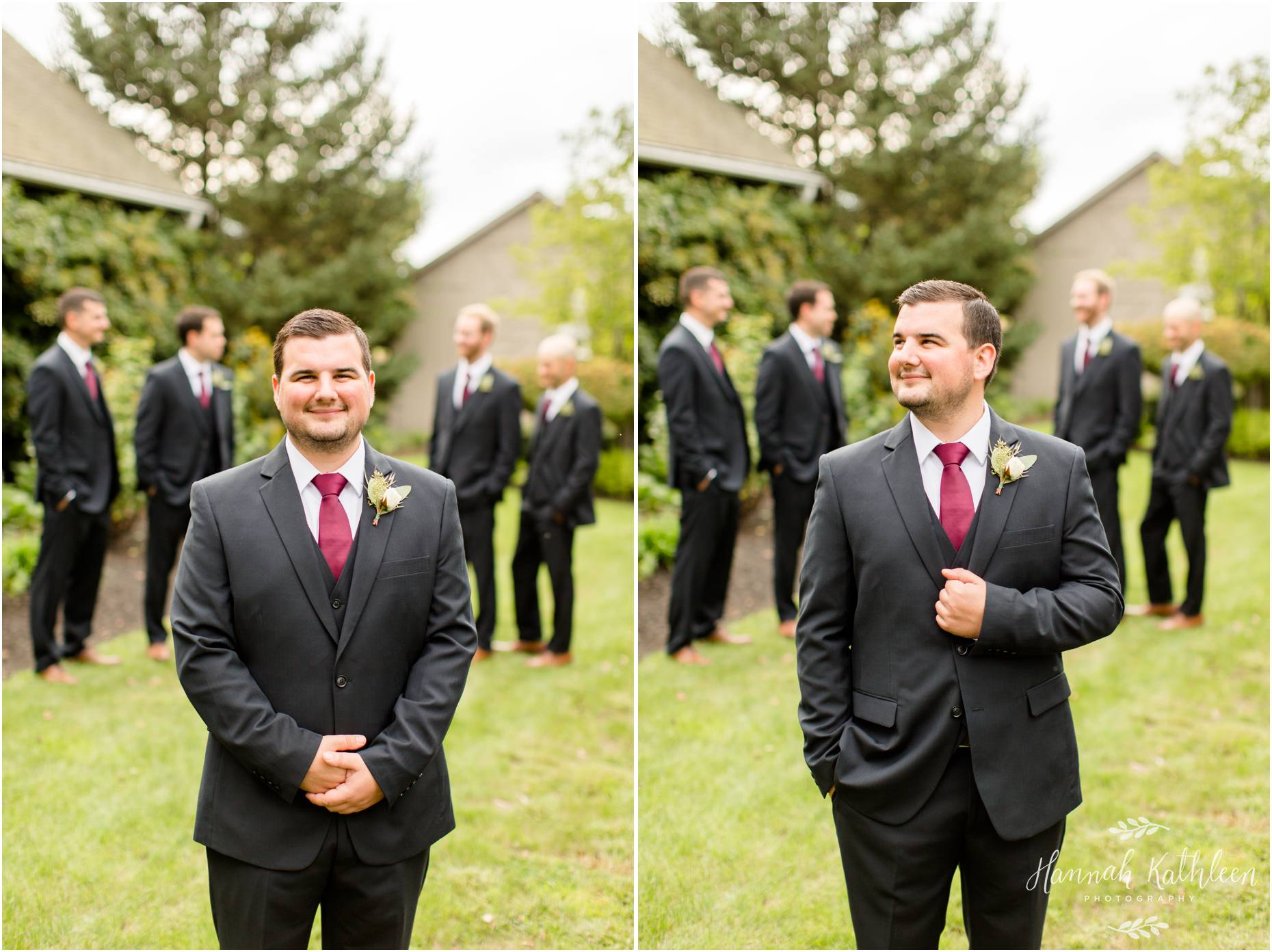 We took a short drive to Ray's mom's house, which happens to have a large enough yard to host a wedding! It was absolutely perfect! There was a perfect spot for the ceremony, a large tent for the reception, a tent for cigars, the drinks, the guest book, and so much space for the kids to run around and for the adults to play cornhole. I am just obsessed with backyard weddings and I'm sure you can see why!

Time for the ceremony!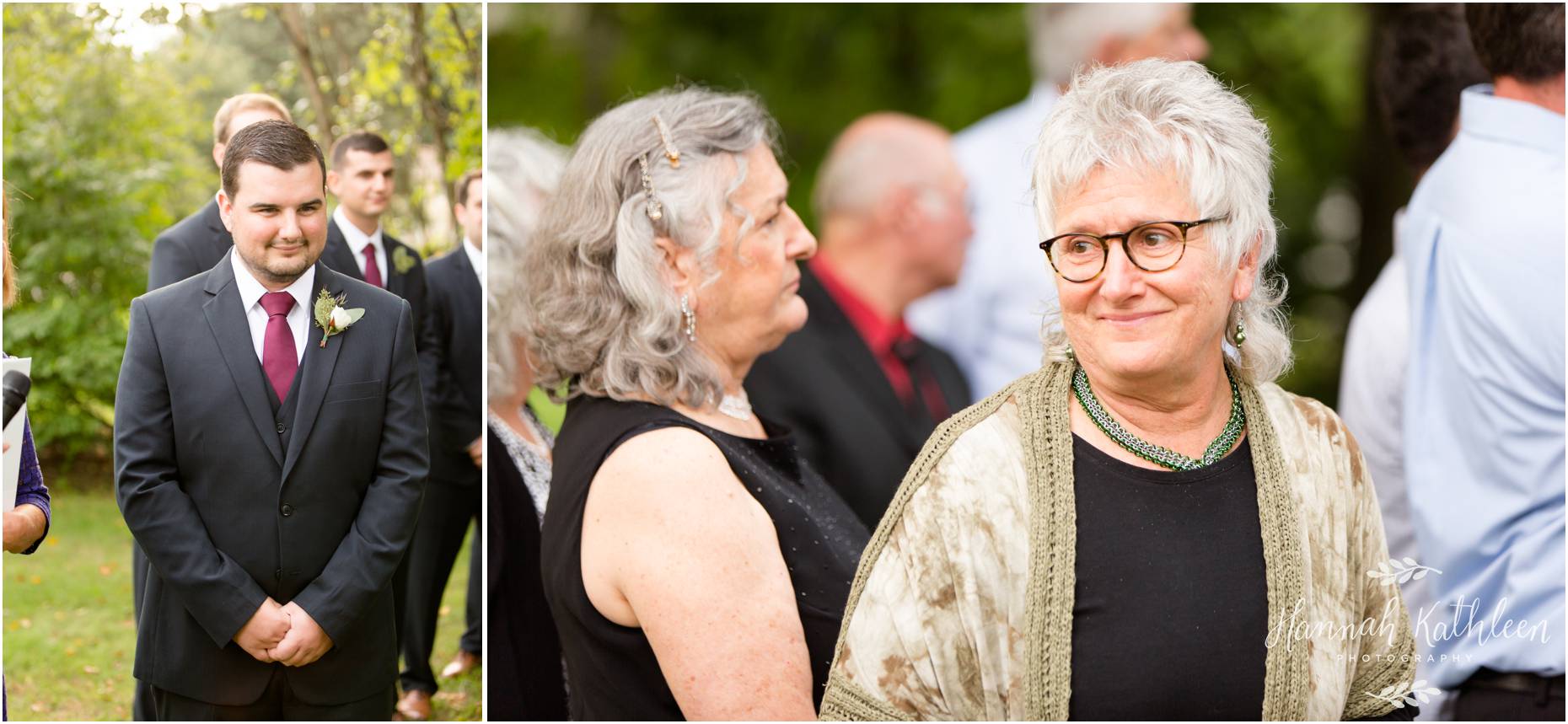 Ray and Nicole's ceremony was not too short, not too long. It was very special, and very very sweet.
We snapped a few family photos after the ceremony so everyone could go enjoy the party right away! 😃
I couldn't resist taking just a few more bride and groom portraits around the backyard with that GORGEOUS arbor. Have you ever seen anything like that for a backdrop for a wedding!? That was new to me, and I loved it!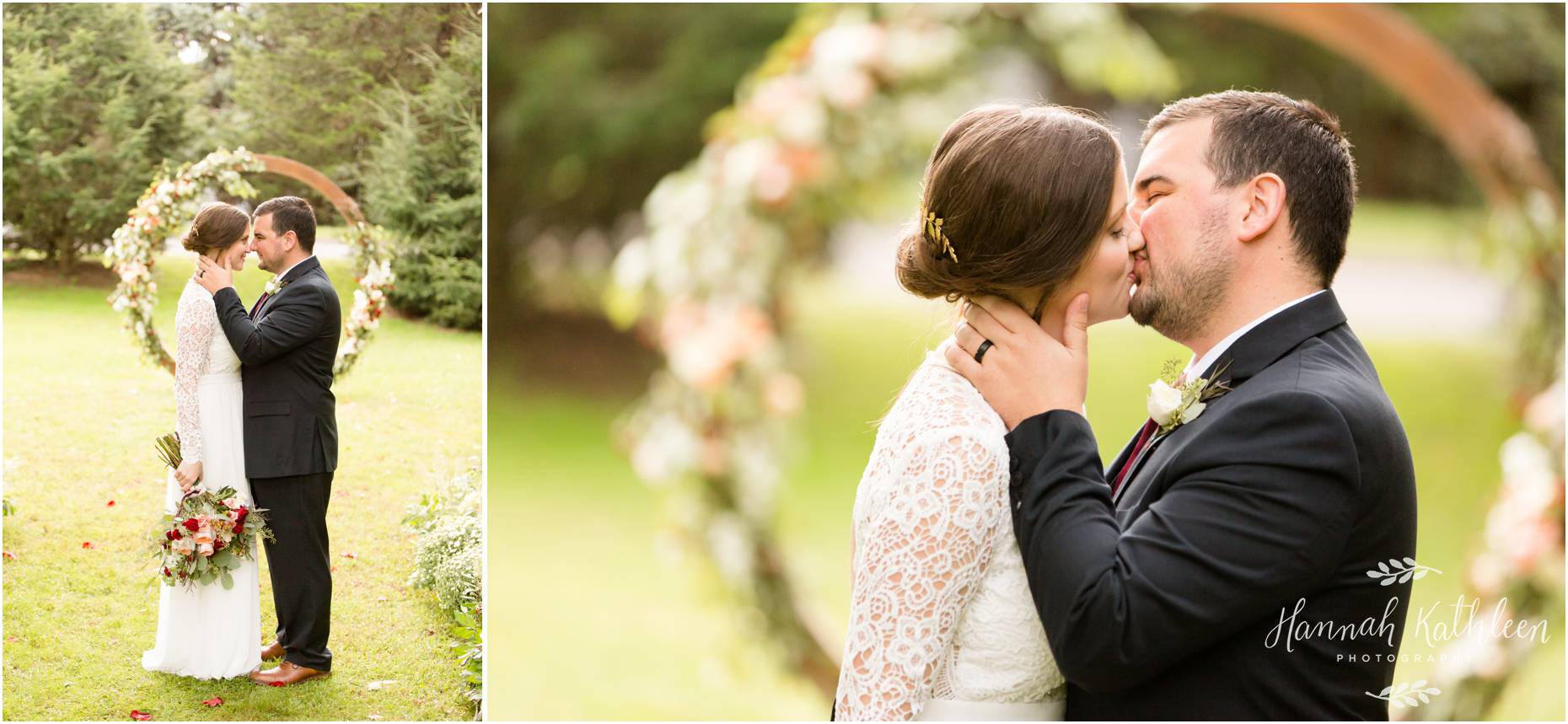 I watched as many hugs, smiles and lots of laughter was shared during the cocktail hour!
You might have noticed that Roger and Taurie, the bride and groom who had Ray and Nicole in their wedding party, were also in Ray and Nicole's wedding party!!! How cool is that!? I was so excited to snap a few family pictures for them because they have a new addition to their family who I got to meet for the first time! Isn't she adorable!?
Fun fact: This little makeshift family session took no more than 2 minutes. I even checked the timestamps! It's amazing what you can fit in in a short amount of time! (I might pride myself in that...) Speaking of really short sessions... I feel a tangent coming on!
Once again, shameless plug here for my THREE mini session weekends around Buffalo, NY including fall leaves, a christmas tree farm, and a snowy weekend! The fall leaves one is THIS weekend and I still have a few openings!!
Send me a message here if you want to snag a mini session slot before they are all taken!
Take a look at this gorgeous backyard wedding reception tent! This was not what I was expecting for a chill, backyard wedding! Nicole invested a lot of time into making this perfect! Ray's sister, Corrine, did an AMAZING job on all the bouquets, floral arrangements, and centerpieces.
Nicole... yes, the bride! Made her own wedding cake!! Nicole is extremely, extremely, extremely talented when it comes to baked goods! She works in a bakery and makes her own cookies, cupcakes, cakes, and other delicious looking things all the time.

My favorite that I have seen from her are her gingerbread cookies, and other christmas cookies she has made. Like how is this possible for a person to create? (I totally took these from her Instagram. If you are in the Connecticut area, visit Nicole's bakery facebook and get hooked up with the best baker and baked goods decorator around!! 😉 )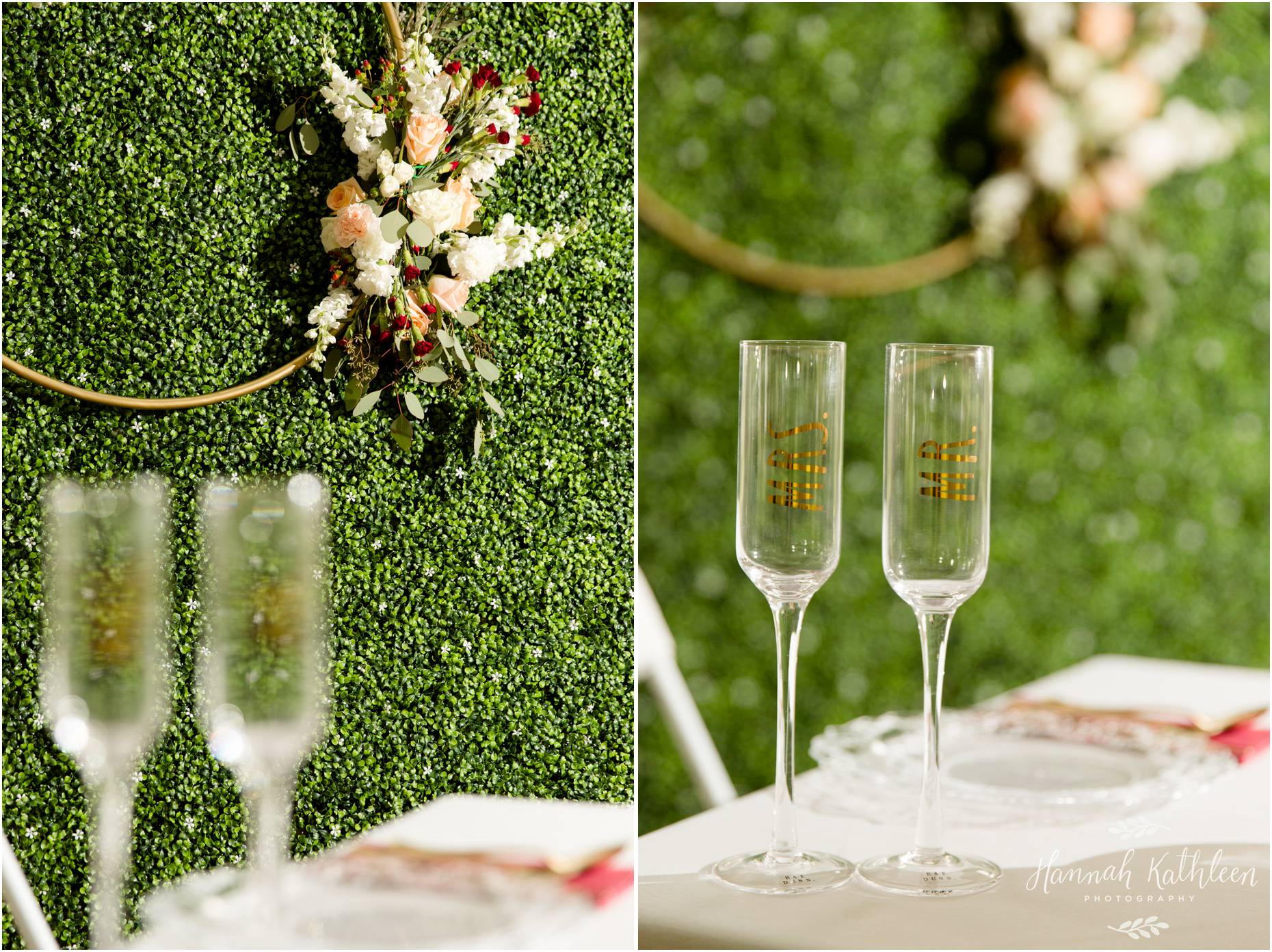 Nicole not only baked and decorated her own wedding cake, which was perfectly placed on the head table! But ALSO, she made and decorate these perfect cookies as favors for each of her guests! Love it!
The reception started off with the introductions and the bride and groom's first dance!
Then dinner was an amazing buffet of barbecue!
Ray and Nicole both shared a special dance with their moms.
And they cut the cake! Did you notice the sign they had during their cocktail hour? It reads "Donate to the honeymoon! Throw some dough in the glass of your choice and whoever has the most $ gets to take the "CAKE" in the FACE!"
Well... you can see who had the most money in their glass! Haha!
During the big dance party, Ray and Nicole chose to do something super unique for a late night snack! I, for one, absolutely adored this idea and would really love every bride and groom to do this... okay? Thanks!
A local ice cream shop named Kloter's came and set up an Ice Cream Bar for their wedding reception! Like WHAT!? How perfect is that!?
Before I left, we took a quick minute to take some sickkkkk nighttime photos! What do you think!?
When it was time for me to leave, I packed up all my stuff (which is hard enough to carry with two hands), and I got my ice cream cone in one hand and walked back to the car. I had a delicious snack at the end of the most perfect wedding!
Nicole and Ray, seriously... you two are THE BEST. Can you please get married again? I am so honored to have been asked to travel all that way to photograph your wedding. Thank you for meeting me in Boston, MA for your engagement photos, thank you for becoming my friends, and thank you for choosing me instead of a local photographer to document your day! You are the kind of people that I have no concern over staying in touch with! I know we will stay friends and I KNOW we will see each other in Disney World pretty soon, too! Your love for each other is evident in the way you look at and talk to each other! It was a joy to capture that. You guys are amazing, thank you again!
Vendors!
Want to see more!?
Click here to see more of my wedding photos!
Click here to read more wedding blogs! Here are a few of my favorites:
Jordan & Melissa | Avanti Mansion Wedding
Ryan & Nicki | Templeton Landing Wedding
Chris & Elena | Buffalo Riverworks Wedding
Hop on over to my website and say "hi!" Follow along on facebook or instagram!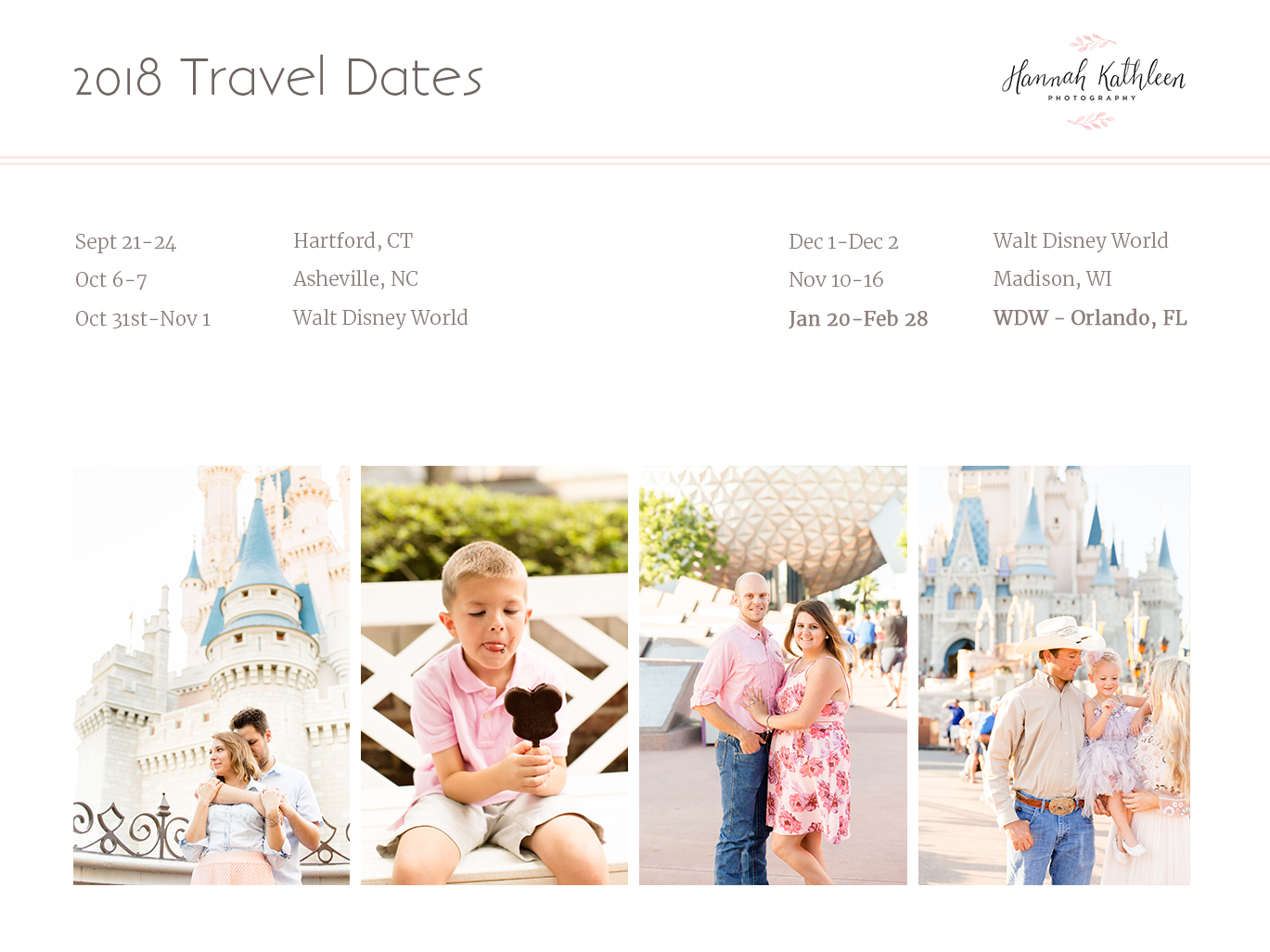 Take a look at my travel calendar and let me know if you want photos anywhere!
Also, if you have a Disney trip planned, message me regardless of your dates! You bring me there (which will be very comparable to paying for a session in Buffalo) and the photos are yours! Yay! (And I'm happy to set you up with some tips and advice before your trip if you're looking for help with anything!) And yes, that isn't a typo on my travel calendar… we will be "snow-birding" near Disney World in Florida for SIX weeks next winter! And I'm available to take photos all around Orlando! Introduce yourself… I love making friends!
Thanks for reading this blog post!